The teams for Super Bowl 57 are set, and the Kanas City Chiefs will return to the Super Bowl once again, where they'll face the Philadelphia Eagles.
Leading up to Big Game in 2023, bettors will have thousands of Super Bowl prop bets to add to their betting experience.
Our best tips for betting on Super Bowl props are: create your game narrative, find the best odds, and, most importantly, have fun.
Player props
NFL player prop odds are available for all NFL games, but these markets are massive for a high-profile event like the Super Bowl, allowing multiple ways to wager on the performance of just about every player on the field for the Chiefs and Eagles. At some sportsbooks, Super Bowl player props are more popular for bettors than traditional betting markets.
Game props
Game props are based on stats or occurrences happening throughout the game, such as the result of the opening kickoff, what the first play of the game will be, or which team will get to a set point threshold first.
Result of first scoring play
Odds as of Feb. 12, 2023.
Race to points
Odds as of Feb. 12, 2023.
Which team will score first?
Odds as of Feb. 12, 2023.
Team props
Team props are simply bets based on the performance of either the Chiefs or the Eagles. These can be useful if you have a good feeling as to how one team will perform in the game but aren't so certain about the other. A popular team prop is the Over/Under for how many points each team will score.
Team totals
Odds as of Feb. 12, 2023.
Read Rohit Ponnaiya's pick for Kansas City and Philadelphia point totals
Total rushing touchdowns
Odds as of Feb. 12, 2023.
Read Robert Criscola's pick for Kansas City total rushing touchdowns
Special team props
Which team will punt first?
Odds as of Feb. 12, 2023.
Opening kickoff to be a touchback?
Odds as of Feb. 12, 2023.
Read Josh Inglis' analysis on how to bet the opening kickoff.
Which kicker will have the most kicking points?
Odds as of Feb. 12, 2023.
Total kicking points
Odds as of Feb. 12, 2023.
How many total punts will there be?
Odds as of Feb. 12, 2023.
Super Bowl MVP
Betting on who will win Super Bowl MVP is one of the most popular and simple player props on Super Sunday. Skill positions and star players are normally among the favorites, including the starting quarterbacks for both teams.
Be careful when taking long shots here, however, as a quarterback has won MVP in 31 of the 56 Super Bowls.
Odds as of Feb. 12, 2023.
Exotic props
Exotic Super Bowl props are a favorite with all fans, allowing you to bet not just on the game but the event that is Super Bowl Sunday. Exotic props are often not graded by what's in the box score or even what happens on the football field.
However, while Super Bowl exotic props are extremely popular, they're not available in all regions. Online-based sportsbooks will offer the largest – and wildest – menu of exotics, while books regulated state-by-state may be limited or prohibited from offering these kinds of markets.
National anthem
Before the ball is even snapped, you can bet on the national anthem Super Bowl prop. The most popular way to wager on the singing of "The Star-Spangled Banner" is the length.
Sportsbooks post an Over/Under length for the time it will take the singer to sing the national anthem, and you can bet on whether the singer will go Over or Under that time during their performance. The Over/Under for country star Chris Stapleton to sing the anthem at Super Bowl 57 is set anywhere from 119.5 to 125 seconds.
Odds as of Feb. 12, 2023.
The coin toss
Betting on the Super Bowl coin toss is a hugely popular prop and is offered at every sportsbook during the Big Game. The most common way to bet the coin toss is simply picking which side is the winning side of the flip: Head or Tails?
There's not much handicapping or research you can do for this prop pick, as a coin toss has a 50/50 chance of landing on your side of choice.
Odds as of Feb. 12, 2023.
Halftime show props
Just because the action on the field is taking a break doesn't mean prop betting has to. The Super Bowl halftime show has spawned a massive menu of exotic prop options over the years, with online sportsbooks having a lot of fun with the featured performers.
Rihanna is set to take the center stage at Super Bowl 57 with plenty of fun betting markets to be had on her performance.
Odds as of Feb. 12, 2023.
The Gatorade bath
A Super Bowl tradition is also one of its most popular exotic props, with online sportsbooks offering odds on the color of the Gatorade bath given to the winning coach of the Super Bowl.
Orange has been the most popular color over the years, but blue has been used for the last two Super Bowls.
Odds as of Feb. 12, 2023.
Other/Exotic props
Exotic Super Bowl props are only limited by the imagination of online oddsmakers. These wild and fun-loving markets have exploded over the past decade, covering everything from those infamous Super Bowl commercials to who the MVP will thank first.
Some of the most notorious Super Bowl exotics include:
Will the game announcers reference the Super Bowl point spread?
Which brand will air the first commercial?
Who will the Super Bowl MVP thank first: team, family, fans, God?
Cross-sport props
If betting on just events at the Super Bowl isn't enough, bettors and bet on cross-sports Super Bowl props. For example, last year, bettors found markets that pit Super Bowl results against the Winter Olympics results.
Printable Super Bowl prop bet sheet
Every year Covers releases a Super Bowl prop bet sheet featuring some of the most popular markets for the big game. We then provide live updates on the bets on twitter @ Covers.
Tips for betting Super Bowl props
While Super Bowl props can be a lot of fun to bet on, you should have a strategy and follow these tips to make sure you end up in the Big Game black:
When are Super Bowl prop bets released?
Some Super Bowl prop bets, like basic game props and team props that are based on derivative markets, will be released in the 24 hours after the AFC and NFC champions are crowned. The first batch of player props are usually released on the Thursday of the first Super Bowl week — which in 2023 will be Feb. 2. This is the traditional "Las Vegas Super Bowl props day", where sportsbooks release hundreds of player props and sharp bettors line up to take advantage of the value found in early numbers.
However, it's very possible that online betting sites like FanDuel and DraftKings release player props earlier than Feb. 2, 2023, as they race to be the first to market. We'll be updating this page, and our player props page with live odds, picks, and analysis as soon as they are available.
When do Super Bowl prop bets get paid out?
Depending on what they're based on, Super Bowl prop bets can be graded and paid out either throughout the game or at the end of the game. The timing and promptness of payouts for Super Bowl bets depend on the sportsbook.
What are the best betting sites for Super Bowl prop bets?
Most Super Bowl betting sites have a large menu of Super Bowl prop bets. However, online-based books will offer more in the way of specials and exotics because they are not limited by state regulations or rules.
Instant replay: Super Bowl prop bets
While subjective, Super Bowl proposition bets (props) have nearly eclipsed commercials as the most fun and engaging part of the telecast. These entertaining alternatives to the standard odds markets can boost your winnings and maybe morale, too. Here are our keys to the props betting game:
Great way to diversify your bets, spreading action to different parts of the contest.
Take your pick from the most commonly available: player, game, and exotic props.
Make sure you're not betting against yourself. If you like the Over, don't bet on the Under when it comes to scoring or passing props.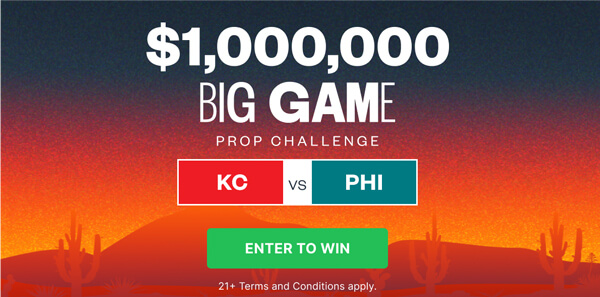 Super Bowl Prop Bet FAQs
Pages related to this topic