Super Bowl squares is a fun, and popular gambling game often played at Super Bowl parties, office pools, and among friends. Super Bowl squares is usually played with low stakes, and there is no skill involved — it's simply a game of luck.
Get some competitive spirit at your Big Game party with our free, printable Super Bowl squares template. We have also put together a guide containing everything you need to either host, set up, or participate in a Super Bowl squares pool.
Where to play Super Bowl squares
Beyond the parties, you can play Super Bowl squares at a variety of online betting sites, with some big prizes up for grabs in their squares contest. Some are even FREE!
DraftKings / Wrangler Squares
DraftKings and Wrangler are teaming up for a 2023 squares contest! Simply make an account at DraftKings, pick a square, and wait to see if you win your share of $57,000 in prizes on Super Bowl Sunday!
BetRivers Squares
BetRivers Sportsbook is offering bettors a chance at $10,000 in bonus bets by playing their squares contest. Simply bet $10 on Super Bowl 57 to earn a square.
Each square contains two random numbers representing the scores of the Chiefs and Eagles, respectively.
If the last digits in your square match the game, you win anywhere from $20-$100 in bonus bets with the option to boost your potential winnings to $10,000 by placing a $5 same-game parlay on the Super Bowl.
Want more contests? Check out our list of Super Bowl betting contests before the Big Game!
Super Bowl squares betting
Beyond playing contests, you can put a little money on Super Bowl squares picks. Sports betting sites offer squares odds on the big game. The rules are largely the same, and you can place bets on squares numbers for different stages of the game, all at plus-money odds.
Squares odds
DraftKings and Caesars have formatted their squares odds in the following format:
Numbers
Final Result Odds
Philadelphia Eagles :

Kansas City Chiefs



0:7
+2,000
+2,100
7:0
+2,200
+2,200
7:4
+2,000
+2,400
0:3
+3,000
+2,500
3:0
+2,800
+2,500
Odds as of Feb. 3, 2023.
Simply pick the number you like for the segment of the game you like and place your wager for big plus-money bets.
Super Bowl squares free, printable template
Click below to download our free Super Bowl squares template to share with your friends during the Big Game!
How does Super Bowl squares work?
Follow these simple steps to get your Super Bowl squares game started.
1
Get a 10x10 grid
You'll need a 10x10 empty grid, giving you 100 squares for people to choose from. We have done this work for you with our printable Super Bowl squares template.
2
Assign teams
Now you'll take one team and assign it to the rows. The other team will be assigned to the columns. Our printable template has already assigned the teams for you.
3
Decide on the stakes
If you're playing for bragging rights, you can skip this step. But if there is going to be money involved, you'll need to decide how much to sell each square for. The amount you sell each square for multiplied by 100 will be the total amount of the prize pool.
4
Get people to play
Now comes recruitment: Time to sell (or give away) those squares. For those who have never played before, this is often a good time to remind them that this is purely a luck-based game. Knowing the Super Bowl matchup inside-out does not give you an advantage here.
5
Fill your grid
You'll want to fill as many squares as possible with the names of people who are participating in your Super Bowl squares game. If you don't fill up every square you can simply write "push" into any blank squares that are left.
6
Assign numbers
The final step is to assign the numbers 0 through 9 randomly to both the column header and the row header. It's best to use an online randomizer or to pull the numbers out of a hat when doing this. It also helps to have a witness!
Now that you're all set up, it's time to sit back and watch the game. You can either award payouts as they happen or after the game. More on that below.
Super Bowl squares payouts
Most Super Bowl squares pools payout four times:
After the first quarter (20% of the pot)

At halftime (20% of the pot)

After the third quarter (20% of the pot)

At the end of the game (40% of the pot)
Of course, these are just our suggestions. You might want to only pay out twice (at the half and at the end of the game) or you might want to alter the amount that gets paid out.
Super Bowl squares winners
The winning squares depend on the last digit of each team's score at the time of the game when you choose to pay out. Then you see where those numbers intersect to find the winner. Let's use Super Bowl 54 as an example:
1st quarter
The score at the end of the first quarter was Chiefs 7 - 49ers 3. The winner was whoever's name was at the intersection of 7 on the Chiefs' axis and 3 on the 49ers axis.
2nd quarter
The score at the end of the second quarter was Chiefs 10 - 49ers 10. Remember that we only use the last digit of a team's score, so the winner was whoever's name was the intersection of Chiefs 0 and 49ers 0.
3rd quarter
The score at the end of the third quarter was 49ers 20 - Chiefs 10. Once again, the winner was whoever's name was at the intersection of Chiefs 0 and 49ers 0.
Final score
The score at the end of the game was Chiefs 31 - 49ers 20. The winner was whoever's name was at the intersection of Chiefs 1, 49ers 0.
Odds to win a Super Bowl squares
Best numbers for Super Bowl squares
If set up properly, Super Bowl squares is completely a game of luck as you can't choose your numbers. However, some number combinations are definitely better than others.
You'll be happy if you end up with some mix of zero and seven. In fact, 0-0 has been the winningest squares combination in Super Bowl history, hitting 19 times. On the other end of the spectrum, you won't be feeling great about your chances if you have some combination of two or five.
Here you'll see every combination of scores that have been Super Bowl squares winners —based on payouts at the end of each quarter — going back to Super Bowl I: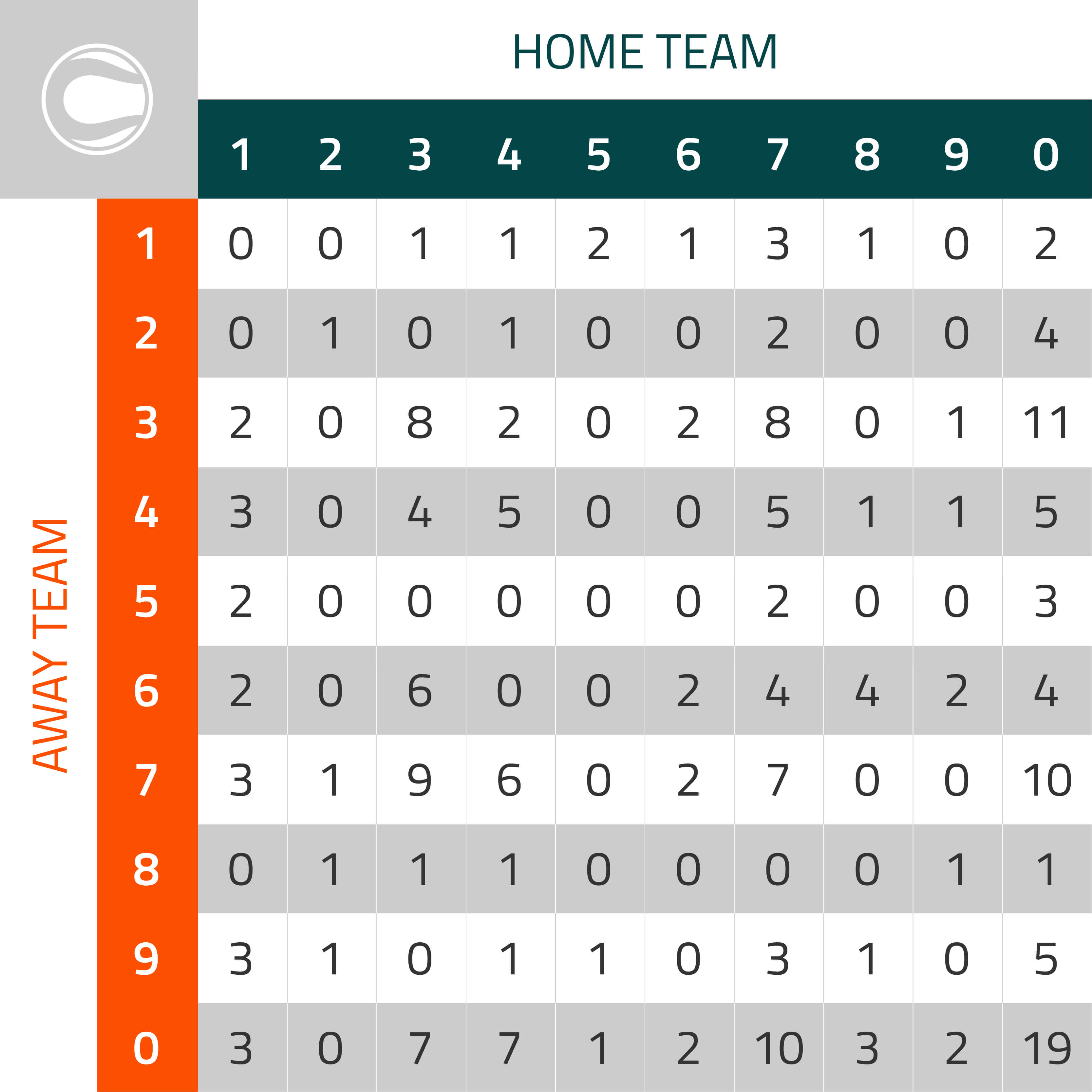 Super Bowl prop bet sheet
Squares isn't the only party game you can add to your Super Bowl party. Check out our free printable party prop bets sheet for Super Bowl 57, make your pick your Super Bowl props, and play along.
Super Bowl squares FAQs
Yes. We saw this happen in Super Bowl 54 for the intersection of zero and zero got paid out twice.
The final payout for Super Bowl squares comes at the end of the game, regardless of whether that is after the fourth quarter or after overtime.
100. A Super Bowl square grid is 10x10.
Pages related to this topic