I'm not a marijuana user (except that one time in Springfield, MA which we won't speak about) so I haven't spent too much time following the legalization of marijuana in Las Vegas very closely. I decided to brush up on using legal marijuana since so many people visiting have questions. Thankfully, I was able to meet up with the CEO of Essence Vegas, Armen Yemenidjian, to learn about buying and using marijuana in Las Vegas.

Armen used to work in the casino industry and is now the CEO of Essence Vegas. The company has three marijuana dispensaries in Las Vegas including the only marijuana dispensary on the Vegas Strip. Essence on the Vegas Strip is a two-minute walk from SLS Las Vegas and maybe three minutes from Stratosphere. If you're in a car heading downtown at night you can't miss the bright green LED sign that takes up the entire exterior. Nothing says Las Vegas marijuana dispensary like this bright green sign.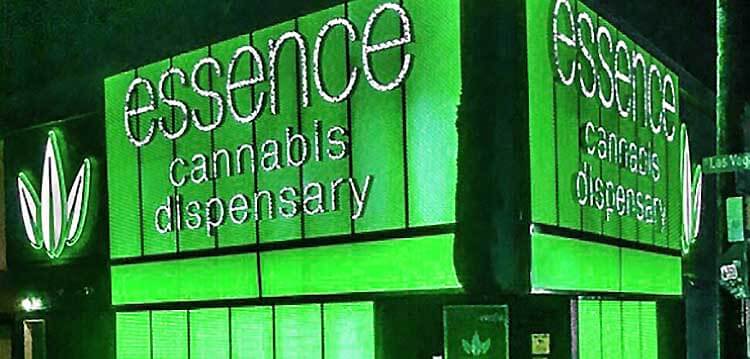 Buying Marijuana In Las Vegas

Buying legal marijuana in Las Vegas isn't difficult if you're 21 (or 18 with a medical card). All you have to do is walk into a dispensary with cash and your government issued identification. Credit cards are not accepted at any dispensary. If you don't have cash on hand you should find an ATM at the dispensary. You'll just need to have a debit card on hand.

Legally Using Marijuana In Las Vegas

Using that legally purchased marijuana isn't so easy for many people visiting Las Vegas. Marijuana is not allowed in public, casinos or hotels. If you want to use marijuana legally in Las Vegas you must enjoy it in a legal residence. This is a strange predicament for a city that sees more than 42 million visitors a year.

Here are some brief legal takes from someone who isn't a lawyer. Legal marijuana is a state law. Credit cards are federally (national) insured through the FDIC they can't be accepted. ATM transactions are done through a third party, so they're allowed at dispensaries. Similarly, casinos operate nationally and don't want to risk their local licenses in other states.

Legal marijuana is still new to Las Vegas and the laws aren't perfect. The initial version of marijuana laws seems as though they were created for residents of Las Vegas and not tourists. The laws should evolve over time. While you may never be able to use legal marijuana in a casino, there might be another option.

Future Of Marijuana In Las Vegas

The marijuana industry in Las Vegas is currently looking to legalize marijuana lounges. These would be venues where you could freely and safely use marijuana outside of a private residence in Las Vegas. If lounges become legal, Essence would like to add a lounge to at least one of their existing dispensaries. I imagine most other shops would look to do the same thing.

So, the bottom line for Nevada's legal marijuana: It's legal to purchase if you're 21 but not legal to use in public or in a casino.

More On Legal Marijuana In Las Vegas

Since I had a marijuana dispensary boss willing to talk very openly about the business, I decided to dive a little deeper into legal weed. We discussed a lot thanks to my own curiosity and questions from Twitter. After speaking with Armen and a few others at Essence, I walked away feeling very educated and comfortable discussing legal marijuana.

As someone that doesn't pay close attention to people enjoying marijuana, it's strange to hear that there's still a stigma attached to it. Kids in a schoolyard aren't the only people smoking. People from all walks of life have smoked for years. I see this situation as similar to Marc likes beer and Bob likes marijuana. No big deal with me but the law feels differently.

Marijuana users are different than they used to be. Today they can enjoy it in other forms such as edibles for fun or medicinal products for health. The dispensaries are set up for veteran and new users alike. Essence and other marijuana dispensaries in Las Vegas have knowledgeable consultants on hand for advice as well as nurses who can advise medicinally. It's important to understand marijuana before using.

Smoking marijuana, eating marijuana, and rubbing marijuana on the body each affect people differently. Smoking is the quickest way for marijuana to hit the system. Meanwhile, edibles may take twice as long to make an impact. Since becoming legal I've heard a few too many stories about people pounding edible marijuana because they take longer than smoking. Consuming too much marijuana too quickly never ends well. The consultants can help advise how to get the desired effect from the marijuana.

I'm by no means an expert on the marijuana industry but I did learn a lot. Customers at Essence are mostly between 21-50. While they're mostly millennial and Generation Xers, Essence on the Vegas Strip sees a lot of baby boomer customers. It surprised me to learn that their off-Strip stores have younger customers than the location on the Vegas Strip.

However, one thing that did not surprise me is that customers are purchasing different products at the different locations. The Vegas Strip dispensary sells more edibles than the off-strip stores. That makes sense since it's not legal to use the products in public. It's probably easier to eat a gummy bear or mint in a casino, hotel or club then it is to find a place to smoke a joint.

In fact, the Vegas Strip dispensary sees about 80% tourists and 20% locals. The numbers are opposite for the two off strip Essence locations. About 80% of customers on the east and west sides of Las Vegas are local residents while about 20% are tourists.

I learned a lot about legal marijuana in Las Vegas but the basics stand out. Bring government ID (driver's license), bring cash (or debit card to get cash), and ask questions about what you're buying are the most important. Using marijuana safely ensures the best experience. We're all about the best Vegas experience!
**video
Pages related to this topic