The Maryland Terrapins narrowly topped West Virginia to reach this weekend's second round. Meeting the March Madness odds favorite Alabama Crimson Tide is never ideal this year, but doing so the game after star wing Brandon Miller went scoreless may be even more fraught than usual.
With a fast-paced squad facing one of the country's slowest, which way should our March Madness picks lean on the total?
Here are our free college basketball picks and predictions for Maryland vs. Alabama on March 18, with tip set for 9:40 ET.
Maryland vs Alabama best odds
Maryland vs Alabama picks and predictions
On the surface, Alabama is incapable of playing slowly. The No. 5 fastest team in the country by adjusted tempo, the average Tide possession barely lasts 15 seconds. This frenetic pace helps compensate for Alabama's rather middling shooting and propensity for turning over the ball. Despite shooting just 34.2% from deep, when the national average is 34.0%, the Tide enjoys an effective field goal percentage of 52.9, No. 61 in the country.
Layup lines and open looks will have that effect. Head coach Nate Oats very much runs an NBA-esque offense in that regard.
But look beneath the surface and plodding opponents have been able to slow down Alabama this season. The Tide runs the fastest offense in the SEC by three possessions per game when counting only conference games. Compared to the median, Alabama runs nearly six possessions per game faster, and compared to the slowest team in the conference, Tennessee, the Tide hums eight possessions per game faster.
But those seven teams in the slower half of the conference have dragged Alabama into the mud with them. Eleven non-overtime games against those seven teams averaged 70.9 possessions, nearly two trips down the court slower than the Tide prefers.
That may not sound like much, but other aspects of the game were assuredly impacted, as well, with Alabama no longer able to efficiently run the offense Oats prefers. Those 11 non-overtime games went Under their totals 10 times. The one overtime contest against South Carolina would have, too, if not for the extra period's 18 points clearing the total by five.
In the Tide's 12 other conference games, the Over cashed eight times with one of the exceptions being a push.
Maryland operates just as slowly as Tennessee, if not more so. The slowest team in the slowest conference in the country will need to muck up this game to contend with Alabama, and dragging the Tide into the mud should do that. There is a pretty clear pun here about the Terrapins enjoying a turtle's pace. The trusted Covers.com headline writers undoubtedly worked that in up top. The problem is, turtles may move faster than these Terps.
Maryland has not played a non-overtime game with more than 65 possessions since the first weekend of January. If the Tide plays with an "all gas, no brakes" philosophy, then the Terrapins play with four flat tires.
This total of 144.5 may need to fall to 141.5 before the Under is doubted.
My best bet: Under 144.5 (-110 at DraftKings)
Best March Madness bonuses
Looking to bet on March Madness action? Here are two of the best bonuses* available:
A) Get four 32% profit boosts to use on Round of 32 bets at DraftKings! Opt-in Now
B) Get a 25% profit boost on one college basketball underdog every day at Caesars! Opt-in Now
*Eligible USA locations only. Also, check out our full list of best March Madness promotions for 2023.
21+. Gambling Problem? Call 1-800-GAMBLER.
Maryland vs Alabama spread analysis
Despite those 12 particular SEC games crawling against Alabama's wishes, the Tide still won against the spread in seven of them. They struggled ATS to close the regular season, going 1-5 from Feb. 15 to March 4, but then covered three straight to win the SEC tournament title and would have covered on Thursday against Texas A&M Corpus Christi if not for a buzzer-beating three from the Islanders.
Maryland, meanwhile, has been one of the better ATS teams this season, going 22-12, including 13-9 in Big Ten play. That conference mark included an ugly start, going 2-4 ATS and straight-up before finding a groove. From Jan. 19 onward, the Terrapins went 10-6 straight-up in the Big Ten, including the conference tournament. The first half of the year, this was very much not a tournament team. It then closed as one that could have been considered the quality of a 5 or 6-seed if not for those December struggles.
Maryland has gone 12-5 ATS since that turnaround.
Covers March Madness betting tools
Maryland vs Alabama Over/Under analysis
How slow could this game get? Probably not as slow as when the slowest team in the Big Ten faced the slowest team in the SEC. Maryland and Tennessee played in Brooklyn in early December and though they ran up and down the court 66 times, they combined for a whopping 109 points, casually falling short of the total by 25.5 points.
That was obviously an extreme, but it also proves a point: Even if the Terrapins are losing badly, they will not hit the gas pedal. Maryland was down 34-17 at halftime in the Barclays Center. Two minutes earlier, the score had been 34-13. They would not get within 10 points until only nine minutes remained.
Maryland kept chipping away until it was within two points with 24 seconds remaining, a 3-pointer at the buzzer missing the mark and ending the comeback hopes.
If Alabama gets out ahead early on Saturday, the Terrapins may not care.
Maryland vs Alabama betting trend to know
The Under is 4-1 in Alabama's last five games and 4-0-1 in Maryland's last five games. Find more college basketball betting trends for Maryland vs. Alabama.
Maryland vs Alabama game info
| | |
| --- | --- |
| Region: | South |
| Location: | Legacy Arena at BJCC, Birmingham, AL |
| Date: | Saturday, March 18, 2023 |
| Tip-off: | 9:40 p.m. ET |
| TV: | CBS |
Maryland vs Alabama key injuries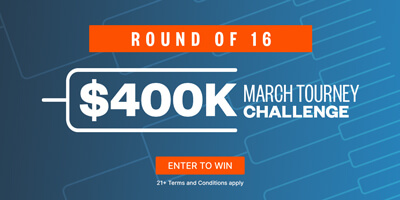 Pages related to this topic