You don't need a degree in bracketology to cash in on March Madness. It's tournament time, and we're rounding up the best free March Madness bracket contests and challenges to enter, including our very own tournament challenge.
Free 2023 March madness bracket contests
Sportsbooks offered some big prizes this year for their bracket contests. While most contests close up before the first round tips off, make sure to watch this space for any second-chance bracket contests that become available for the 2023 NCAA Tournament.
Gambling problem? Call 1-800-522-4700 | 21+ in eligible states.
DraftKings Free Tourney Bracket - Second Chance Bracket
With all the upsets that the first two rounds of March Madness brought us in 2023, many people's brackets are good and busted. DraftKings offers users a second chance at cash prizes with their Free Second Chance Bracket contest ahead of the Sweet 16 this week. Simply fill out a new bracket for the remaining teams and rounds for a chance at cash prizes!
Covers $400K March Tourney Challenge
A March madness bracket contest entry can go south very quickly if a team you pick to go far gets upset in the First Round. But with a free betting contest, one game is just one game. Use Covers' free printable March Madness bracket and enter our NCAA Tournament contests.
Cover's March Madness contest for 2023 will have $400,000 in prizes up for grabs over the course of the tournament. Make picks throughout the tournament for a shot at four $100,000 prizes. Enter our $400K March Tourney Challenge today! Full rules and terms and conditions are coming soon on our Free Daily Contests page.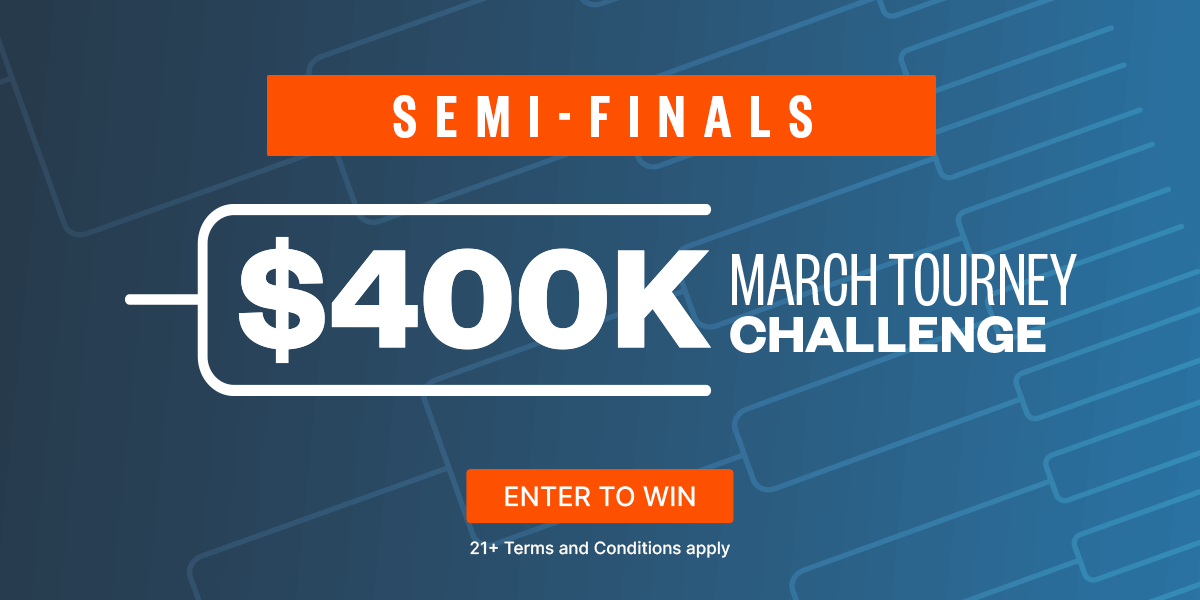 Streak Survivor
Another free contest worth playing is Streak Survivor. Put together a streak of correct bets to win — including the top prize of $100,000.
King of Covers
You can also enter our 2023 NCAA Basketball Playoffs King of Covers contest with more than $2,500 in cash and prizes available. Enter for free and make picks for a chance to win.

DraftKings Zero Right Bracket Challenge
Bust your bracket for $100K
Tired of getting your bracket busted? Bust it yourself for a chance at $100,000! This year DraftKings Sportsbook is taking a different approach to its annual March Madness challenge.
This year the goal is to get all your picks wrong! Complete the entire bracket over at DraftKings before the tournament starts. If you make a correct pick, you earn a point against yourself. At the end of the tournament, whoever has a ZERO for their point total at the end of the tournament or the lowest point total wins $100,000.
Head on over to DraftKings Sportsbook for the full terms and conditions.
bet365 Bracket Challenge 2023
You could win up to $10 million
Bracket contests are back, and bet365 is setting the bar high for the 2023 tournament with its $10 bracket challenge.
If you have a bet365 account, you can sign up for the contest before Thursday, March 16, 2023, when the tournament is set to tip-off. From there, you simply predict the result of each March Madness game to earn points.
Round 1 picks: 10 points
Round 2 picks: 20 points
Round 3 picks: 40 points
Quarter-final picks: 80 points
Semi-final picks: 160 points
Final picks: 320 points
The player with the most points at the end of the contest wins $100,000, but if anyone actually manages to pick every game correctly, they will walk away with $10 million!
| Place | Prize money |
| --- | --- |
| Perfect bracket (all matchup picks correct) | $10,000,000 |
| Winner | $100,000 |
| 2nd place | $25,000 |
| 3rd place | $10,000 |
| 4th place | $5,000 |
| 5th place | $1,000 |
| 6th-20th place | $500 |
| 21st-50th place | $300 |
| 51st-100th place | $200 |
| 101st-500th place | $100 |
| 501st-1,000th place | $50 |
| 1001st-1500th place | $25 |
| 1501st-2500th place | $5 |
See the full terms and conditions for the bet365 Bracket challenge and enter today!
Bracket Challenge game is available to new and eligible users. Customers must be aged over 21 and verified for identity by bet365. Only one entry is permitted per person.
BetMGM Perfect Bracket Challenge
Get $10 Million for the perfect bracket
BetMGM is back for 2023 with their $10 Million Perfect Bracket Challenge. If you can fill out and submit a perfect March Madness bracket before the tournament starts on March 16, you will get a $10,000,000 grand prize! Picking the perfect bracket is a tricky proposition to say the least, so BetMGM is sweetening the pot with $100,000 guaranteed prize for the entrant with the most points earned for correct picks. Make sure to carefully fill out your bracket before March 16 at 11:59 p.m. ET. Use our expert bracket predictions page to sharpen your picks as you make an attempt at a perfect bracket.
First Round: 1 point for correct picks
Second Round: 2 points for correct picks
Third Round: 4 points for correct picks
Fourth Round: 8 points for correct picks
Semi-Finals: 16 points for correct picks
Championship: 32 points for correct picks
Only one entrant is allowed per customer. Head over to BetMGM for full terms and conditiions.
BetMGM offered up $10 million for a perfect NCAA Tournament bracket. Bettors can sign-up for an account and enter the contest for free. Entrants had to make picks before the tipoff of the tournament's first game in 2022 (not including the First Four), then submit their finalized brackets for the chance to walk away with the $10 million grand prize. Naturally, a perfect bracket didn't happen as the odds are astronomical, so to soften the blow of a busted bracket, BetMGM still guaranteed a $100,000 prize to the top contestant last year.
Sports Interaction Free-to-Play Bracket Challenge
Canadian sportsbook Sports Interaction has $1 million to give away for a perfect bracket in 2023 and $10,000 in bet credits guaranteed for the top finishers. Submit your bracket by March 16, and you'll earn points for every correct selection you make. Head on over to Sports Interaction for the full terms and conditions.
Not available to residents of Ontario.
March Madness betting contests
BetRivers Squares
While it's not a bracket challenge, BetRivers returns its popular Squares betting contest for March Madness. You can earn a square with two numbers when you bet $20 on a game with a "Squares" icon. If your numbers match the last digits of the final score of select games, you could win up to $10,000!
Instant replay: Best March Madness bracket contests
Follow the action on Covers to gain insight into which teams are poised to make a tourney run and find out who could play the role of Cinderella in 2022. In the end, most contest entries are built on picking a handful of favorites, gut feelings, and sheer luck. Keep these factors in mind:
Research the top seeds from each conference and look at head-to-head matchups and historical seeding.
Complete entry forms and fill out your bracket before the tipoff of the first-round games.
Spread the love around multiple contest sites, much like your betting bankroll.
March Madness bracket contests FAQs
Sportsbooks and several sports media companies offer lucrative winnings for contest entries. Most prizes are awarded to the owner of the bracket who made the most correct selections.
The best free bracket challenges to enter include those from FanDuel, DraftKings, Yahoo and two from Covers.
A variety of cash and prizes ranging from $3,500 to $100,000 in value will be awarded to contest winners.
Residents of legal betting age in Canada and the United States can enter these contests. Make sure to read the terms and conditions before completing any entry forms.
Pages related to this topic