Here it is: The official 2021 March Madness bracket prediction from Covers.
Use it to identify which upsets to target, to help decide between the matchups that appear to be a coin toss, and to help shape your Final Four.
Or just copy it entirely and submit it to your bracket contest — just be sure to give us a shout-out when you win some money.
2021 NCAA Bracket Prediction
Once the bracket was set on March 14, our betting analysts spent the next 24 hours breaking down each matchup before deciding on this prediction. Hit the download button for a printable version and read on below for analysis.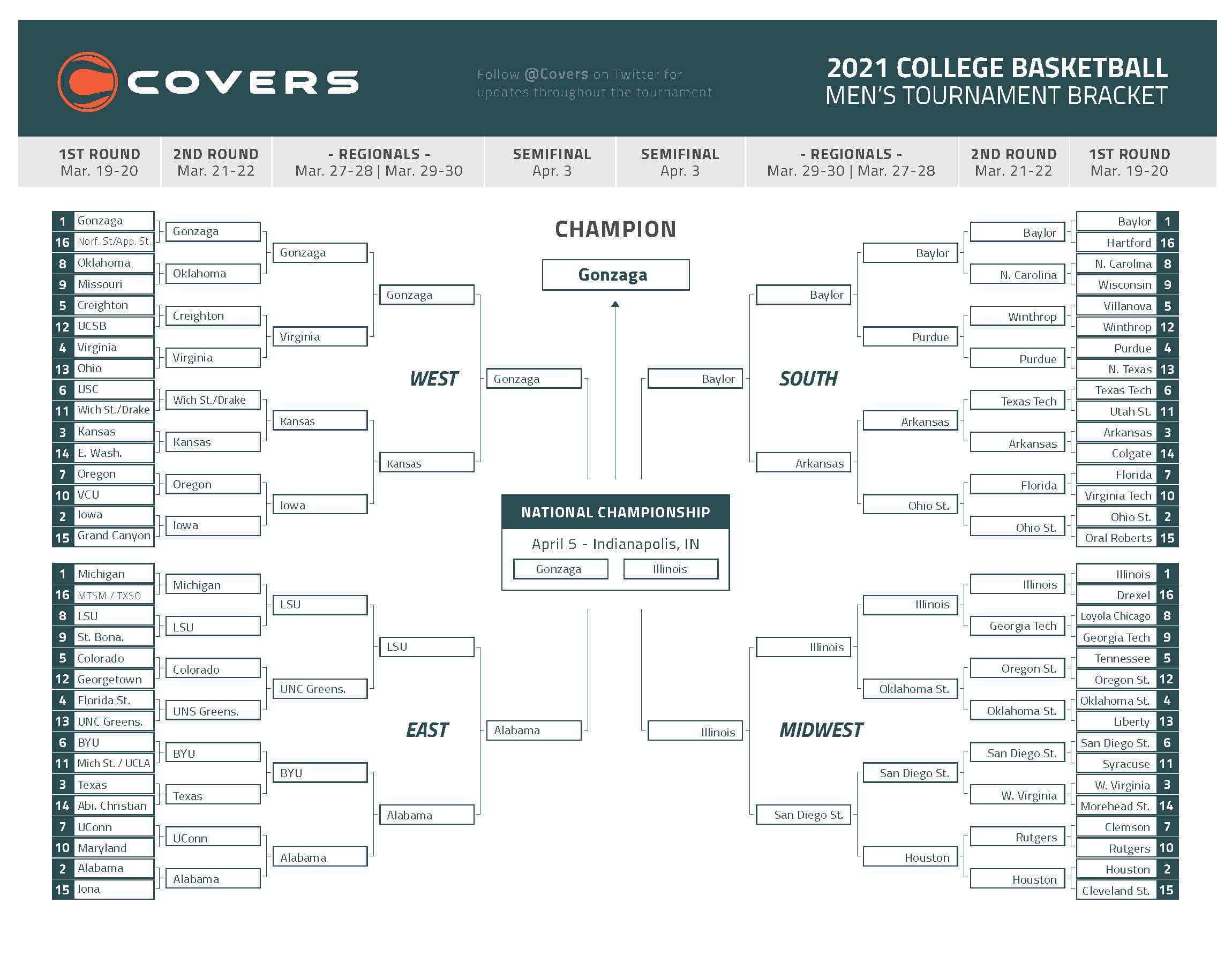 West Region analysis
It shouldn't be a surprise that we have the No. 1 ranked team in the country getting through to the Final Four. But considering the criticism that Gonzaga is receiving from hoops fans for their level of competition, it might be. Don't forget that the Bulldogs opened their season with impressive victories against Kansas, Iowa, West Virginia and Virginia, and three of those schools happen to be the No. 2-4 seeds in this region. Gonzaga has a recent history of excelling during March Madness and this might be the Zags' most talented roster yet.
One school that might be primed for a Cinderella run is No. 8 seed Oklahoma. The Sooners entered February ranked No. 9 in the country, before a slew of close losses to a gauntlet of tough Big 12 foes dropped them down in the rankings. They are deep, very experienced and rarely turn the ball over; often a recipe for a deep run in the NCAA Tournament.
If you're looking for a first-round upset, whoever comes out of the First Four matchup between Wichita State and Drake could pose a threat to No. 6 seed USC. The Trojans enter the tourney on shaky ground, going 4-4 SU and 2-6 ATS in their last eight games. Wichita State has played Cinderella before and has a very good defense, while Drake was one of the top mid-major teams in the country before an injury to leading scorer ShanQuan Hemphill hurt their offense. Hemphill might be back for the tourney and if he is, Drake could make some noise.
East Region analysis
Alabama is the top team in this region, even more so with Michigan losing Isaiah Livers to a foot injury. The Crimson Tide have multiple ways to win games and sit second in adjusted defensive efficiency at KenPom.com – the tell-tale stat of Final Four contenders.
We're high on another SEC team in LSU, setting up a rematch of the SEC title game with the Crimson Tide in the Elite Eight, and we also like UNC Greensboro to stir the pot. The Spartans have a very disruptive defense and could possibly face two higher seeds not playing their best basketball heading into the tournament in FSU and Colorado.
If this region goes sideways, it will likely be with the BYU/Texas branch. The Longhorns have Shaka's March Magic and it's tough to tell if the Cougars are capable of coming out of the WCC. They get up to play Gonzaga every few weeks but could be out on their ass depending on what happens in and after that First Four matchup between Michigan State and UCLA.
South Region analysis
This is a dangerous bracket, with four teams truly capable of winning, but Baylor has been one of the two primary title favorites all year for a reason: They can score, they're deep, they can score, they have veteran leadership and did we say they can score?
Plus, when it comes to crunch time, we'll take Jared Butler over any other South team opponent's best player.
We're drinking the Kool-Aid on No. 12 Winthrop, which dominates on the glass and limits opponent threes—the exact opposite of what floundering No. 5 Villanova (minus Collin Gillespie) wants to face in a first-round opponent.
We're also keeping our eye on No. 13 North Texas, which is a senior-heavy group that shoots the ball well and gets after you defensively, as they could be a tricky matchup for a very young No. 4 Purdue squad that does not shoot the three particularly well and could have its hands full.
Midwest Region analysis
The Midwest region is arguably the most intriguing in the NCAA Tournament. Illinois is a true threat to win the National Championship. Oklahoma State is under-seeded as a 4-seed and has the likely No. 1 overall pick in the NBA Draft in Cade Cunningham. There are unlikely conference tournament champions in Georgia Tech and Oregon State. And of course, Sister Jean and Loyola Chicago.
Several teams in this region are capable of making a deep run, but at the end of the day, Illinois is just at another level. Led by the Masked Maba Ayo Dosunmu and Kofi Cockburn they rank in the Top-7 in both adjusted offensive and defensive efficiency. The Illini will be the superheroes of this region and in the end, take down all that stands in their way.
The Oregon State Beavers were picked to finish dead last in the Pac-12 in the preseason, and now they are conference champions. They did so by going unconscious from beyond the arc in the Pac-12 tourney. They face a very good defensive team in Tennessee, but the Vols were wildly inconsistent on offense and went 8-7 down the stretch in the SEC.
And sorry, no Cinderella run for Sister Jean and Loyola-Chicago. If they do get past Georgia Tech (getting points with the Yellow Jackets is too tempting to pass up), Illinois is next on tap.
Final Four analysis
In the Final Four, Alabama is very tough on defense but their fast-paced style of play will feed right into what Gonzaga does best: light up the scoreboard.
One month ago we thought Baylor was the team to beat, but they've looked shaky since coming off their COVID-enforced break and Illinois is red-hot with two of the best players in the country.
We should be in for some offensive fireworks in the National Championship game but the Zags simply have too many weapons while the Fighting Illini's tendency to get into foul trouble could prove costly.
Our process
Our process went like this. We have four betting analysts — one for each region — making betting picks on every single game of the tournament.
Each writer filled out his region all the way to the Final Four. Then someone had to make the important decisions as to who would win the semifinal games and the national championship, and that assignment went to Rohit Ponnaiya.