Despite numerous interruptions and hundreds of positive tests, the NFL managed to successfully complete its season and crown a Super Bowl champion. It was a year unlike any other for the world of sports betting too. There is nothing fun about COVID-19, but betting sites are always looking for ways to get in on the action. Their penchant for posting Super Bowl props, on just about anything that is topical or relevant, resulted in the first-ever listing of COVID-19 props.
There were a few close shaves (more on that below) courtesy of the Kansas City Cheifs' barber, but the Super Bowl kicked off on time and all available personnel cleared COVID-19 protocols. Down in Tampa, there were fans in the stands too, many of whom were vaccinated-frontline workers.
Super Bowl COVID-19 prop odds
Betting sites started posting COVID-19 prop odds during the week leading up to the conference championship games. These were the last odds:
How many players will miss the game due to COVID-19?
| Selection | Odds |
| --- | --- |
| Under 1.5 players | OTB |
| Over 1.5 players | OTB |
What will be said first?
| Selection | Odds |
| --- | --- |
| COVID | -275 |
| Pandemic | +185 |
What will be said first?
| Selection | Odds |
| --- | --- |
| Mask(s) | -300 |
| Coronavirus | +200 |
Will there be a COVID-19 vaccine commercial?
| Selection | Odds |
| --- | --- |
| Yes | +300 |
| No | -500 |
How many commercials will show a person wearing a mask?
| Selection | Odds |
| --- | --- |
| Over 1.5 commercials | -750 |
| Under 1.5 commercials | +450 |
COVID-19 props explained
There is a saying that if you can think of it, you can bet on it during the Super Bowl so it should come as no surprise that online sportsbooks were offering coronavirus-related betting props for Super Bowl LV — with the main market being the Over/Under on how many players will miss the game due to COVID-19.
If you were looking for a lighter way to stay engaged with the Big Game through betting, check out these earlier Super Bowl prop options:
Super Bowl reserve/COVID-19 list
The COVID-19 list was all clear one day ahead of the Big Game, which was great news for football fans and the league alike. There was a scare earlier in the week, after two members of the Kansas City Chiefs (WR Demarcus Robinson and C Daniel Kilgore) were placed on the COVID-19 list due to close contact with a barber. Both players cleared protocol and suited up for the game on Sunday.
The final COVID tests were conducted Sunday, but both teams were all clear as of Saturday.
Based on the timing, these are likely the last results before kickoff of Super Bowl LV. A significant development. https://t.co/fiVXISF3O6

— Ian Rapoport (@RapSheet) February 6, 2021
NFL COVID-19 protocols explained
Teams have been operating under the league's COVID-19 intensive protocol, introduced prior to Week 11 of the regular season. Since the intensive protocol was put in place, along with a mandate calling for a five-day isolation period for individuals identified as "high-risk close contacts" of a player or coach who tested positive, the NFL has been able to eliminate widespread outbreaks like the one suffered by the Tennessee Titans back in Week 4. That setback triggered a major disruption to the schedule.
Look at the rundown of the league's coronavirus protocols and how they work:
The reserve/COVID-19 list
Players who have tested positive for the coronavirus, or who have been in close contact with an infected person, are placed on this list. Subsequently, players are removed from the 53-man active roster and temporarily replaced, usually with a player from the team's dedicated practice squad.
Most recently, free agents were required to enter a six-day testing period before being eligible to practice and play in games. However, changes have been made to help fill teams' postseason roster. Players who are currently in the league's COVID-19 testing protocol will be allowed to join or try out for a new team without having to start a brand-new six-day testing period. Players can then sign with a team only if they take all the required tests, travel privately, and successfully pass a rapid-response test.
Waiting game: when can players return?
Players who test positive are required to self-quarantine for a minimum of 10 days and continue their testing. Any players considered "high-risk" close contacts must be sidelined for at least five days.
NFL teams do not have any control over when infected players can be cleared to return. If a player is asymptomatic, they are allowed to resume team activities 10 days after they returned their positive test. Players who are symptomatic can return, but only after at least 10 days have passed since their symptoms first appeared and at least 72 hours after they last experienced any symptoms.
Getting physical: contact tracing
All NFL players and team personnel have been mandated to wear proximity recording devices whenever they are at their team facilities, at practice, and while traveling.
These devices are also built into the players' equipment for use during both practices and games. They collect data about an individual's proximity to another to perform contact tracing when an individual is either symptomatic or if they test positive for COVID-19.
The NFL released a video explaining that it isolates infected individuals and prevents them from further contact with teams for 10 days. The league's chief medical officer Dr. Allen Sills and a dedicated contact-tracing squad, team personnel, and other health experts review the cases, which are assigned to a subgroup of contract tracers.
Missing in action
While no NFL postseason games have been postponed due to COVID-19, the virus' impact was felt in the earlier rounds.
Cleveland Browns head coach Kevin Stefanski tested positive for COVID-19 prior to the team's Wild Card game against the Pittsburgh Steelers. Stefanski later returned to the sidelines for the Browns' Divisional Round game versus the Chiefs, following the 10-day isolation period mandated by the NFL.
The team also lost Pro Bowl guard Joel Bitonio and wide receiver KhaDarel Hodge due to positive tests. Tight ends coach Drew Petzing and defensive backs coach Jeff Howard joined several other players on the reserve/COVID-19 list, along with three other coaches who tested positive.
Which sportsbooks offered COVID-19 props?
Not all Super Bowl betting sites offered COVID-19 props. They are certainly a niche market as is custom, as they were only offered at sites with the deepest prop menus. It should also be noted that regulated sportsbooks in the US required permission from state regulators before offering this type of prop.
Super Bowl COVID-19 rules
The league issued a memo to the teams stating that postseason local bubbles were not mandatory. According to NFL Chief Medical Officer Dr. Allen Sills, it was data driving the decision: "In our intensive protocols, our high-risk close contacts are down dramatically. In fact, our most recent data shows that nearly 90% of all of our new cases have zero high-risk contacts, which is exactly what we wanted to see...our clubs are doing a great job at mitigating risk."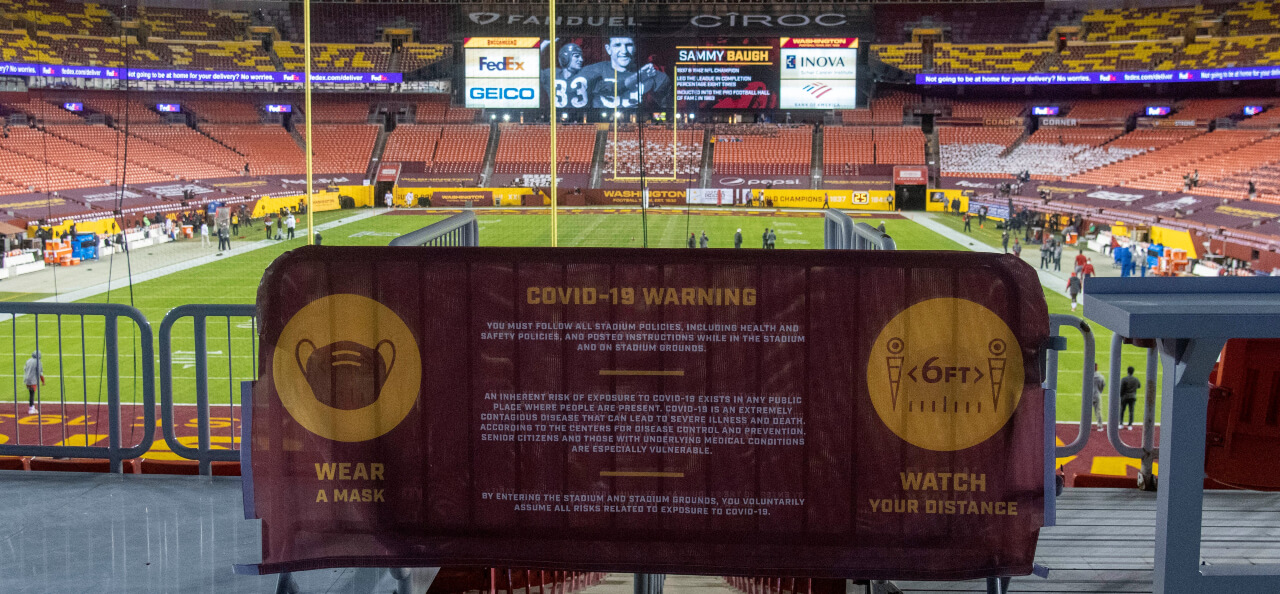 A COVID-19 sign at FedEx Field before the game between the Washington Football Team and the Tampa Bay Buccaneers on Jan. 9, 2021 - Brad Mills-USA TODAY Sports
Ongoing efforts to keep the Big Game on track included encouraging teams to implement extended testing for friends and family. This measure was designed to combat community exposure since individuals outside of the team environment, like chiropractors and massage therapists, may have been interacting and treating its players.
Fans in stands
The NFL announced increased seating capacity for the Super Bowl, bringing the number to 25,000. Included within the group were some 7,500 vaccinated health care workers, mostly from the local community, who were invited as guests of the league.
An additional 30,000 cutouts served as surrogate fans, meaning there were more cardboard cutouts than real fans attending this year's Big Game.
According to the NFL: The official attendance at Raymond James Stadium for Super Bowl LV will be: 25,000 fans and 30,000 cutouts.

— Ian Rapoport (@RapSheet) February 2, 2021
Sunday's game was one of the largest outdoor events held in the United States since the beginning of the COVID-19 pandemic. The state of Florida does not have a formal attendance limit for sporting events.
In accordance with local COVID-19 safety protocols, face masks were mandatory and social distancing measures enforced, including fans placed in pods spaced out in six-feet increments. Capacity at Raymond James Stadium is 65,890 and would have been expanded to 75,000 for the Big Game.
Cash deemed unclean
Raymond James Stadium officials implemented cashless food and beverage locations. Reverse ATMs are also on-site, allowing fans to convert cash to a universal-use Visa value card.
Ticket holder's oath
Those fortunate enough to have attended scored Super Bowl tickets had to comply with the stipulations outlined earlier. Additionally, they had to agree to not come to the game unless they could confirm, on behalf of themselves and their guests, that none of the following were true:
Within the last 14 days, ticket holders have not tested positive for, or been exposed to, COVID-19.
Within the last 48 hours, ticket holders have not experienced symptoms of COVID-19.
Within the last 14 days, ticket holders have not traveled to any state or international territory identified by federal or applicable local governments as being subject to travel or quarantine advisories due to COVID-19.
Instant replay: Super Bowl COVID-19 Props
Betting on Super Bowl props at online sportsbooks could have enhanced your Big Game viewing experience. We hope that you kept these factors in mind if you wagered on coronavirus-related markets:
The Over/Under for how many players would have missed the game was driving the action.
Kept tabs on breaking Super Bowl news to gain an advantage.
Players not on the active roster could have suddenly turned the tide.
Super Bowl COVID-19 FAQs
Could a player have missed the Super Bowl due to COVID-19?
Yes. If a player tested positive during the week leading up to the Super Bowl, that player would have had to go through COVID-19 protocols which could have led to the player missing the Super Bowl.
Did Super Bowl 2021 have fans?
Yes. Raymond James Stadium hosted a limited capacity of 22,000 fans.
Was the Super Bowl postponed due to COVID-19?
No, the NFL did not postpone the Super Bowl. It would have taken a major outbreak for that to happen.