The Super Bowl is about so much more than betting on Super Bowl props... or even Super Bowl game odds: It's also a chance to bring all your buddies together for a phenomenal party.
And the key to any great gathering is, of course, food.

Did you know Americans eat more than 100 million pounds of chicken wings, over 13 billion burgers, and consume 11.2 million pounds of potato chips on Super Bowl Sunday?

But what is the ultimate Super Bowl Sunday snack? We're glad you asked! We've logged hours of arduous research breaking down the betting odds for the Top 16 Super Bowl snacks, and now those snacks will duke it out in a winner-take-all March Madness-style bracket showdown — which you will vote on!

The betting favorites are the likely suspects in chicken wings and nachos, but is there value in a live long-shot like Mac & Cheese?

The Covers Ultimate Super Bowl Snack Bracket challenge runs from Friday, January 27 to Monday, February 6. Visit our Covers Twitter account daily to cast your vote to see which snacks will advance.
The Ultimate Super Bowl Snack Bracket
The Ultimate Super Bowl Snack odds
| Snack | Odds |
| --- | --- |
| Chicken wings | +140 |
| Fully-loaded nachos | +325 |
| Pizza | +700 |
| Sliders | +750 |
| Slow-cooked chili | +1,100 |
| Potato chips | +1,400 |
| Hot dogs | +1,800 |
| Meatballs | +2,200 |
| Sausages | +2,500 |
| Fried chicken | +3,000 |
| Jalapeno poppers | +3,500 |
| Mac & cheese | +3,800 |
| Seven layer dip | +4,500 |
| Mozzarella sticks | +5,000 |
| Potato skins | +6,000 |
| Artichoke dip | +10,000 |
Super Bowl snack odds analysis
Chicken wings (+140)
Chicken wings are a worthy favorite, in large part due to their extreme versatility. Breaded or crispy skin? Do you like your wings tossed in sauce, or do you dunk them like Jimmy Graham dunked a football through the uprights after every touchdown?
A dry seasoning like lemon pepper is arguably the best. Sweet, salty, or spicy, wings have it all. Maybe they pull a Gonzaga and stumble in the Final Four, but an early upset would be shocking.
Fully-loaded nachos (+325)
If one Super Bowl snack can take down wings, it's nachos. A perfectly fried tortilla chip can be a vessel for any amount and variety of toppings. From chicken to beef, and peppers to onions, everything tastes better under melted cheese.
With condiments like salsa, sour cream, and guacamole, nachos are hard to top. But will under-melted cheese be nachos' undoing? And olives can be a very divisive topping.
Pizza (+700)
We are starting to see some betting value at +700, and pizza would definitely be at the top of many people's Super Bowl snack power rankings. When done right, almost nothing tops a slice of pizza, particularly when parlayed with a cold beverage. But beware of those who suggest pineapple as an acceptable topping.
Sliders (+750)
Sliders (AKA mini burgers) are definitely a contender to go all the way in our Super Bowl snack bracket. Sliders are great, and you can basically customize them any way you like. However, there are a few things holding sliders back. One, it's hard to determine how many sliders will fill you up. That smaller size also means fewer toppings. Sliders can make a good run but will they be penalized for being undersized?
Slow-cooked chili (+1,100)
Chili is one of my all-time favorite Super Bowl snacks, so my personal bias says at +1,100, it's worth a sprinkle as a live long shot to go the whole way. But I also know chili isn't for everyone. And then there is the whole bean variable. No one at a Super Bowl party wants to be a wind breaker. I think the beans are baked into the line.
Potato Chips (+1,400)
There isn't much betting value in potato chips at +1,400. They are only getting these odds due to their massive reach. Chips are basically at every Super Bowl party. But this is a square snack (not literally), and generally an afterthought. The only thing sharp about this snack is when you cut your mouth on a salt and vinegar chip.
Hot dogs (+1,800)
The oddsmakers here obviously have young children. Because while a classic hot dog with ketchup and mustard is okay at times, for instance at a ballpark when they are $2, at +1,800 they are being severely overvalued by the market in terms of Super Bowl snacks. I'd rather put my money on a veggie tray to win it all.
Meatballs (+2,200)
Meatballs are great. They can come in many forms: Italian, Sweedish, Angus. They can be made with different varieties of meat: Beef, pork, or turkey, just to name a few. And they can be enhanced by a cornucopia of sauces. However, they can also be one note and require a toothpick or fork. That's a big disadvantage compared to some of the other snacks here today.
Sausages (+2,500)
Sausages are also looking a little overvalued in the Super Bowl snack odds. Although delicious and coming in many flavors and styles, they require a lot of work with lots of condiments and toppings. On top of that, sausages generally have to be done on the barbeque. And not everyone in the country wants to be outside over the grill in February.
Fried chicken (+3,000)
Honestly, at +3,000, fried chicken is probably a little undervalued here. But that's because it's hard living in the chicken wings' shadow. But there is nothing like the crunch of a piece of perfectly fried chicken. That's one of the reasons we're getting this price though. Perfectly frying chicken isn't easy.
Jalapeno poppers (+3,500)
I don't know what jalapeno poppers did to deserve this kind of disrespect. Spicy peppers, melted cheese, breaded, and deep fried? What's not to like? So, if you are looking for a Super Bowl snack that can not only make a Cinderella-type run in our bracket but also gives you great betting value as a dark horse contender, jalapeno poppers are it.
Mac & cheese (+3,800)
Mac & cheese is an underdog poised to make an upset or two in the Super Bowl snack bracket. There aren't too many foods out there that are more comforting than a well-baked macaroni that is coated in a cheesy sauce and sometimes topped with more cheese. Throw on some chopped bacon or pulled brisket and you've got a winner.
Seven-layer dip (+4,500)
I don't know how to feel about seven-layer dip. Their fans are like Dallas Cowboys fans, passionate and a little disillusional. So, I think oddsmakers got the price about right with this one. Seven-layer dip is basically a no-bake nacho dip. But if you have the means you're almost always going to side with regular nachos over seven-layer dip. Seven-layer dip is just happy to be invited to the party.
Mozzarella sticks (+5,000)
Mozza sticks fall under the same category as jalapeno poppers, and once again are not getting enough respect from oddsmakers here. I mean, what's better than deep-fried melted cheese surrounded by a crispy breading? Not much, that's what. I give jalapeno poppers the edge due to their more complex flavor profile, but mozza sticks are certainly being undervalued at this price.
Best NFL bonuses
Looking to bet on some NFL Playoff action? Here are two of the best bonuses* available:
A) New users at FanDuel can get a no-sweat first bet of up to $3,000! Sign Up Now
B) New users at DraftKings can bet $5 and get $200 in bonus bets! Sign Up Now
*Eligible USA locations only. Also, check out our full list of NFL promo codes for 2023.
21+. Gambling Problem? Call 1-800-GAMBLER
Potato skins (+6,000)
Even at +6,000, I think potato skins are being overvalued. The common denominator in this Super Bowl snacks bracket is that most of these foods can stand up on their own. Potato skins are a lazy use of baked potatoes. Bacon, cheese, and sour cream carry the potato skin. This is an overrated and overvalued snack. Place your bets elsewhere.
Artichoke dip (+10,000)
Let's get this out of the way. Artichoke dip is not UMBC. Meaning we are not going to see a Retrievers-style 16-seed upset a No. 1 in our Super Bowl snack bracket. Don't get me wrong, there's nothing wrong with a good artichoke dip. Artichoke hearts, cream cheese, sour cream, and dill is a great combo. It just doesn't hold a candle to wings.
Results
| Round | Winner | % of votes |
| --- | --- | --- |
| 1 | Chicken wings (over fried chicken) | 91.5% |
| 1 | Meatballs (over slow-cooked chili) | 51% |
| 1 | Hot dogs (over sausages) | 50.2% |
| 1 | Pizza (over mac & cheese) | 92.9% |
| 1 | Mozza sticks (over jalapeno poppers) | 57.2% |
| 1 | Seven layer dip (over artichoke dip) | 75.2% |
| 1 | Sliders (over potato skins) | 66.9% |
| 1 | Fully-loaded nachos (over potato chips) | 75.4% |
| 2 | Chicken wings (over hot dogs) | 87.2% |
| 2 | Mozza sticks (over sliders) | 56% |
| 2 | Pizza (over meatballs) | 83.8% |
| 2 | Fully-loaded nachos (over seven layer dip) | 73.9% |
| 3 | Chicken wings (over mozza sticks) | 81.2% |
| 3 | Pizza (over fully-loaded nachos) | 57.8% |
| 4 | Chicken wings (over pizza) | 65.4% |
Was there ever really any doubt? Chicken wings flew high over the competition from the opening round to the championship match, where they attracted over 65% of all votes. These tasty hand-held treats received high marks from Super Bowl fans for their versatility and ability to take on dozens of different flavors. It's no wonder that Americans plan to consume 175 million lbs. of wings on Sunday.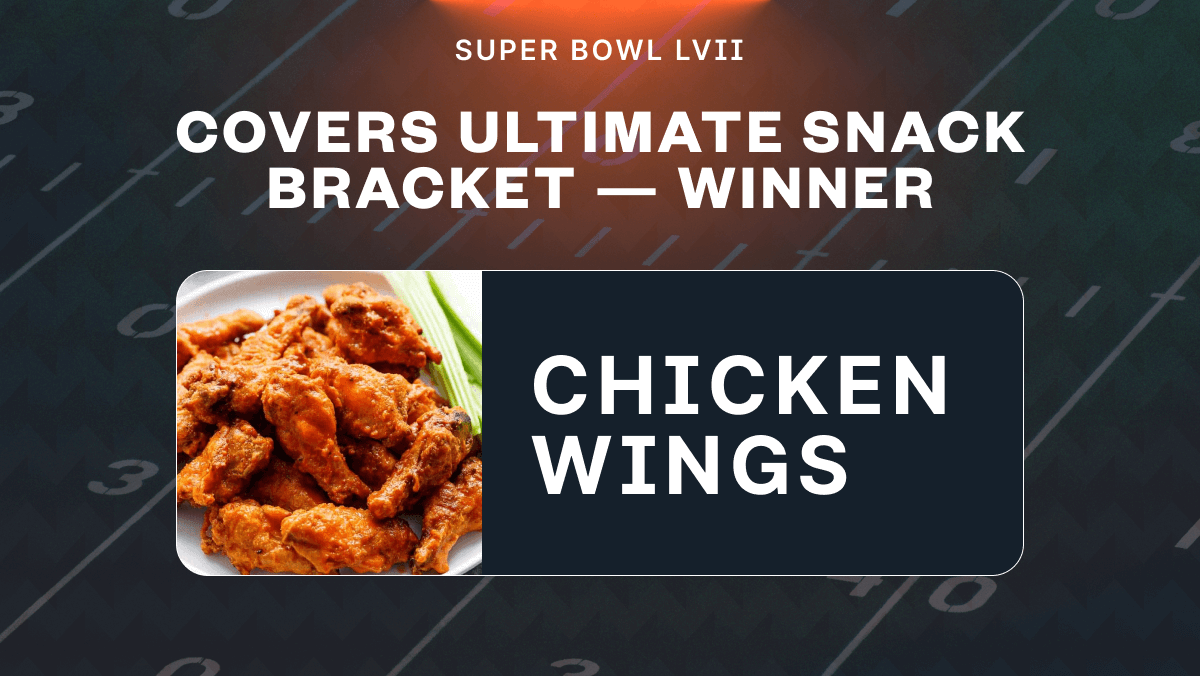 Pages related to this topic