The Sweet 16 has arrived in March Madness and there are some intriguing NCAA Tournament props on tap.
Following plenty of March Madness upsets, UConn is the last team with a natty on its resume (2014). We also have some programs that might be affected by nerves in this upcoming round, and that plays into our latest March Madness picks.
Sweet 16 parlay picks
Click on each pick to jump to the full analysis.
Best March Madness bonuses
Looking to bet on March Madness action? Here are two of the best bonuses* available:
A) New users at FanDuel can bet $5 and get $200 in bonus bets! Sign Up Now
B) New users at DraftKings can bet $5 and get $150 in bonus bets! Sign Up Now
*Eligible USA locations only. Also, check out our full list of best March Madness promotions for 2023.
21+. Gambling Problem? Call 1-800-GAMBLER.
Parlay Pick 1
PARLAY: Kansas State ML (+105) + UConn -4.5 (-105) + Tennessee -5.5 (-110) + Gonzaga/UCLA O145.5 (-110) = +1358 at BetMGM
Kansas State moneyline
Kansas State is playing with a lot of confidence under head coach Jerome Tang right now. The 3-seed Wildcats dumped Montana State by 12 points and pulled away from Kentucky late, prevailing 75-68 as they earned covers in both games.
While head coach Tom Izzo has the experience factor, I don't like Michigan State's matchup against K-State. The Wildcats have a better body of work and Sparty is just two games removed from an embarrassing double-digit loss to a poor Ohio State team in the Big Ten tourney.
UConn -4.5
As far as UConn is concerned, the Huskies are playing some tremendous basketball lately. In fact, they opened the NCAA Tournament with blowout wins against Iona and Saint Mary's and easily covered in both matchups.
While Arkansas is riding high from a huge upset over Kansas, the Razorbacks shot just 20% (3-of-15) from behind the arc, and they're going to need all hands on deck if they want to cool off a red-hot Adama Sanogo.
Sanogo went for 24 points, eight rebounds, and a blocked shot while hitting 11-of-16 from the field in last round's win over SMC. He also had a double-double against Iona, posting 28 points and 13 boards, misfiring on just 17 field-goal attempts.
UConn has covered seven of its past eight games while cashing in six of the past seven neutral-site games as well. In addition, the Huskies are 6-1 ATS in their last seven against winning teams.
Strike while the iron is hot.
Tennessee -5.5
As far as Tennessee is concerned, I've made it well-known that I am FAU alum. I love the Owls, and this run to the Sweet Sixteen has brought me unexpected March joy.
However, all good things come to an end.
FAU has never played in the Sweet Sixteen and it has never played at Madison Square Garden. This is where the nerves come in.
FAU has yet to face a rough-and-tumble defense like Tennessee and could be in for a long day. The Volunteers allowed just 55 points in the opening round against Louisiana and completely shut Duke down last round with just 52 points allowed.
Duke shot 43% from the field but just 27% (6-of-22) from the perimeter. FAU loves to hang around the perimeter and hit triples, but the Vols are going to make life extremely difficult for the Owls.
Gonzaga/UCLA Over 145.5
In the final leg, Gonzaga and UCLA should put on a show at T-Mobile Arena in Las Vegas. We got a glimpse of what to expect last round from the Zags against TCU as they prevailed 84-81.
Gonzaga has scored 82 or more points in nine of its last 11 games overall. The Bulldogs like to play up-tempo and run, run, run.
Meanwhile, UCLA dropped 86 points on UNC Asheville in the opener and is more than capable of matching the Zags' scoring output. I was quite surprised to see this line not in the 150s, to be honest.
Covers March Madness betting tools
Parlay Pick 2
PARLAY: Miami +7.5 (-115) + Creighton -9.5 (-115) + Texas ML (-190) = +423 at BetMGM
Miami +7.5
Miami has played tremendous basketball in this tourney, ousting a solid Drake team before absolutely crushing a solid Indiana squad by 16 points as a 1.5-point underdog. The Canes made a deep run last season, and they're back again for more.
Miami shot 49% (34-of-70) from the field last time out against Indiana, hitting nine triples. On defense, Norchad Omier was a beast and gobbled up 17 rebounds while Jordan Miller swatted two shots.
This team is the complete package, and it will hang around within four buckets of the top seed Houston. In fact, I wouldn't be shocked to see an outright win.
Marcus Sasser gutted it out for Houston last round after aggravating his groin injury in the opening round against Northern Kentucky. He made it through the Auburn game fine, but groin injuries are tricky and can flare up at any given moment.
This strikes a concern in terms of laying the points with the Cougars, so I'll take the Canes all day.
Creighton -9.5
As far as Creighton is concerned, this originally looked like a big number. Princeton is back in the Sweet Sixteen for the first time since 1967, and it is obviously the lowest seed remaining as a No. 15.
The Bluejays are playing with the form that they showed earlier in the season to garner a ranking, and I think they mash the Tigers. It's an attack of the Ryans, as Ryan Nembhard put up 30 points against Baylor, while Ryan Kalkbrenner had 10 points, seven boards, and a blocked shot.
The Tigers won't be able to come up with a Beautiful Mind calculation to shut these guys down.
Texas moneyline
As a standalone bet, I'd never risk nearly two times my potential return. However, tossing Texas in as the final pick to beat Xavier makes sense in a three-team parlay.
I like the way the Longhorns have played lately, closing out Colgate and Penn State in the Big 12 tourney while going 6-0-1 ATS in the past seven games overall.
If this line were -3.5 instead of -4.5, I might lay the points, but I think we're going to have this one decided by four points or less.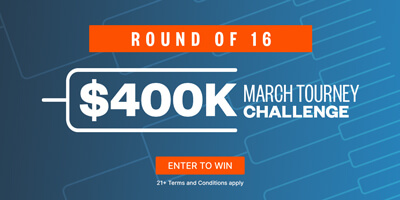 Pages related to this topic