After shooting for the moon and landing among the stars in our March Madness Round 1 parlay picks, we're left ruing what might have been. We hit three of the four legs in our March Madness upsets special, with only College of Charleston falling just short, and came through on two of the three PRA plays.
This time around, we're going to try to play it a bit safer but still look for some decent value. We've put together a pair of parlays — one that has a strong chance of nearly quadrupling your money with great NCAA Tournament props, while still taking a risk for a bigger payout on the next.
This tournament has been a blast so far for viewers and bettors alike, and we look to continue that fun. Here are our parlay March Madness picks for the Round of 32!
Round 2 parlay picks
Click on each pick to jump to the full analysis.
Best March Madness bonuses
Looking to bet on March Madness action? Here are two of the best bonuses* available:
A) New users at FanDuel can bet $5 and get $200 in bonus bets! Sign Up Now
B) New users at DraftKings can bet $5 and get $150 in bonus bets! Sign Up Now
*Eligible USA locations only. Also, check out our full list of best March Madness promotions for 2023.
21+. Gambling Problem? Call 1-800-GAMBLER.
Parlay Pick 1
PARLAY: G. Dick o4.5 rebounds + D. Hodge o2.5 3-pt + K. Jones o2.5 3-pt = +387 at DraftKings
Gradey Dick over 4.5 rebounds (-155)
The freshman guard for Kansas has been using his 6'8" frame all season long, grabbing five or more rebounds in 23 of his 35 appearances for the Jayhawks. Over the last three games, he's turned up the effort even more.
After registering five boards against Iowa State and eight more against Texas, Dick led the team with 11 rebounds in the first-round victory over Howard. Arkansas doesn't grab a whole lot of offensive rebounds, and the Razorbacks rank 348th in college basketball in attempted 3-pt shots.
That should allow Dick to crash the boards rather than contest shots on the outside, the same way Illinois guard RJ Melendez — who averaged 3.5 rebounds per game — was able to get six defensive boards in their first-round game.
D'Moi Hodge over 2.5 made threes (-155)
Hodge has been a consistent shot-maker all season, ranking 29th in the country with nearly three made 3-point shots per game. In Missouri's first-round win over Utah State, Hodge buried five of his 10 attempts from outside as he led all scorers with 23 points.
Princeton's upset win over Arizona ended a five-game streak in which at least one opposing player had made three or more shots from beyond the arc. Arizona had its opportunities to extend that streak, but simply couldn't hit. With Hodge having already shown he's good inside the Golden 1 Center, I'll bank on him to bury three or more for the fourth straight game, and the eighth time in his last nine contests.
Kam Jones over 2.5 made threes (-125)
Michigan State ranks 228th in the country in 3-point baskets attempts allowed per game. In its 72-62 first-round win over USC, the Spartans allowed Kobe Johnson to drop three of his seven attempts from beyond the arc.
Averaging 2.7 makes, Jones ranks 51st in the country in made 3-point shots per game and is coming off a performance against Vermont that saw him make three of his four attempts. He's made at least three in four of his last five games, and in six of his last eight. If Michigan State gives him open looks, he's likely to reach that number again.
Covers March Madness betting tools
Parlay Pick 2
PARLAY: Creighton ML + Missouri -6.5 + UConn -3.5 + Penn State +5.5 = +1,262 at BetMGM
Creighton moneyline (+100)
Baylor is particularly good at two things: making shots from outside the arc, and rebounding the basketball. The Bears rank in the Top 50 in 3-point attempts and makes per game, and 37.5% of their points per game come from downtown. On the glass, the Bears rank 28th in offensive rebound rate, grabbing almost one of every three shots they miss.
But Creighton is set up to negate these strengths. Only three teams grab more defensive rebounds, and it ranks 20th in defensive rebound rate. The Bluejays are also stellar at guarding the 3-point line, and their opponent shooting efficiency ranks 15th in college basketball.
Where Creighton has the edge is at the other end. Baylor ranks 233rd in opponent effective field goal percentage, and 315th in 2-point shooting defense. Creighton should be able to control the game enough to punish Baylor's suspect defense and win this outright.
Missouri -6.5 (-110)
The Tigers showed on Thursday night what they can do if their shots are falling. They blitzed the Aggies thanks in part to Kobe Brown making a trio of 3-point shots in a matter of just a few minutes. But that's what Missouri does — it goes on runs. Among the 68 teams to make the tournament, only eight recorded more 10-0 runs this season than Missouri.
At the other end of that spectrum is Princeton. Only Mississippi State and West Virginia gave up more big runs in the field — and both of those teams are now watching from home. Princeton was able to grind out the upset win over Arizona in large part because they held the Wildcats without a point for nearly the final five minutes.
Missouri isn't Arizona, and they're not going to go 3-for-16 from downtown the way the Wildcats did. Missouri's 10.3 steals per game are second-most in college hoops, and it's going to allow the Tigers to get a lead and not look back.
UConn -3.5 (-115)
Saint Mary's was very fortunate to avoid an upset loss to VCU in the first round, but in the end, its stellar defense prevailed. The Gaels rank near the top of the country in points allowed, rebounds allowed, and assists allowed per game, while ranked third in defensive rebound rate.
But there isn't a team in the country that rebounds the offensive glass at a higher rate than Connecticut. UConn gets 38.1% of its misses this season, and its offense is one of the more efficient ones that Saint Mary's will see all year.
Gonzaga was able to dominate in the paint in two of their three matchups with Saint Mary's, and UConn should do the same. Throw in their elite rim protection, and the fact that Saint Mary's doesn't shoot particularly well from downtown, and you have a recipe for a rough offensive night for the Gaels.
Penn State +5.5 (-110)
Texas thrives on forcing turnovers. The Longhorns rank 14th in turnovers forced per game, and 40th with 12.54 fast-break points per game. They love to get cheap, easy buckets by taking the ball from their opponents.
But Penn State is suited to handle the pressure and trapping they'll see. The Nittany Lions average 1.55 assists per turnover, the ninth-best mark in the country. They rank fourth in total turnovers, and eighth in turnovers per play. They also are shooting the ball exceptionally well, and if Andrew Funk is left open, he's going to make the Longhorns pay as he hit eight of 10 from downtown against Texas A&M.
The strength of the Longhorn defense is inside, but they've been taken advantage of from downtown at times. With Jalen Pickett running the show, and Texas having to focus on keeping Funk under wraps, it should allow the Nittany Lions to stay within touching distance and possibly pull off the upset against a Texas team that struggles to finish out close games.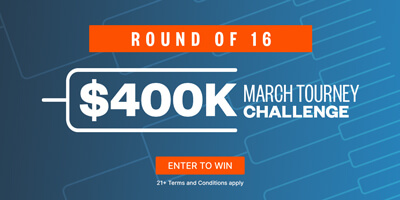 Pages related to this topic