The NHL season is just days away, with all eyes on hockey props, NHL futures odds, and finding the best awards bets to make.
We've polled some of Covers' top hockey minds to get their best bets based on the Stanley Cup odds, favorite plays from the Hart Trophy odds board, and their best season-long futures bet.
The general consensus: There is no consensus, as our writers don't agree on a single pick!
Check out the full NHL picks for the upcoming season below — and also check out our five bets to make for the 2022-23 season!
NHL picks for 2022-23
Click on each writer to view the full breakdown of their picks
Best NHL bonuses
Looking to do some NHL betting? Here are two of the best bonuses* available:
A) New users at FanDuel can get a no-sweat first bet of up to $1,000! Sign Up Now
B) New users at DraftKings can get a deposit bonus up to $1,000! Sign Up Now
*Eligible USA locations only. Also, check out our full list of best promo codes for 2022.
Josh Inglis, Content Creator (@Covers_josh)
Stanley Cup pick: New York Rangers
Currently, bet365 has this boosted to +2,500, which are longer odds than the Vegas Golden Knights.
The Rags have the pieces: great top two lines, an elite power play, Adam Fox is a stud, Igor Shesterkin is the betting favorite for the Vezina, and the team gained some serious playoff experience last year, which is critical.
Best odds: +1,800 at bet365
Hart Trophy pick: Igor Shesterkin
I certainly won't be paying +240 for a Connor McDavid Hart win. If the Rangers win the Metropolitan division, it will be because of Shesterkin.
The New York goalie took home 24 first-place votes in the Hart race last year, which was just five fewer than McDavid. Shesterkin did miss some games in 2021-22, so a full 60-65 games from the goalie would go a long way in swaying voters (members of the professional hockey writers association).
Best odds: +2,500 at bet365
Favorite futures bet: Jack Hughes Over 72.5 points
Hughes finished his age-20 season with 56 points in 49 games, including 26 goals. He entered the league as an 18-year-old and looks to be on the verge of breaking out as a Top-10 superstar after being taken first overall in 2019.
If he can stay in the lineup, he'll have no issues topping his point total of 72.5. The New Jersey Devils could be chasing goals all season long again, which would only help Hughes rack up points, and I wouldn't be surprised if he finished with 90, likely putting him in the Top 20.
Matt Duchene finished last year with 86 points in 78 games — and I think Hughes could match or top those numbers.
Best odds: -114 at FanDuel
Covers NHL futures analysis
Jared Hochman, Senior Publishing Editor (@JLHoch)
Stanley Cup pick: Minnesota Wild
In terms of a value play, I was also looking at the Rangers, but I'll opt for what is seemingly their Western Conference equivalent.
Yes, Marc-Andre Fleury isn't Shesterkin, but he's still a proven veteran that can win a big game. More importantly, he's got a roster in front of him that has all the pieces needed to win: a superstar in Kirill Kaprizov, big, physical forwards in Ryan Hartman and Joel Eriksson Ek, young potential breakouts in Matt Boldy and Marco Rossi, plus a solid defensive corps anchored by Jared Spurgeon, Jonas Brodin, and Matt Dumba.
Getting the Wild at around 20/1 is a great price, considering all the top teams above them also have flaws/question marks and, well, there's really no fun in betting on the Avs at +400 now, is there?
Best odds: +2,000 at bet365
Hart Trophy pick: Aleksander Barkov
Florida Panthers star Sasha Barkov is one of the best two-way forwards in hockey. In fact, he's one of the best forwards in hockey... period.
Barkov finished with a career-best 1.3 points per game last year (88 points in 67 games) while finishing third in the Selke Trophy voting (after winning the award in 2020-21) for the President's Trophy winners — but he managed to grab just one fourth-place vote and one fifth-place vote.
Obviously, Matthews, McDavid, and Shesterkin garnered a ton of attention, but he was also overshadowed by teammate Jonathan Huberdeau and his 115 points... who is now in Calgary. The Panthers still project to be an upper-echelon club, with three dangerous scoring groups and a strong, physical blue line, and if they contend for first place in the NHL yet again... all eyes will squarely be on Barkov.
Best odds: +3,000 at DraftKings
Favorite futures bet: Philadelphia Flyers Under 74.5 points
The Flyers finished with 61 points last year... and are an even worse hockey club heading into the 2022-23 season.
Claude Giroux (third leading scorer) is gone, Joel Farabee (No. 5 scorer) is out to start the year following offseason neck surgery, and Sean Couturier is out indefinitely with a back issue. Philly's top two centers are likely going to be Kevin Hayes (31 points in 48 games) and Scott Laughton (30 points in 67 games) — no offense to either player, but that may be the worst 1-2 center combo in the league.
Then there is the defense.
After finishing 27th in Corsi For percentage, 27th in high-danger chances against, and 29th in shots against, the Flyers' big upgrade was Tony DeAngelo, who is a phenomenal power-play talent... but is atrocious defensively — and he's going to lead this defense-averse group of, well, defensemen: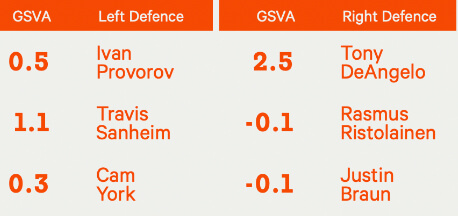 You're telling me this team will be 15 points better than last year's disaster? No thank you.
Best odds: -115 at Caesars
Jonny Lazarus, NHL Contributor (@JLazzy23)
Stanley Cup pick: Pittsburgh Penguins
The Penguins have had some uncertainty the past couple of seasons around Kris Letang and Evgeni Malkin's contracts, but now that the near future has been solidified, I really think this team has one more Cup run left in it.
Pittsburgh has a very strong forward group, which has a full season of Rickard Rakell and Malkin healthy to open the campaign, and I expect the Pens to get out to a very strong start.
The Penguins also should again be one of the best defensive teams in the league — if Tristan Jarry can perform as well as he did last season, they will be even scarier. Had Jarry stayed healthy, they probably get by the Rangers in the first round — then who knows what they could have accomplished?
Best odds: +2,200 at bet365
Hart Trophy pick: Kirill Kaprizov
Kaprizov had a phenomenal season last year for the Minnesota Wild, scoring 47 goals and tallying 61 assists.
The Wild don't have all that much skill in their lineup but still managed to come away with second place in the Central division last season. Losing Kevin Fiala is going to have a significant impact, but if Kaprizov can replicate his season from last year, he may single-handedly carry them to the playoffs.
He is a complete, all-around player and the Wild are going to need him to be at his best if they want a chance to contend again.
Best odds: +1,700 at BetRivers
Favorite futures bet: Edmonton Oilers to win Pacific Division
McDavid finally got a taste of victory last season as he and the Edmonton Oilers were able to reach the conference finals for the first time since McDavid entered the league.
This might be the most complete roster that McDavid has had during his NHL career, and the addition of Jack Campbell between the pipes could be the final piece of the puzzle that Edmonton has been searching for.
This team has a ton to prove and it has two of the best players in the world. Some people may think the Calgary Flames are the best team in this division, but I think the Pacific crown is Edmonton's to lose.
Best odds: +250 at BetRivers
Robert Criscola, NHL Contributor (@itsgood2beking)
Stanley Cup pick: Carolina Hurricanes
It was a bitter end to last season for the Hurricanes, who were blown out on home ice by the New York Rangers in Game 7 of the Eastern Conference semifinals. But after a productive offseason, the Canes look ready to roll to their first championship since 2005-06.
Acquiring Brent Burns and Max Pacioretty (albeit recovering from offseason surgery) gives Carolina more veteran leadership, as well as talent at the top end. Paul Stastny and Ondrej Kase were solid pickups for the bottom six and can help replace the production of the departed Vincent Trochek and Nino Niederreiter.
Carolina should also have starting goalie Frederik Andersen — who missed the postseason with an injury — back healthy between the pipes soon.
Add all this to a solid young core headlined by Sebastian Aho, Teuvo Teravainen, Andrei Svechnikov, and Seth Jarvis, and the Canes look deep and talented enough to knock the Colorado Avalanche off the throne.
Best odds: +1,100 at DraftKings
Hart Trophy pick: Nathan MacKinnon
Avalanche forward Nathan MacKinnon seems like a solid upset selection to take home the Hart Trophy.
MacKinnon has a couple of trends working in his favor, starting with the fact that he's a forward. Rangers goalie Igor Shesterkin managed a second-place finish behind Auston Matthews last season, but only one non-forward has won the Hart Trophy in the last 15 seasons (Carey Price in 2014-15).
Second, MacKinnon's Avs look like a shoo-in for the postseason, which also helps. Mario Lemieux was the last player to win the Hart Trophy and not make the playoffs, doing so in 1988.
Third, Nate has appeared on the Hart ballot before, finishing a close second to Leon Draisaitl in 2019-20 before checking in third the following season. A slow start due to injury hampered his Hart case last year, but a full campaign for the two-time NHL shots-on-goal leader could put him in the Rocket Richard Trophy hunt — as well as the Hart discussion.
Best odds: +1,200 at bet365
Favorite futures bet: Auston Matthews Under 57.5 goals
We won't disparage the amazing Auston Matthews here, but this Over/Under line for goals is simply much too high for the reigning goal-scoring champ and Hart Trophy winner.
It's exceedingly difficult for any player in this day and age to reach 58 goals... and we're going to ask Matthews to do so in consecutive years?
Prior to Matthews potting 60 last year, you would have to go back to 2011-12 to find the last person who did it (Steven Stamkos with 60). Before him, it was Alex Ovechkin, the nine-time Richard winner, who had 65 goals in 2007-08 — the one and only time in his career he eclipsed 57 tallies.
Matthews certainly wouldn't surprise anyone if he won the Richard Trophy again, but if a once-in-a-generation scorer like Ovechkin can't get to 58 goals more than once in his career, how could one bet on Matthews to do it in back-to-back years?
The Under is the way to go.
Best odds: -115 at DraftKings
Kyle LaRusic, Publishing Editor (@CoversLaRusic)
Stanley Cup pick: Colorado Avalanche
Let's not kid ourselves, this can't be anyone else but the Colorado Avalanche.
Aside from a few names, the Avs were able to bring back the majority of their core, and you could even argue they improved their starting goaltender situation by going from Darcy Kuemper to Alexandar Georgiev.
Cale Makar is one year better, Nathan MacKinnon will look to back up his sexy new contract, and this team finally has the championship monkey off of its back.
We've already seen two other franchises repeat in the last 15 years and at +450, I'm willing to bet we'll see another.
Best odds: +450 at FanDuel
Hart Trophy pick: Auston Matthews
Last year was the trailer, this year is the movie.
Matthews lit up the league last year for 60 goals and I don't think he's ready to stop. Matthews keeps improving every season on both ends of the ice, and I'm confident that if the Toronto Maple Leafs superstar could play a full 82-game schedule, he'd push 70 tallies.
Matthews at +450 to win the Hart seems like a great grab, and him to win the Rocket Richard Trophy at +190 also deserves some looks.
Best odds: +450 at BetMGM
Favorite futures bet: Alex Ovechkin Over 45.5 goals
I may be one of the few crazy people to think it, but Alex Ovechkin will retire as the No. 1 goal scorer in NHL history.
Ovi has defied father time up to this point and is coming off his ninth 50-goal season. Say what you want about age, but the Washington Capitals legend will be hungry this season to pile on as many goals as he can in his chase for Wayne Gretzky's title, and I will happily take the Over on his 45.5 total goals — a number he's surpassed 12 times in 17 seasons.
He'll see plenty of ice time playing on the first line and PP1, and he'll be relied on more heavily with Tom Wilson and Nicklas Backstrom injured to start the season. The Great Eight will prove once again that the Russian Machine Never Breaks.
Best odds: -110 at bet365
Pages related to this topic