No matter how the weekend ends for the Farleigh Dickinson Knights, their emphatic win against Purdue on Friday will stick in fans' memories for a long time to come.
That said, what they did was not unprecedented. If Farleigh Dickinson wants to go where no 16-seed has ever gone before, it will need to upset the Florida Atlantic Owls tonight.
Here are our free college basketball picks for Farleigh Dickinson vs. Florida Atlantic on March 19, with tipoff set for 7:45 p.m. ET.
Need more insight? Check out our March Madness odds and March Madness picks.
Fairleigh Dickinson vs Florida Atlantic best odds
Fairleigh Dickinson vs Florida Atlantic picks and predictions
The NCAA worries far too much about branding these three weeks, to no one's surprise. Want to bring a drink to your accredited seat on press row along the baseline? No problem, as long as you pour it into a small paper cup with a big NCAA logo. No, not even your logoless water bottle can sit on press row. Pour your water into the cup.
That frustrating and inconvenient demand is nothing but self-serving for the NCAA and endangering of laptops across the country. Trotting out basketballs that have not been used by any of the teams all season at least serves to draw attention to Wilson products.
You notice the brighter ball on the screen. It also has a different feel, and that tactile issue has bothered shooters this week. Through 44 tournament games, the Under has cashed 33 times. By now, that sample size is large enough to warrant notice.
It has impacted efficient offenses the most. Sixteen teams in the NCAA tournament finished in the Top 10% of the country (top 36 teams out of 363) in at least two of three shooting categories: efficient field goal percentage, 2-point field goal percentage, and 3-point field goal percentage. Those 16 teams have played 17 games — three played their second games on Saturday, four others played each other in two games on Friday —and 16 of those games went Under their totals.
These have been some of the best offenses in the country. Three of the Top-5 teams in efficient shooting percentage and seven of the Top 10. Florida Atlantic comes in at No. 22 in that stat, No. 33 in 3-point shooting percentage and No. 36 in two-point shooting percentage.
Remove games with those 16 teams and suddenly Overs have cashed in this tournament 10 out of 27 times. That is still a clear Under trend, but it's not as drastic as the tourney as a whole has been categorized.
With the Owls playing tonight, the Under should be well set once again. They chuck from deep to open up the court for efficient scoring all around. In its first-round win against Memphis, Florida Atlantic shot 8-for-28 from deep. Eventually, the Tigers worried less about covering beyond the arc, which helped limit FAU to 45.9% from inside the arc.
The Owls shot worse than that from deep only five times this season, three of which came before New Year's. They shot worse than that from the field just three times.
Some credit for that should go to Memphis, but some of it was the ball. And if FAU is not pouring in points from deep in what should still be a blowout, this game will not get to 150 points.
My best bet: Under 149.5 (-110 at Caesars)
Best March Madness bonuses
Looking to bet on March Madness action? Here are two of the best bonuses* available:
A) Get four 32% profit boosts to use on Round of 32 bets at DraftKings! Opt-in Now
B) Get a 25% profit boost on one college basketball underdog every day at Caesars! Opt-in Now
*Eligible USA locations only. Also, check out our full list of best March Madness promotions for 2023.
21+. Gambling Problem? Call 1-800-GAMBLER.
Fairleigh Dickinson vs Florida Atlantic spread analysis
Given how poorly analytics think of Farleigh Dickinson — hence the 23-point spread against Purdue and this handicapper's confidence in the Boilermakers; let's acknowledge our mistakes — it was surprising to see this line open as low as 12.5 early Saturday morning. Books quickly began ticking further in Florida Atlantic's favor, reaching -14.5 by early afternoon and -15 or -15.5 by the end of the night.
If going strictly by the numbers, KenPom projects a 19-point Owls win.
The spread won't climb that high, perhaps partly because the run of Unders reduces the upper end of potential blowouts and perhaps partly because it's March and who knows what an underdog is capable of.
That said, this remains a step up in competition for Farleigh Dickinson. That cannot be overstated. Yes, the Knights upset Purdue, but they did so by hassling the Boilermakers' ballhandlers and pestering Purdue big man Zach Edey like gnats around a campfire. Florida Atlantic should be better equipped for those nuisances. The Owls go nine deep, and seven of those nine are guards.
Florida Atlantic's turnover rate ranks No. 69 in the country while it logs an assist on more than half of its made field goals. The turnover rate, in particular, is better than Purdue's.
Furthermore, the Boilermakers preferred to operate at a snail's pace, ranking No. 322 in the country. Farleigh Dickinson's early press work forced Purdue to speed up and lose its usual rhythm. The Owls, meanwhile, rank No. 114 in tempo. The Knights will not rattle them as easily, and that could spell the end of this Cinderella story, both outright and against that hefty spread.
Covers March Madness betting tools
Fairleigh Dickinson vs Florida Atlantic Over/Under analysis
This total fell by half a point on Saturday, and there may be more movement on Sunday if the early afternoon games continue to hit these Unders. From a shooting percentages vantage point, Marquette is comparable enough to Florida Atlantic to monitor.
One game is obviously only one game, but if that 5:15 p.m. ET tip skews Under, as well, then this logic will be emboldened.
Farleigh Dickinson has been falling well short of totals for a month now, with Unders cashing in six of its last eight games and those six games going Under by an average of 16.4 points. Those numbers go well beyond an excessively bright orange basketball.
Fairleigh Dickinson vs Florida Atlantic betting trend to know
The Under is 4-0 in both Farleigh Dickinson's last four games and Florida Atlantic's last four games. Find more college basketball betting trends for Fairleigh Dickinson vs. Florida Atlantic.
Fairleigh Dickinson vs Florida Atlantic game info
| | |
| --- | --- |
| Region: | East |
| Location: | Nationwide Arena, Columbus, OH |
| Date: | Sunday, March 19, 2023 |
| Tip-off: | 7:45 p.m. ET |
| TV: | truTV |
Fairleigh Dickinson vs Florida Atlantic key injuries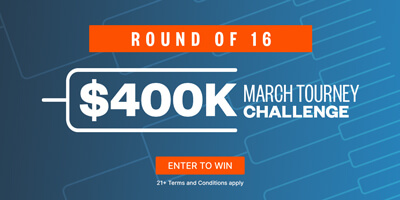 Pages related to this topic