The star power of the Denver Nuggets is proving too much for the team-oriented Miami Heat, with the combo of Nikola Jokic and Jamal Murray swinging the balance of the NBA Finals heading into Game 4.
Denver's dynamic duo posted twin triple-doubles — a collective 66 points, 31 rebounds, and 20 assists — in Wednesday's 109-94 victory in Game 3. That one-two punch helped the Nuggets cover as 3.5-point NBA odds favorites and has Denver pegged at that same spread for Thursday's Game 4 in South Beach.
As for Miami, its "sum is greater than the parts" approach to the NBA Playoffs couldn't stack up to those shining stars. The Heat got solid work from standouts Jimmy Butler and Bam Adebayo (combined 50 points), but watched the rest of the roster shoot 34% from the floor.
I dissect the spread and Over/Under total for Game 4 of the NBA Finals and give my best NBA picks and predictions for Nuggets vs. Heat on June 9.
Be sure to check out our Game 4 player prop picks and Michael Porter Jr. prop picks for more in-depth analysis!
Best NBA bonuses
Looking to do some NBA betting? Here are two of the best bonuses* available:
A) Aaron Gordon Over 14.5 points & Michael Porter Jr. Over 1.5 3s BOOSTED to +325 at Caesars! Bet Now
B) Nikola Jokic Game 4 leading scorer BOOSTED to +150 at bet365! Sign Up Now
*Eligible USA locations only. Also, check out our full list of best sportsbook promotions for 2023.
21+. Gambling problem? Call 1-800-GAMBLER
Nuggets vs Heat Game 4 odds
Nuggets vs Heat Game 4 predictions
Much like the glory days of Van Halen, when front-man David Lee Roth and guitar god Eddie Van Halen ate up all the facetime, the Nuggets are viewed as a two-man team. And why not? Nikola Jokic and Jamal Murray put on a show for the record books in Game 3.
Behind that tremendous twosome is forward Aaron Gordon, playing the role of Van Halen bassist Michael Anthony (if you have no idea who Van Halen is, take a second and YouTube "Hot for Teacher". That should tell you everything you need to know).
Gordon quietly had a remarkable stat line Wednesday, scoring 11 points, snatching 10 rebounds, and handing out five assists.
Behind 21 and 22 shots from Jokic and Murray respectively, Gordon was the only other Denver player to record double figures in field goal attempts, finishing the night 5-for-10.
According to ShotQuality.com, based on Gordon's looks in Game 3, he should have finished with closer to 15 points. He also left money on the table after making just one of his four foul shots on the night, which burned anyone betting his Over 12.5 points.
Gordon did make good for anyone who took the Over on his assists at 2.5, dishing out five helpers in Game 3. His passes weren't wasted, given he served up six potential assists Wednesday. He's emerged as a facilitator in the postseason with an average of 3.2 dimes over the last nine contest against a potential assist mark of 5.3 per game in that span.
His early player props for Game 4 hold tremendous value, as head coach Michael Malone has really honed in on this trio of Jokic, Murray, and Gordon to get the job done. Screw you, Michael Porter Jr.
Gordon's scoring forecast for Friday calls for lows of 14.4 and highs of 17.7 with my number sitting at 15.8 points from the bouncy power forward. His assist models are all north of three dimes with my projection at 3.1 assists for Game 4.
Gordon's point total is sitting at 12.5 points while his assist prop is at 2.5 dimes with the Over for both markets paying plus money if you shop around. You can also get Gordon on the combo stat markets at 14.5 points + assists, which allows for a bit more grace should one of those stat lines fall short of projections.
Given my predicted stat line sees Gordon with close to 19 combined points + assists, we have plenty of room to clear this modest prop number of 14.5 and can find the Over at -115 at many mainstream books as of Thursday afternoon.
My best bet: Aaron Gordon Over 14.5 points + assists (-115 at FanDuel)

Nuggets vs Heat Game 4 same-game parlay
Some point projections for Gordon are flirting with 18 points while all models sit above this 12.5-point total. Outside of Jokic and Murray, he's the only other player coach Malone trusts with the basketball.
Given his role in the offense, Gordon is forecast for more than three assists in Game 4 and is coming off five helpers in Game 3. He's averaged 4.3 potential assists so far in the finals.
I'm sure Miami coach Erik Spoelstra will cook up something to slow down Denver, luck might be running out in South Beach. The Heat's role players were a no-show and we've been waiting for the other shoe to drop on this team's sudden shooting spike. Denver for the win.
Learn how to bet a same-game parlay with these helpful tips and strategies.
Not intended for use in MA.
Affiliate Disclosure: Covers may receive advertising commissions for visits to a sportsbook or betting site.
Nuggets vs Heat Game 4 spread and Over/Under analysis
The Nuggets responded to the Game 2 loss like Ralphie responded to a faceful of snowball from "Christmas Story" bully Scut Farkus: He beat the living shit out of him and wouldn't stop until Randy got his mom.
Denver played with urgency and energy that wasn't there in Game 2. And when they seized control in the second half, the Nuggets weren't taking any chances in the final frame of Game 3 and kept stars Jokic and Murray on the floor despite building out a 21-point lead. Malone was going to send a message to Miami and went full "Kylo Ren" meme: MORE!
Sportsbooks are showing the Heat — namely head coach Erik Spoelstra — a lot of respect with the Game 4 opener matching the closing spread from Game 3 at Denver -3.5. The early movement on the vig is showing the betting market has the same hesitation to write off the home side, with Miami an expensive +3.5 (as high as -115) and indicating a potential move to +3 before tipoff on Friday.
The big question facing NBA Finals bettors is the validity of the Heat's support staff. This is a group that has continued to exceed expectations this postseason, with role players stepping up as legit contributors and the team flipping its offensive success on its ear.
The Heat entered the postseason as the third-worst 3-point shooting team in the NBA but have rolled through to the finals with a red-hot clip from beyond the arc. Well, until last night. Miami finished 11-for-35 from distance with the starting lineup shooting 5-for-19 on triples (26%).
The Nuggets were even worse from 3-point land, closing Game 3 with a 5-for-18 clip from outside — and yet they still won the game by 15 points thanks to 58% shooting inside the arc.
The 109-94 final stayed below the closing total of 213 points, which had sunk from highs of 216 before tipoff, and the Game 4 Over/Under opened as 210.5 points late Wednesday evening. In the hours since, the total has ticked up a bit to 211 points at some online markets.
The Game 3 pace rating was a significant uptick from that of Game 2, sitting at 92.5 versus 86.5 last Sunday. It was more in line with the tempo from Game 1, in which the Heat and Nuggets produced a pace of 93.0.
Given the piss-poor shooting from outside from both teams in Game 3, you could make the case for a higher output if those offenses find their form from deep. However, as the Nuggets proved, they don't need to take and make triples to win games. Miami does.
Nuggets vs Heat betting trend to know
So far in the 2023 NBA Playoffs, games with closing totals of 211 points or fewest are 3-11 Over/Under — staying below the number almost 79% of the time. Find more NBA betting trends for Nuggets vs. Heat.
Covers NBA Finals betting tools
Nuggets vs Heat Game 4 game info
| | |
| --- | --- |
| Location: | Kaseya Center, Miami, FL |
| Date: | Friday, June 9, 2023 |
| Tip-off: | 8:30 p.m. ET |
| TV: | ABC |
Nuggets vs Heat Game 4 key injuries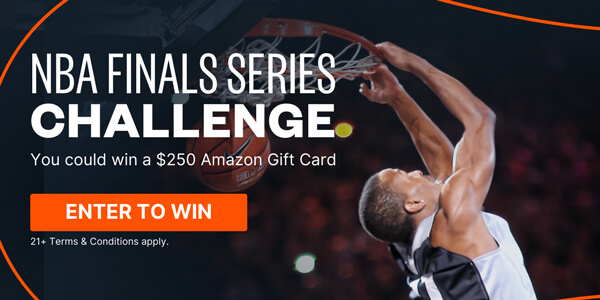 Pages related to this topic