Carried by a pair of all-time great performances by Nikola Jokic and Jamal Murray, the Denver Nuggets restored order in Game 3 of the NBA Finals.
Jokic and Murray became the first pair of teammates in any game, regular season or playoffs, to each have a 30-point triple-doubles as they dispatched the Miami Heat in business-like fashion. As they've done so many times this postseason Miami will have to dig deep to even things up in a critical Game 4 contest on Friday, June 9.
With so much riding on the outcome of this game, we've zeroed in on the NBA Finals odds and key tactical matchups to find the best prop value on the board.
Our three favorite NBA Finals prop picks feature Michael Porter Jr. wilting under the bright lights, Christian Braun thriving under them, and why I think Caleb Martin is due for a breakout performance.
You can also check out our Michael Porter Jr. prop picks, and our Game 4 picks and predictions for a complete analysis of the matchup!
Nuggets vs Heat Game 4 player prop picks
Click on each pick to jump to the full analysis.
Nuggets vs Heat Game 4 props
MPJ MIA
There has been no member of the Denver Nuggets more disappointing in these NBA Finals than Michael Porter Jr.
MPJ was theoretically a powerful weapon against the Miami Heat, who don't have anyone his size and length capable of keeping him from finding shots on the perimeter. And yet, Porter Jr. has been a net-negative player for the last two games.
He's been missing makeable shots, which is forgivable, but his flagging offense is clearly impacting his defensive effort. He's blowing routine switches and conceding open jump shots, and his miscues were one of the key reasons that the Nuggets blew Game 2 (leading to a not-so-subtle call out in the post-game press conference by Michael Malone).
If the Nuggets win Game 4, the series is all but cooked. Malone will go all-out again to win this one, which means cutting any dead weight without the slightest hesitation. Working against MPJ in that regard is the number of options in Malone's tool kit. Not only did Bruce Brown do a solid job as a defensive substitution over MPJ to close out Game 3, but Christian Braun also took a lot of Porter's minutes.
The thing of it is, the Heat could look at the tape and realize that MPJ could even be targeted on defense even more. Most actions involving MPJ with Max Strus bore fruit, and if Porter blows another early assignment, he could be riding the bench for long stretches of Game 4.
MPJ finished with just two points on 1-7 shooting in a piddling 21 minutes played in Game 3, I'm banking on Malone to have the quick hook for MPJ if the Heat go at him again early in Game 4.
Michael Porter Jr. Prop: Under 10.5 points (-115)
Best NBA bonuses
Looking to do some NBA betting? Here are two of the best bonuses* available:
A) Get boosted odds on Jamal Murray Over 6.5 1Q Points & Over 1.5 1Q Assists at bet365! Sign Up Now
B) Bam Adebayo Over 24.5 points and 9.5 rebounds on 6/9 BOOSTED to +350 at Caesars! Bet Now
*Eligible USA locations only. Also, check out our full list of best sportsbook promotions for 2023.
21+. Gambling problem? Call 1-800-GAMBLER
Christian mingle
As part of the bet against MPJ, we're also leaning into one of the players who is benefiting from his stumbles, Christian "don't call me Brawn" Braun. Braun was in and out of the rotation in the regular season, as are even the best rookies, but it was clear that the 22-year-old was unlike most first-year players. He makes mistakes of course, but as Jokic noted in post-game scrum, they're always mistakes out of playing with aggression.
Braun's defensive intensity is what's earning him the trust of Michael Malone, and having another wing-sized defender who is not only staying disciplined more than the other options but is physical and strong enough to hang with the likes of Butler is crucial. His drives and attacks in Game 3 fired up his teammates, including one where he went right at Butler and finished through his body.
Braun racked up more winning plays in a 10-minute stretch in Game 3 than MPJ has made all series long, and his high level of feel makes him a natural complement to Jokic on offense. His lack of perimeter shooting (his lone attempt from there clanked the side of the backboard) would make a less savvy player unplayable on this stage, instead, Braun fits hand in glove next to Jokic with his incredible sense of timing on cuts.
Braun went 7-8 in Game 3 for 15 points, but he just needs a few made baskets to hit this prop.
Christian Braun Prop: Over 4.5 points (-105)
Comeback Caleb
After nearly snatching Conference Finals MVP honors away from Butler in the last series, Caleb Martin's impact in the NBA Finals has been muted, to say the least. Martin has scored just 16 points total through three games against Denver, but unlike MPJ's struggles, I'm betting that will not last.
Martin's slow start has seen his prop fall dramatically, to where it sits now at just 9.5 points. This is the same guy who averaged 19.3 points per game on 60.2% from the field and 48.9% from downtown against the Boston Celtics. Martin's been dealing with an illness since Game 1 and seemed to finally get his legs under him in Game 3, where he had his most minutes (32) and shots (nine) of the series.
It was a combination of Martin's poor production, as well as Denver's size that forced him out of the starting lineup, with Kevin Love becoming one of the heroes of Miami's Game 2 win. Love had a dynamite Game 2 but failed to provide the same impact around the rim and on the glass last time out. I wouldn't be surprised if Erik Spoelstra opted to return Martin to the starting lineup, and even if he doesn't, I'd expect Martin to play closer to 40 minutes in what is a must-win Game 4 for the Heat.
Miami has gotten better at avoiding the kind of duck-in post-ups that killed their smaller lineup during the first game, as evidenced by their increased comfort playing more minutes with Martin and fewer with Love on the floor. With increased opportunity and better health, I'm betting Martin has a bounce-back performance in Game 4.
Caleb Martin Prop: Over 9.5 points (-115)
Not intended for use in MA.
Affiliate Disclosure: Covers may receive advertising commissions for visits to a sportsbook or betting site.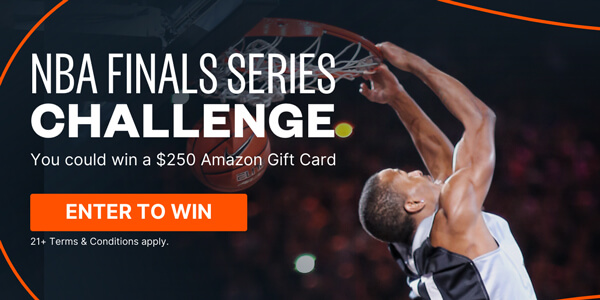 Pages related to this topic