Nearly a decade ago, Matty Simo took notice of an emerging business opportunity. A couple years later, Toni Law became interested in that same opportunity. At the time, neither of them could know it was the humble beginnings of what would become their full-time jobs.
Now, though, that's indeed the case for their business, FootballContestProxy.com. The source of their success is the Las Vegas Superbook's famed SuperContest, the annual NFL picks competition, in which they serve as proxies – submitting the five weekly picks for contestants who can't make it to Las Vegas throughout the 17-week season.
"I was only proxying for a few people individually," Simo told Covers of his inauspicious start. Law, at the time a co-worker of Simo's at a sports betting information company, similarly had just a few clients when she started as a proxy.
The two then made a seemingly small decision before the 2009 NFL season, joining forces in an effort to bolster their client roster. That season, they only had about a dozen clients, and growth was initially slow to come.
"I remember when we jumped from 12 to 24 in a year, and we thought that was fantastic," Law said. "Then we were super excited going from 24 to 50. It's been a slow and steady process."
Now in their eighth year, Simo and Law are coming off a record-setting season, as they handled 570 clients in 2015, about a third of the entire field of more than 1,700. And for the second time in three years, they proxied for the winner, a gentleman who collected more than $900,000. The extraordinary growth of the SuperContest itself – this year's winner might just be the first to earn $1 million – has allowed their business to flourish, as well.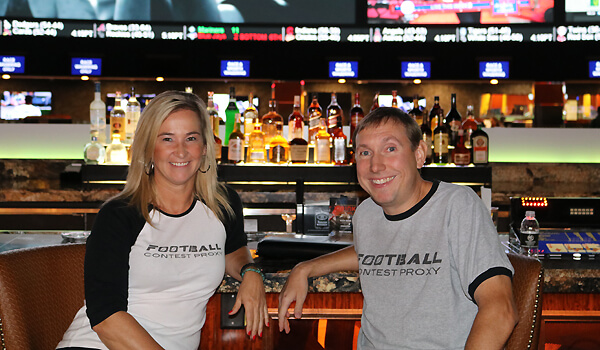 So how did they get from counting clients on their hands to the boatload of customers they now service? Technology certainly played a big role. Simo has an online marketing background, which is a big help in search engine optimization. That gets their websites – FootballContestProxy.com and FootballContest.com — plenty of recognition and hits these days.
But you can't turn hits into business without good old-fashioned customer service. And some of those potential customers require serious convincing. After all, they're paying the Superbook $1,500 just to be in the contest, along with the proxy fee of $300.
"Trust is a huge factor – getting people to trust us over a simple email," Simo said. "Some guys have never been to Vegas, and they have a negative view of Vegas. So we want to develop that trust factor right away. We want to be as professional as possible and treat it as a business."
Indeed, Simo and Law's proxy service is a licensed Nevada business. The operation fields email from current and potential clients year-round, with the volume particularly high during registration period – which this year began July 1 and continues through Sept. 10 – and of course during the season. When clients have such a healthy chunk of money on the line just to enter, and even more so if they're in the running for big money at season's end, rapid response is a must.
Just this month alone, the two have been at the Superbook all but two days, as clients must sign up for the contest in person and with the proxy present. That will continue for the next several weeks, picking up significantly as the deadline draws near.
"It's a lot of time and dedication," Law said.
Then there's the work of submitting those picks throughout the season. Last year, that amounted to nearly 3,000 picks per week, a whopping 48,450 for the season. And Simo and Law expect more this year, as they hope to break the 600-client mark.
Their busiest day?
"Absolutely Fridays," Simo said, noting all the picks come in via hundreds of emails. "I respond to emails all day, from 7 a.m. to 7 p.m. We confirm picks with every client we have. If you don't respond and tell them you got their picks within an hour, they get worried.
"Then we go down to the Superbook and spend three hours inputting picks."
In years past, that meant filling out hundreds of parlay-card type sheets and running them through a sportsbook ticket taker. But the SuperContest is now in the digital age, with kiosks at which all the picks can be punched in. It's still a lengthy process, but one Law has down to a science.
"I just throw on my headphones and do it," Law said. "It's the longest day, but that's what we get paid to do."
Simo provides the back end of the quality assurance procedure, reviewing all the picks after Law punches them in, before the two leave the Superbook, capping a 15-hour day.
"In seven years, we've never been late, never missed a deadline, never not gotten picks in," Law said.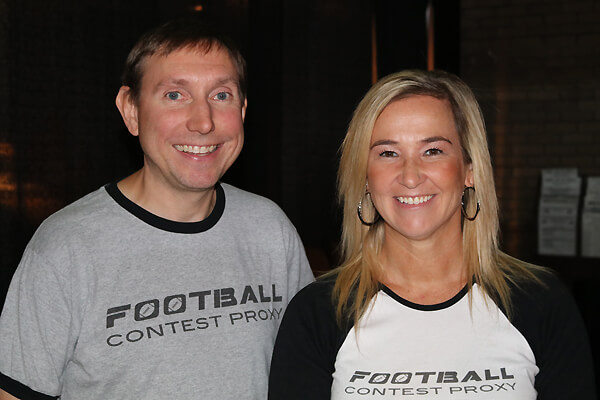 That attention to detail and responsiveness to customers is what has helped their business thrive, even now as more proxy services try to get into the field.
"Last year, the proxy number doubled. There were a lot of copycats," Simo said, adding that he believes some conflicts of interest exist and contestants should do their due diligence.
Simo and Law said their focus is fully on their clients, which has aided the growth of FootballContestProxy.com. The service has had four clients finish in the top 10 each of the last three years – including the aforementioned two winners in the last three years – and last year had 17 finish in the money, among the top 50 and ties. At least one client has finished among the top six every year.
The proxies' efforts haven't gone unnoticed, and not just here in the United States.
"Over the years, there have been a lot of Canadians in the contest," Law said. "Last year, we got our first client who lives in Mexico and one from Ireland."
Added Simo: "It's the SuperContest. The name says it all. Everybody wants to be in the contest."
And if you can make just one quick preseason trip to Las Vegas to sign up for the SuperContest, well, you could be in it too, thanks to a small business that has hit it big.
"1,500 bucks, a photo ID and us – that's all you need," Simo said.
Patrick Everson is a Las Vegas-based senior writer for Covers. Follow him on Twitter: @Covers_Vegas.