The College Football National Championship provides more angles to bet than any other college football game all season, with National Championship odds giving this matchup between the TCU Horned Frogs and the Georgia Bulldogs the same treatment as they do most NFL games.
Game flow and injuries may be make-or-break with any prop bets, but anticipating those wrinkles ahead of time should create a chance at some cash. Here are my best free college football prop picks for tonight's big game.
TCU vs Georgia props
Click on each pick to jump to the full analysis.
Best college football bonuses
Looking to bet on some Bowl season action? Here are two of the best bonuses* available:
A) TCU to cover +14.5 and Over 53.5 points BOOSTED to +170 (was +110) at FanDuel! Bet Now
B) New users at DraftKings can bet $5 and get $200 in free bets! Sign Up Now
*Eligible USA locations only. Also, check out our full list of college football promo codes for 2022.
TCU vs Georgia props
Mad Max into the end zone
Getting Max Duggan to find the end zone, at plus-money, feels like delightful, unexpected value.
Duggan has rushed for eight touchdowns this season, including two against Michigan in the Playoff semifinal and one against Kansas State in the Big 12 title game when his body was seemingly otherwise breaking down. Duggan is a physical ball carrier with about as much fear as a bull has in Pamplona. That alone suggests value in this plus-money offering.
Now factor in TCU running back Kendre Miller's knee injury. The Horned Frogs are going to keep things close to the vest t as Monday night approaches, officially considering Miller questionable for the title tilt. However, if he is at all hampered, then Duggan rushing across the goal line will become that much more likely.
Not only does Miller have 17 rushing touchdowns this year, but he is also TCU's preferred battering ram at the goal line, as nine of his scores came from within three yards. Without him, the Horned Frogs' goal line looks will feature Duggan more often.
He is already an ideal QB-sneak ball carrier. Chances will come for the man affectionately known as "Mad Max." And as anyone who has ever watched "Fury Road" knows, Max finds a way to his destination, one way or another.
Max Duggan Prop: Anytime touchdown (+105 at bet365)
One Bennett mistake
At some point, Bulldogs quarterback Stetson Bennett will almost assuredly make a mistake.
Bennett has thrown only seven interceptions this season on 429 pass attempts. Still, one of those came against Ohio State just last week, spurring Georgia head coach Kirby Smart to harshly lament his quarterback's play while confetti was still falling in the Peach Bowl. More to this bet's point, Bennett also threw two interceptions against Mississippi State in the regular season, the only 3-3-5 defense he has faced this season.
In the other 13 games, Bennett threw one pick for every 78 pass attempts. Against Mississippi State, he threw two on 37 attempts.
The 3-3-5 approach from TCU creates different pressures and different angles. Even a veteran, championship-proven quarterback like Bennett is prone to making a mistake or two against that unusual defense.
Michigan's J.J. McCarthy certainly did. In the first 13 games of his season, McCarthy threw just three picks on 288 pass attempts. That is one interception for every 96 throws. Against the Horned Frogs, McCarthy threw two picks on 34 passes.
This is what TCU does. Led by Bud Clark's five picks, the Horned Frogs intercepted 16 passes this year, including four in their last three games. TCU intercepts opponents about once every 30 pass attempts.
Bennett will throw more than 30 times on Monday. His mistakes against Mississippi State, McCarthy's turnovers in the Fiesta Bowl last weekend, and TCU's general defensive habits all make it clear that 30 pass attempts should produce at least one interception.
Stetson Bennett Prop: Over 0.5 interceptions (-110 at bet365)
Covers college football betting tools
A slow start, yet a shootout
The total of 63 points makes it clear that this should not be a plodding season finale. With two veteran QBs and some explosive playmakers, points are expected, no matter how unique that 3-3-5 defense may be or how dominant Georgia's defense is.
Those points are most likely to come in a flurry when tensions are at their highest. Last year's national championship game saw 36 points come in the second half after the first two quarters featured nothing but a handful of field goals. When the dam broke, the flood came.
Maybe this year's game has a different pattern, but getting +115 odds on the second half and seeing more points than the first half is worthwhile if for no other reason than some would tell you it is a coin-flip bet.
Five of TCU's last six games featured higher-scoring second halves. There is more here than just a coin flip.
The greatest danger to this thought would be a quick Georgia blowout. The Bulldogs would then have reason to tighten things up in the second half and ease to the finish line. However, they would more likely pile it on.
Bennett's collegiate career will end this week; let him throw five touchdowns. There is no logic to concealing any of the playbook.
And in a Bulldogs rout, TCU will be desperate and heaving all that much more. A 28-0 halftime deficit could lead to a 42-21 final score, and that would cash this bet.
Prop: Highest scoring half: Second (+137 at bet365)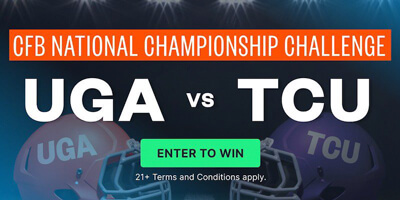 Pages related to this topic