Monday night's National Championship Game between UConn and San Diego State is not what anybody predicted before the tournament began, but it's a game that few will not be excited about.
Adama Sanogo and Jordan Hawkins lead the Huskies on a run that sees them dominating everyone they face, while Matt Bradley and the Aztecs are smothering teams in the second half with their relentless defense.
In a game with so many intriguing storylines and key matchups, same-game parlays can be a joy to compile, but they can also be somewhat tricky to find winnable plays, given the data the books have at this point of the season.
Thankfully, we're here to help you find a few that have solid value and strong college basketball odds of winning. Read more in our college basketball picks for Monday's national title game below.
San Diego State vs UConn same-game parlay picks
Click on each pick to jump to the full analysis.
Best March Madness bonuses
Looking to bet on March Madness action? Here are two of the best bonuses* available:
A) New users at DraftKings can bet $5 and get $150 in bonus bets! Opt-in Now
B) UConn to score 70+ points and win BOOSTED to +150 (was -110) at FanDuel! Bet Now
*Eligible USA locations only. Also, check out our full list of best March Madness promotions for 2023.
21+. Gambling Problem? Call 1-800-GAMBLER.
Parlay Pick No. 1
UConn -7.5 + Sanogo o14.5 points + Hawkins o11.5 points + SDSU TT u66.5 points (+310 at DraftKings)
If you like the UConn Huskies to pull off the win and cover the number, then this is the parlay for you — as I don't think that feat is accomplished without their two best players having strong nights.
Sanogo showed on Saturday night that he's more than just an interior player when he opened the game by hitting a pair of long-range bombs. He's only attempted 52 shots from downtown, but his 36.5% clip will keep the Aztecs honest. He's also able to put the ball on the floor and attack the rim, and he's not fazed by double teams.
UConn also runs the pick-and-roll exceptionally well, and that's one area where the Aztecs have struggled to defend. That should allow the big man enough quality shot opportunities, allowing him to reach a 15-point floor.
Hawkins showed Miami that illness wasn't going to slow him down, and despite making just three of his eight shots he still managed to score 13 points. He's been a consistent scorer throughout the tournament, scoring 12+ points in every game.
That includes against Saint Mary's, a game in which he played just 19 minutes and the team managed a tournament-low 70 points. That should be his floor given he should see plenty of opportunities in transition.
UConn isn't squeaking through games in this tournament, or on the season. While they've not faced teams week-in and week-out like SDSU, the Huskies have failed to win by at least eight points just nine times in 38 games — and seven of those were defeats. They win big or they don't win at all.
Given the Huskies held both Miami and Gonzaga — the second-best team in the nation in effective FG% and third in shooting efficiency — to their worst offensive performances of the season, I don't see the Aztecs reaching their average of 70.8 ppg.
In fact, they've not topped 67 points in seven of their last 10 games and I think that trend continues here. Combine those four items and you've got a nice parlay that triples your investment.
Covers March Madness betting tools
Parlay Pick No. 2
UConn by 11+ points + UConn -3.5 1H + Jackson o18.5 PRA (+397 at FanDuel)
As we mentioned in the previous parlay, the Huskies don't just win, they win big. That's been no different in this tournament, with a margin of victory residing just north of 20 points per contest.
On top of that, this is a bad matchup for the Aztecs whose offense isn't built to make big comebacks. They managed to do so against Florida Atlantic on the back of a ridiculous rebounding effort down the stretch that enabled them to take twice as many shots as the Owls over the final five minutes.
But while the Owls were a good rebounding team, UConn is an elite one, ranking third in offensive rebound rate and 29th in defensive rebound rate. San Diego State pulls in just 76% of its opponent's misses — that's 71st in the nation — and allowed the Owls to get nine of them on Saturday.
The Huskies rank seventh in college basketball in first-half scoring output, and if they manage to pull out to another big lead by halftime, I don't see them winning by single digits.
Speaking of the first half, the spread of 3.5 points is easily coverable in my opinion. The Huskies play better offensively before halftime, and FAU was up nine at the break against the Aztecs.
SDSU also trailed by five against Creighton and gave up big runs against both teams. If UConn is going to win this game, I don't see them not having a sizable advantage before the break.
The third and final piece to this second parlay is Andre Jackson Jr. While his name might not be the first that comes to mind for many looking at this game, he's the guy you want on the floor if you're going to win. He fills the stat sheet, does a lot of dirty work on defense, and is exceptional at launching UConn's fast-break offense.
His 12 points + rebounds + assists output against Miami was his lowest of the tournament, but it was also the only game in which he hasn't played at least 30 minutes. In fact, in the 20 games this season in which he's been on the court at least 30 minutes, he's failed to reach 19 PRA just four times — and in one of those, he finished with 18.
He averages 17.8 PRA per game and with how many missed shots we could see in this game it opens up the opportunity for more rebounds and transition assists. His output could be key to UConn winning its fifth national championship, which is why I love putting them together in a very profitable parlay.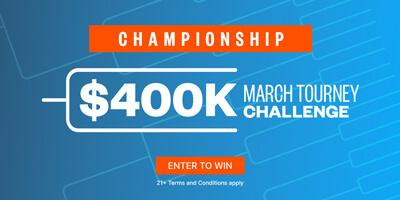 Pages related to this topic