There's probably no more discouraging one-two in sports than to even a seven-game series on the road with a dramatic Game 2 win... only to lose both games at home in convincing fashion.
The Denver Nuggets have now largely dominated the NBA Finals, but if there's anything the Miami Heat have proven throughout these playoffs, it's that they're like the undead: They won't stay down — even in the face of being an overwhelming NBA Final odds underdog — unless you make them.
The Nuggets' first chance to close things out at home is tonight, and I've got my three favorite NBA player props, which focus on some of Denver's other dudes delivering tonight.
For more Game 5 NBA free picks, check out our Heat vs. Nuggets Game 5 preview and best Nikola Jokic player props.
Heat vs Nuggets Game 5 player prop picks
Click on each pick to jump to the full analysis.
Heat vs Nuggets Game 5 props
Bamboozled
The Miami Heat are a team that prides itself on not beating itself.
In Game 3, the Heat limited themselves to just two turnovers, but that unraveled in Game 4, with Bam Adebayo himself coughing it up a whopping seven times as the Denver Nuggets showed him a new defensive look — and I'm betting he faces a similar struggle tonight.
Nikola Jokic has also become less wary of Bam's driving game as the series has gone on and is no longer hanging all the way off him on defense. Instead, he's splitting the difference; he's not up and hugging him in the upper paint (where Bam likes to operate), but he's also close enough to pressure every pass he's trying to throw with his hands or, increasingly, with his feet.
Jokic has mastered an unusual element of defending: He guards with all four limbs, liberally using his feet and legs to obscure — and outright cause deflections — in passing lanes. While a kicked ball is technically a violation, it carries no real penalty except for resetting the clock to 14.
The impact it has on the rest of the game, however, is substantial. Passing windows get smaller, angles get tighter, turnovers begin to mount, or opportunities are missed entirely. The added pressure forced Bam into a lot of bad looks, and even accounting for a renewed focus, he's up against another reason to assume a pile of giveaways on Monday:
This game is for all the marbles.
Erik Spoelstra won't shy away from playing his top guys every meaningful minute, knowing there's no tomorrow if they lose. But that has consequences.
Fatigue impacts every aspect of the game. The ability to make snap decisions and execute them with pinpoint accuracy are among the first casualties as mental and physical exhaustion mount over the course of a 48-minute game. The knock-on effects are mental mistakes and missed passes and the resulting turnovers.
Bam is averaging just shy of three turnovers over his last 10 games, including three or more in six out of those ten contests. I like him to hit that number again tonight.
Bam Adebayo prop: Over 2.5 turnovers (-105)
Best NBA bonuses
Looking to do some NBA betting? Here are two of the best bonuses* available:
A) Nikola Jokic 25+ points, Jamal Murray 2+ threes BOOSTED to +100 (was -175) at DraftKings! Opt-in Now
B) Get a 30% profit boost on any Heat/Nuggets SGP at bet365! Bet Now
C) Nuggets to win and Jokic/Murray to score 25+ points each BOOSTED to +275 (was +140) at Betway! Bet Now
D) Murray to score 5+ points and Jokic to record 2+ assists in the first quarter BOOSTED to +150 (was -130) at FanDuel! Bet Now
*Eligible USA locations only. Also, check out our full list of best sportsbook promotions for 2023.
21+. Gambling problem? Call 1-800-GAMBLER
Michael's game
Michael Porter Jr. has had a pretty miserable Finals, so it's easy to assume that every aspect of his game will continue to be muted to the final bell, but the NBA odds on his prop lines have begun to fall — particularly with his rebounding number — that now there's enough value to bet an MPJ Over.
His shot has not been falling the entire series, but it's impacting his overall effort much less than it did in the first two games. Importantly, MPJ played much more aggressively last time out and was relentlessly driving to the basket, even if it didn't always work out in his favor.
MPJ's size just consistently creates problems for the Heat. As Jeff van Gundy noted on the broadcast in Game 4, his length has allowed him to hold his own against Jimmy Butler whenever he's switched onto him. Length has (pun intended) long been a problem for Jimmy, and MPJ's contributions on defense and the glass are earning him a long leash even as he keeps missing shots.
So why did he only total three rebounds in Game 4?
Sometimes they just don't bounce your way, and his line falling all the way to a measly 5.5 (at even money) seems like an overreaction by oddsmakers, considering he's had six or more rebounds in every game prior to Friday.
It's easy to get lost in the per-game averages over a sample as small as one series, but MPJ has averaged 7.9 rebounds over his last 10 games and there's really not much reason for the MPJ to struggle on the boards more against Miami when he has a sizeable, erm, size mismatch whenever he's on the court.
As long as he's focused and playing hard, he should be able to hit this prop and his commitment to doing the little things and playing with force in Game 4 makes me believe that he will.
Michael Porter Jr. prop: Over 5.5 rebounds (+100)
KC3
After being one of the heroes of the series against the Los Angeles Lakers, Kentavious Caldwell-Pope has largely been an afterthought as the Nuggets have romped to a commanding 3-1 series lead.
KCP shot 44.4% from downtown (on 6.8 attempts per game) against L.A., but he's plummeted to 28.6% on 3.5 attempts per contest in the Finals.
The rumors of Caldwell-Pope's decline, however, have been greatly exaggerated. Unlike Porter Jr., KCP missing shots didn't crater his whole game, which is why he's averaging 34.2 minutes this series — more minutes than he played vs. the Lakers.
KCP went 2-for-5 from three in Game 4, and I'd expect the same or better tonight. He's hit 2+ threes in 10 of Denver's 19 playoff games and, in many cases, hit many more than two. He's also still been a knockdown guy at home during these playoffs, shooting 39.8% from three and averaging two made threes per game.
The Heat's general plan in Game 4 — slow down Jokic and Jamal Murray as individual scorers — was largely effective, and even though they ultimately lost, I'm guessing they'll take a similar tack again and force the Nuggets' role players to beat them.
They'll be more cognizant of the way that Aaron Gordon can hurt them, which will likely mean KCP becomes the go-to pressure release valve if (and when) they blitz Murray again.
Getting Caldwell-Pope at plus money to knock in just two treys, in a close-out game at home, is too good to resist.
Kentavious Caldwell-Pope prop: Over 1.5 made threes (+110)
Not intended for use in MA.
Affiliate Disclosure: Covers may receive advertising commissions for visits to a sportsbook or betting site.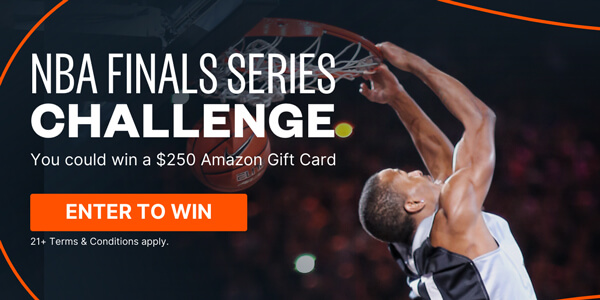 Pages related to this topic