With the beginning of the 2023 NBA Finals, we're nearing the end of a storied season of NBA basketball. Whether the Denver Nuggets can continue their dominant run, or the Miami Heat can add one more storybook chapter to theirs, I'm going to go through every matchup and break down all of the Finals odds to find the best value for player props all series long.
My three favorite NBA player props for Game 1 will be looking at a trio of bets on the home favorite Nuggets — including a tasty Nikola Jokic player prop and props zeroing in Michael Porter Jr.'s sublime jumper and Jamal Murray's bully ball.
Be sure to also check out Jason Logan's Game 1 picks and predictions to see where his best bet lies for tonight's showdown.
Heat vs Nuggets Game 1 player prop picks
Click on each pick to jump to the full analysis.
Heat vs Nuggets Game 1 props
Jokes on you
With apologies to Jimmy Butler, there has been no better player in the NBA playoffs than Nikola Jokic. Jokic is famous for quipping that he prefers to pass because "passing makes two people happy" but part of his growth as a player is learning to lean into scoring when the time calls for it. A Finals matchup with the Miami Heat will certainly have his phone ringing.
Miami will do its best to take away some of the low-hanging fruit the Denver Nuggets build their offense around. For instance, Denver had massive success attacking the Lakers in transition and has been a devastating transition team in the playoffs — leading all postseason teams with a scorching 121.7 points per 100 possessions per Cleaning the Glass.
However, the Heat are among the better transition defenses which means the Nuggets are going to have to score more in the halfcourt, which means more post ups for Jokic. Miami is going to do everything it can not to send two to the ball against Jokic, because while it fears his ability to score, it's terrified of his ability to pass. If Jokic goes for 40+ points, the Heat still have a path to victory that becomes much more difficult if he adds 20 points but 15+ assists.
Critically, Bam Adebayo is not a strong one on one defender against Jokic. The size and height difference is just overwhelming, and Bam's lack of length means Jokic can get to his floater (a 62% shot for him) at any time. In the last regular season contest between these two teams, Jokic shot 12-for-14 from the field — all in the paint — and most of them with Bam defending him.
Jokic is averaging 31.8 points over his last 10 games (and well over 60% true shooting for the playoffs as a whole), and while the Heat are an incredible collective defense, they don't have an individual defender as capable as Anthony Davis (and even he was no match). Bank on Jokic to make Miami play for trying to guard him straight up on Thursday.
Pick: Jokic Over 27.5 points (-105)
Best NBA bonuses
Looking to do some NBA betting? Here are two of the best bonuses* available:
A) New users at FanDuel can get a no-sweat first bet up to $2,500! Sign Up Now
B) Get a profit boost up to 100% on one NBA Finals SGP at DraftKings! Opt-in Now
*Eligible USA locations only. Also, check out our full list of best sportsbook promotions for 2023.
21+. Gambling problem? Call 1-800-GAMBLER
MPJumper
Michael Porter Jr. is one of the elite shooters in the NBA. Not only does he have a high and fast release, but he's comfortable taking a dribble and stepping into his shot, coming off screens, or spotting up.
The 6-foot-10 forward never saw a shot he didn't like and shoots 41.4% from deep. The Heat's small team has been largely discussed as a problem because of how the Nuggets will hurt them on the glass, but equally troubling is how much it will impact their ability to contest Denver's shots.
At least to start with, MPJ is likely to be guarded by Caleb Martin. While Martin is going to be physical and get into Porter's body, at 6-foot-5 he simply doesn't have the wingspan to offer a serious contest when MPJ gets separation on a screen. A clean look for Porter Jr. will always be a simple screen away.
The Heat will also be shy about going zone with Jokic in the game, except for mixing it in here and there to gunk up Michael Malone's after-timeout plays. But they're probably going to show a decent amount of the zone defense when Jokic sits, at least until the Nuggets prove they can beat it.
MPJ is one of the keys to ensuring that Denver does so. His shooting will be the main release valve when Jokic is on the bench, and he's probable to play every minute that the Joker sits. All of that means more opportunities from outside.
Pick: Porter Jr. Over 2.5 made threes (-137)
Murray magic
My last player prop completes the Nuggets' star trifecta and builds on the same theory of the game that has me buying on Nikola Jokic's points prop. What has also followed from that has been a lot of the isolation scoring burden falling into the lap of one Jamal Murray.
Murray has never made an All-Star team, but he's without question one of the most accomplished playoff scorers in the NBA for his age. He just polished off a series against the Lakers where he averaged north of 32 points per game on 65.1% true shooting, and reportedly, he did all of this while battling a nasty ear infection.
If Jokic is forced to play the role of scorer, he and Murray will play a lot of their vaunted two-man game, and the Heat don't have many good options to deal with it. If they play straight up, Murray is a rugged, physical guard who will happily back down the smaller Gabe Vincent and put him in the basket. If they give him space? He's shooting 39.8% from three on almost eight attempts per game.
Murray is up to 27.9 points per game over his last ten outings and has only scored 25 or Under three times in those 10 games (including 25 on the dot in Game 4 against L.A.). I'm banking on a rested and healthy Murray to keep it rolling in Game 1.
Pick: Murray Over 25.5 points (-124)
Not intended for use in MA.
Affiliate Disclosure: Covers may receive advertising commissions for visits to a sportsbook or betting site.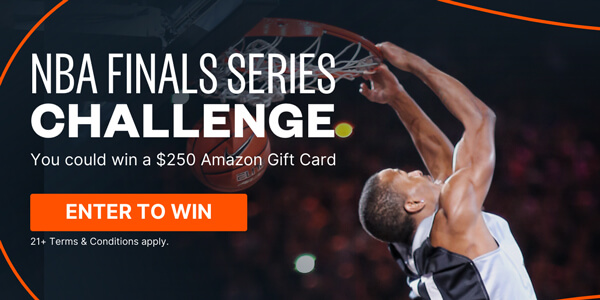 Pages related to this topic