Whether we're sizing up seeding, rest and home court, or just top-to-bottom personnel, the Denver Nuggets are the oddsmakers' prohibitive choice to win the 2023 NBA Finals.
NBA odds have Denver as a hefty favorite to win the title, and an 8.5-point home chalk against the Miami Heat in Game 1 of the Finals on Thursday night.
All of that means squat to the defiant No. 8 seed.
Miami brings plenty of momentum into the series opener, having eliminated the top two teams in the Eastern Conference and the No. 5 team, en route to an improbable spot in the title round.
However, while Denver comes into this matchup fresh as the Rocky Mountain air, Miami has had just two days respite after an emotionally and physically taxing seven-game set in the Eastern Conference finals.
I break down the point spread and Over/Under total for Game 1 of the NBA Finals and give my best NBA picks and predictions for Heat at Nuggets on June 1.
For more analysis of NBA Finals Game 1, check out our Game 1 player props column, as well as our player props spotlight on Nikola Jokic.
Best NBA bonuses
Looking to do some NBA betting? Here are two of the best bonuses* available:
A) Jokic to score 25+ points, Butler to score 20+ points BOOSTED to +100 at DraftKings! Bet Now
B) Nuggets to win, Murray to score 25+ points, Porter Jr. to hit 3+ threes BOOSTED to +300 at FanDuel! Bet Now
C) Porter Jr. & Caldwell-Pope each Over 2.5 threes BOOSTED to +475 at Caesars! Bet Now
*Eligible USA locations only. Also, check out our full list of best sportsbook promotions for 2023.
21+. Gambling problem? Call 1-800-GAMBLER
Heat vs Nuggets Game 1 odds
Heat vs Nuggets Game 1 predictions
If you read my NBA Finals betting preview, you'll see that I've tagged Michael Porter Jr. as the X-factor for the Nuggets.
The versatile 6-foot-10 forward is a nightmare for Miami, which has a bunch of square pegs to fit into the round hole that is MPJ. The Heat have to keep Bam Adebayo on Nikola Jokic, which leaves them nothing but bad matchups against Porter Jr.
Heat head coach Erik Spoelstra has a starting frontcourt of Adebayo, 6-foot-7 Jimmy Butler, and 6-foot-5 forward Caleb Martin, along with reserve bigs Kevin Love and Cody Zeller, who were defensive liabilities in the final games with Boston to the point where they just didn't play.
Butler, being the second-tallest starter, could draw Porter Jr. but will likely switch between he and Denver forward Aaron Gordon, who stands 6-foot-8 but plays more like a power forward around the key. Martin will spend plenty of minutes marking Porter Jr., as the Heat will be resilient to switch Bam off Jokic, and that allows the lanky MPJ to shoot over diminutive defenders.
If Miami does march out Love or Zeller, the two lumbering bigs lack the foot speed to contain Porter Jr. off the dribble. Adebayo will be hesitant to leave Jokic on the help side, leaving Porter with a clear path to the basket. Whether he finishes there or not is another issue.
As talented and promising as Porter Jr. is, he's softer than a fresh bag of marshmallows — the expensive kind, not the Dollar Store brand. Even at 6-foot-10, he seems to shrink inside the key and looks to pass off in opportunities from close range.
He's struggled to be a consistent threat for the Nuggets, but found his flow against the Lakers in the Western Conference finals. Porter Jr. averaged a steady 15 points per game in that four-game series, seeing a notable uptick in his production from beyond the arc in the final two outings in L.A., in which he was 7-for-20 on 3-point attempts.
The Game 1 player projections expect Porter Jr. to take advantage of those mismatches with Miami, with my number sitting above 17 points and some models setting the ceiling at 20-plus in the series opener. That has us grabbing the Over on his points prop in Game 1, with oddsmakers setting his forecasted scoring mark at 15.5 points (Over -105).
Looking at his past matchups with the Heat, Porter Jr. had outputs of 17 points and 10 points in two meetings this season (the 17 coming with Gordon and Jamal Murray sidelined), shooting a collective 10 for 19 from the field in those contests. He didn't face the Heat in an injury-shortened 2021-22 campaign but did drop 25 and 17 points on Spoelstra's defense in two games in 2020-21.
My best bet: Michael Porter Jr. Over 15.5 points (-105)
Heat vs Nuggets Game 1 same-game parlay

Michael Porter Jr. Over 15.5 points (-110)
Caleb Martin Under 16.5 points (-130)
Aaron Gordon 16+ points + assists (-115)
The 6-foot-10 Porter Jr. can either shoot over smaller defenders or blow by bigger ones. He'll hit some 3-pointers and get easy buckets inside, with my number calling for 17.2 points in Game 1.
His frontcourt mate Gordon also has some positive projections Thursday. My forecast calls for 15.4 points and 3.2 assists, but some models are calling for as many as 22.6 combo stats, which has us going Over his points/assists prop of 15.5.
As for the Heat, we're expecting Martin to cool off after a red-hot showing against Boston. Martin's point prop has ticked up as high as 16.5 points, but his projections for Game 1 all come in at least two points shy of that mark with my number at 12.5 points Thursday night. He's been especially sharp from beyond the arc (8-for-14 last two games) but regression and a tight Denver perimeter defense will keep him Under this inflated total.
Learn how to bet a same-game parlay with these helpful tips and strategies.
Not intended for use in MA.
Affiliate Disclosure: Covers may receive advertising commissions for visits to a sportsbook or betting site.
Heat vs Nuggets Game 1 spread and Over/Under analysis
Following the conclusion of Miami's road win in Game 7 of the Eastern Conference finals, oddsmakers installed Denver as an 8-point home favorite for Game 1 of the NBA Finals. Some other markets opened the Nuggets -8.5 and others went higher to -9.
Shorter lines started to move within the first 40 minutes as books jumped to -9 but over the past few days, the market consensus has settled in at -8.5 with some books up to Nuggets -9 as of Wednesday morning.
According to BetMGM books, Denver has drawn 59% of bet count for the spread and 70% of the handle for Game 1. Covers Consensus currently shows a more balanced split for the opener, with just 48% of picks on the home team Thursday night.
Denver does rate out as a stronger team than Miami, but the biggest edge for Game 1 is the rest advantage for the Nuggets as well as their unique home-court advantage in the thin air in Colorado.
A series sweep of Los Angeles in the Western Conference finals has had the Nuggets off since May 22. While this downtime could be to their detriment, it gives them very fresh legs against a Heat squad that went through the grinder of a blown 3-0 series lead to the Celtics.
Miami will be just three days removed from Game 7 in Boston and that energy-sapping altitude inside Ball Arena will test the will of a Heat team that has played well beyond its seeding in the tournament. The Nuggets are a very athletic and deep team that can win the physical battles against a smaller Miami rotation.
Denver has been perfect on its own floor in the postseason, with an 8-0 SU record (5-3 ATS) at home and a +11.6 net rating as a host. That's carried over from the regular season, where the Nuggets went 34-7 SU and 25-15-1 ATS (62%), boasting the third-highest home net rating at +9.6.
That said, the Heat haven't been shaken by rival postseason crowds. The team is 6-4 SU and 7-3 ATS as a visitor in the playoffs with a net rating of +1.5 in those contests. That wasn't the case all season, as Miami finished the regular schedule at 16-24 SU and 15-24-1 ATS away from South Beach with a net rating of -2.1.
The Heat and Nuggets met twice in the regular season, with Denver winning both matchups and covering as a short favorite. The Nuggets beat Miami 124-119 at home on December 30, just covering as closing 4-point chalk thanks to a 39-29 push in the fourth quarter.
They also edged the Heat in South Beach on February 13, winning 112-108 as 1-point road faves despite missing starters Murray and Gordon. Miami was also missing members of its backcourt with Kyle Lowry, Tyler Herro and Victor Oladipo sidelined.
The Over/Under for Game 1 opened at 218.5 points and has since climbed as high as 220 at some sportsbooks, while Wednesday's market consensus has settled in at 219 with some 219.5 also showing at many shops.
Miami's final four games against the Celtics all stayed Under the total, thanks in large part to adjustments from Boston's defense after the opening three games player Over. The Heat (11-7 O/U in playoffs) play a smothering defense that likes to switch off screens and will roll out zone looks to keep foes guessing. They pull the power on one of the best offenses in the NBA, holding the Celtics to less than 106 points against in the series.
The Nuggets (8-7 O/U in playoffs) are a sound defensive team but it's not their biggest strength. They do, however, throw a lot of height at a smaller Miami lineup and can force the Heat to the outside, testing the validity of their 3-point shooting. Denver doesn't give up many bonus buckets either, limiting points off turnovers as well as second-chance scores from offensive rebounds.
The current Game 1 total is a few points shorter than the closing Over/Under numbers bettors saw in the Western Conference finals, with the Nuggets facing a very sound defensive club in the Lakers (2-2 O/U). As for comparison to the ECF totals, this current number is still significantly higher than the bigger totals posted earlier in that series and much larger than the final O/U of 204 points in Game 7.
The Heat and Nuggets went Over totals of 224.5 and 217.5 points in their two matchups this season despite those games played at a slower pace rating of 95.5. So far in the postseason, Denver owns a pace rating of 96.33 while Miami clocks in at 95.75.
According to BetMGM, bet count on the total is a 50/50 split but the Under has drawn 59% of the money wagered on the Game 1 total.
Heat vs Nuggets betting trend to know
The Denver Nuggets are 16-4 SU and 13-6-1 ATS (67.5%) when playing of three or more days rest this season. Find more NBA betting trends for Heat vs. Nuggets.
Covers NBA Finals betting tools
Heat vs Nuggets Game 1 game info
| | |
| --- | --- |
| Location: | Ball Arena, Denver, CO |
| Date: | Thursday, June 1, 2023 |
| Tip-off: | 8:30 p.m. ET |
| TV: | ABC |
Heat vs Nuggets Game 1 key injuries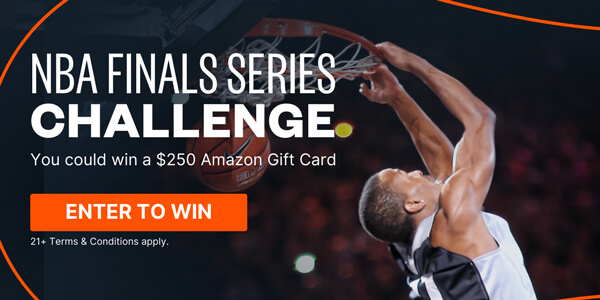 Pages related to this topic