With the Euros done, soccer at the Tokyo Olympics are just heating up. Brazil will look to defend their 2016 men's gold and come in near the top of the odds board. The women's side will crown a new champion as 2016 winner Germany failed to qualify for the 2020 Summer Olympics, with the United States the betting favorite on the women's side.
Women's Olympic soccer
The U.S. top the betting board to take home the gold at +175 and are considered a heavy favorite. Great Britain (+375), Sweden (+450), the Netherlands (+600), and Brazil (+650) round out the Top 5 before the true longshots hit the board.
Women's soccer odds to win gold
| | |
| --- | --- |
| Country | Odds |
| United States | +110 |
| Sweden | +175 |
| Canada | +600 |
| Australia | +700 |
Odds via Bet365 as of July 30, 2021
US big favorite for women's soccer gold
The U.S. women's team is ranked No. 1 globally and entered 11-0-1 SU with 37 goals scored in 2021. Unlike the men's side, the women's draw is allowed to roster players over 23 years of age. Team USA has taken advantage of this and is loaded with experience, Olympic gold medals, and World Cup championships.
The U.S. women's team will be looking to avenge a quarterfinals loss to Sweden at the 2016 Summer Games in Rio. They had won the gold in the previous three Olympics before 2016. The Americans were pushed until penalty kicks against the Netherlands in the quarterfinals, but managed to advance and with now face rival Canada in the semifinals on August 2.
Experienced US team looks to avenge Rio loss
Eight players on the U.S. women's team have bitten into Olympic gold medals. With Germany not qualifying, the Americans have the most Olympic success in the tournament. It's no surprise they were the betting favorites coming in at -165.
Coach Vlatko Andonovski leads the American national team in his first major international competition. All Andonovski has done since taking over is compile a 20-0-1 record in his first 21 matches. No other coach in the program has been this successful to begin their coaching career.
Team USA has made all but one Olympic soccer final, since women's soccer was first introduced in 1996. They've won five gold medals over that span.
Team USA will have a chance to avenge their 2016 loss to Sweden as they will begin the group stage with Sweden, Australia, and New Zealand.
Canada's chances at a medal
The Canadian women's national team is ranked eighth globally. They come into Tokyo having won back-to-back bronze medals in Rio and London. Canada's medal odds have shorted to +600 as it is one of the four remaining nations in the tournament.
Two crucial players on the Candian roster are working their way back from injuries that occurred just four months ago. Goalie Kailen Sheridan tore her quad muscle off the bone in February, while West Ham forward Adriana Leon fractured a bone in her left foot and had surgery in March — both are on the Olympic roster, which Sheridan acting as a reserve and Leon also coming off the bench.
Canada is led by captain Christine Sinclair, who is competing in her fourth Summer Olympics. She is the highest-scoring female or male soccer player in international games, with 186 goals in 299 competitions. Canada opened with large pre-tournament odds of +2,000 to capture the gold but after upsetting Brazil on penalty kicks in the quarterfinals, Team Canada is now just two wins away from being crowned champions.
Our best bet: Brazil (+1,600)
Although Team USA has been a powerhouse, 2016 showed us that many things are possible in the knockout round. We would prefer better than -165 odds in this format.
Coach Pia Sundhage coached the USWNT from 2008-12, where she won a pair of Olympic golds. She then took her talents to her native Sweden, where the Swedish women's team finished 1-1-1 in the group stage, then knocked off the Americans in the first round in penalties. Sweden would advance to the finals after beating Brazil in the semifinals but losing to Germany 2-1 for the gold.
Now Sundhage is leading the Brazilian national team that comes into the tournament paying +1,600 to win gold. If there is anyone who knows how to beat the Americans, it's Sundhage. With the path for gold running through the USWNT, we like the price and leadership of Brazil.
(Pick made July 19, 2021)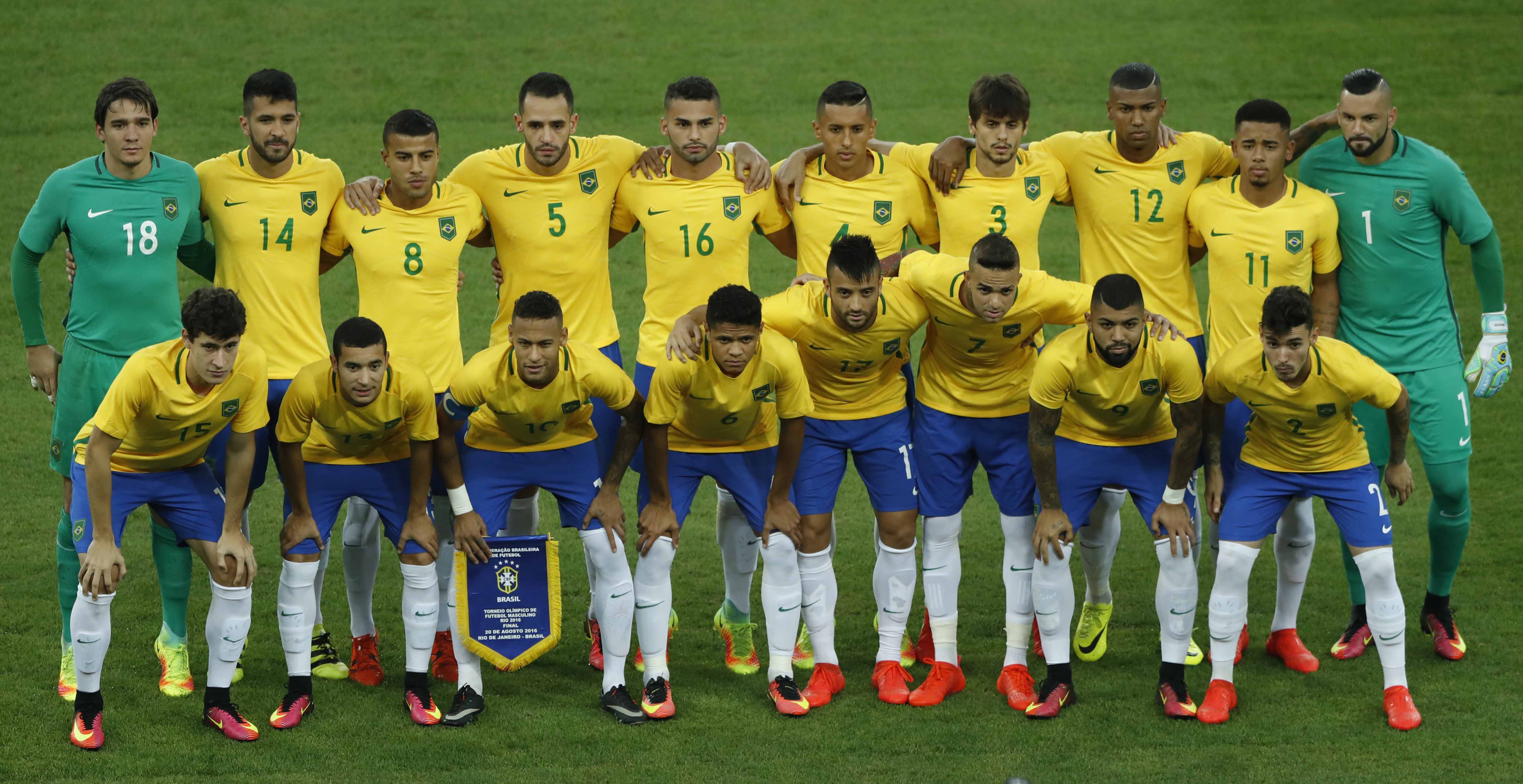 Photo By - USA TODAY Sports
Men's Olympic soccer
Brazil are once again slight betting favorites at the 2020 Summer Olympics at +200 but Spain has jumped from +350 to +250 and pushed the reigning gold medalists to +300. France (+1,000), Argentina (+1,200) and Germany (+1,400) all have legitimate shots at standing on top of the podium.
Men's soccer odds to win gold
| | |
| --- | --- |
| Country | Odds |
| Brazil | +150 |
| Spain | +162 |
| Japan | +500 |
| Mexico | +1,200 |
| South Korea | +1,600 |
| Egypt | +3,300 |
| (Côte d'Ivoire) Ivory Coast | +3,300 |
| New Zealand | +10,000 |
Odds via Bet365 as of July 30, 2021
Brazil the odds favorite to win gold medal
Coming into Tokyo, five teams sat atop the odds board but it was Brazil opening as the betting favorite at +275 to capture the gold. They are now essentially deadlocked with Spain, holding a slight advantage at +150, compared to Spain's +162. Brazil won gold on home soil in 2016 and is geared up for another run in Tokyo.
The Seleção will begin the knockout round tomorrow against Egypt, while Spain will face the Ivory Coast,
US men miss third-straight Summer Olympics
The US men's national team missed its third straight Summer Olympics after it lost to Honduras 2-1 in qualifying. Only two teams from the CONCACAF region advanced to the Olympics — Mexico and Honduras.
Olympic soccer drought continues for Canadian men's team
The Canadian men's team also failed to qualify for the 2020 Olympics despite finishing the qualifying tournament with just one loss (one win and two draws). They lost to Mexico 2-0 in the semifinals, extending the Canadian men's drought, as they have not qualified for the Olympics since 1984.
Our best bet: Spain (+250)
We are staying away from Brazil and Germany as there is a chance one of them doesn't escape the group stage as Cote d'Ivoire could be a tough matchup. They are one of the toughest groups in the tournament.
Spain has a massive advantage as their professional league, La Liga is obligated by law to allow their players to compete in the Olympics as it is not recognized as an official FIFA competition. It is also a big reason for their early line movement from +350 to +250. Spain's national team will have players from Real Madrid and Barcelona while other nations won't have their best professionals.
In all, Spain will roster six players who reached the semifinals of the European Championships. At +350, we're liking the Spaniards to take gold for the first time since 1992.
(Pick made July 19, 2021)
Olympic soccer tournament format
Olympic soccer uses different formats and age restrictions for men's and women's soccer.
Olympic women's soccer format
There will be a total of 12 nations on the women's side, and teams will be arranged into three groups for a round-robin. The top two teams in each group will advance to the knockout stage and the two best third-place teams. Whoever wins three straight games following the group stage will win the gold. There are also no age restrictions in women's soccer.
Olympic men's soccer format
The men's side will feature 16 nations split into four groups. Each nation will play all three teams in their group, with the top two teams in each group advancing to the knockout stage. The remaining eight teams will then have to win to move on through the quarterfinals, semifinals, and gold-medal finals.
The men's rosters are compiled of players under the age of 24 except for three older players per nation. Usually, men's Olympic soccer is reserved for players under 23 years of age, but due to the postponement of the Tokyo Olympics by one year, the organizers moved the age up by a year.
Additionally, this will be the first Olympics that video assistant referees will be used.
How to bet on Olympic soccer
Soccer is the biggest global sports-betting market but is still quite new to North America. Let us guide you through how to bet on soccer with some basics on reading odds and tips for making smarter soccer bets. If you're familiar with betting on soccer, but haven't placed an Olympic bet before, we also offer tips on how to bet on the Olympics.
Where to bet on Olympic soccer
Olympic betting is still relatively new, but the once-every-four-years event will surely attract many bettors. Where you bet on the Olympics is just as important as what you bet, and we review the best Olympic betting sites available to you.
Olympic soccer FAQs
Who will win Olympic gold in men's soccer?
Spain comes to the 2020 Tokyo Olympics as the betting favorite to capture gold again at +250.
Who will win Olympic gold in women's soccer?
The U.S. women's national team is the odds-on favorite to win the gold medal at the 2020 Summer Olympics in Tokyo with odds of -165 to win it all.
Is soccer in the Olympics?
Soccer will be played in the 2020 Tokyo Olympics and is a staple in the summer competition.
Why is Olympic men's soccer u23?
According to the IOC, men's soccer is u23 not to overshadow the FIFA World Cup. The age limit was increased by one year for the Tokyo Olympics due to the postponment.
Can you bet on Olympic soccer?
Yes. There are plenty of betting markets for Olympic soccer, including futures, sides, totals, and game props.