The No. 15 seed Princeton Tigers look to continue their Cinderella run as they face the No. 7 seed Missouri Tigers in the second round of our March Madness picks on Saturday afternoon.
Mizzou is coming off its first tournament victory in 13 years, but that's been overshadowed by Princeton storming back to upset No. 2 seed Arizona on Thursday.
March Madness odds opened with the Tigers as 6.5-point favorites with the Over/Under set at 149.5 for this South Region showdown. Here are my best free college basketball picks and predictions for Princeton vs. Missouri picks on March 18.
Princeton vs Missouri best odds
Princeton vs Missouri picks and predictions
Princeton might seem like a trendy team to back, but there's reason to think that the clock strikes midnight in Round 2. Not to take anything away from a gutsy win against the Wildcats, but that outcome seemed like more of a disastrous Arizona collapse combined with a Princeton side playing out of its skin.
Keep in mind that while Princeton won the Ivy League Tournament, it arguably wasn't even the best team in its conference. Looking back at the Tigers' last six games, they lost to Yale at home, pipped Harvard by just two points, needed overtime to beat Pennsylvania at home, and were fortunate the tourney finals took place on their home floor.
On the surface, Missouri might seem like a similar matchup for Princeton as Arizona. After all, Mizzou has the ninth-best offense in the country according to KenPom, while Arizona is just one spot behind them. However, Mizzou's offense is built completely differently and the tactics that worked for Princeton on Thursday aren't going to get the job done on Saturday.
Princeton did a good job of preventing points in transition, clogging the paint, and daring Arizona to shoot from the perimeter. The Wildcats' star big men picked up points inside but couldn't draw foul calls from the officials and their guards struggled with ice-cold shooting and turnovers.
Don't expect that to happen on Saturday, with Mizzou featuring a guard-heavy lineup that can shoot from anywhere on the floor and has the best turnover margin (+5.9) in the country. Princeton was able to take advantage of an Arizona team that failed to score in the final four minutes of both halves, but Mizzou won't give them that same opportunity.
My best bet: Missouri -6.5 (-110 at DraftKings)
Best March Madness bonuses
Looking to bet on March Madness action? Here are two of the best bonuses* available:
A) Get four 32% profit boosts to use on Round of 32 bets at DraftKings! Opt-in Now
B) Get a 25% profit boost on one college basketball underdog every day at Caesars! Opt-in Now
*Eligible USA locations only. Also, check out our full list of best March Madness promotions for 2023.
21+. Gambling Problem? Call 1-800-GAMBLER.
Princeton vs Missouri spread analysis
Princeton tied Yale with the best regular-season record in the Ivy League before holding on to beat the Bulldogs 74-65 in the conference tournament finals. The Tigers then faced Arizona as a 15-point underdog on Thursday and pulled off a huge upset, shutting down one of the highest-scoring offenses in the country in a 59-55 victory.
Princeton is now 5-0 straight up and against the spread over its last five games since losing to Yale at home on February 18. Those victories haven't been easy though, with just two of those wins coming by a single possession and another needing overtime.
Princeton's best player is forward Tosan Evbuomwan, who averages 15.0 points, 6.2 rebounds, and 4.8 assists per game while shooting 52.7% from the floor. Guards Ryan Langborg (12.1 ppg) and Matt Allocco (11.0 ppg) are also averaging double-digits.
Missouri entered its first-round matchup with Utah State as a 1.5-point underdog and defeated the Aggies 76-65. Mizzou struggled to defend inside but limited its opponent to 4-24 shooting from beyond the arc and boasted a plus-5 turnover differential.
That contest was neck-and-neck until Kobe Brown and D'Moi Hodge combined for 20 points during a six-minute span in the second half. Brown (15.8 ppg, 6.3 rpg, 2.5 apg) and Hodge (14.8 ppg and a conference-best 2.6 steals per game) have been Missouri's best players all season and have the ability to take over games.
Prior to the NCAA Tournament, Mizzou lost to Alabama by 11 points in the SEC Tournament semifinal. That snapped a five-game winning streak for the Tigers, who have a 25-9 record thanks to a highly-efficient offense. They shoot a sizzling 56% from 2-point range (10th best in the country) while knocking down 36.2% of their shots from beyond the arc.
However, Missouri has struggled on the other end of the floor and is 159th in adjusted defensive efficiency. Mizzou is also awful on the glass and ranks just 359th in the country in rebound rate (44.8%), while Princeton comes in at 24th (53.5%).
Covers March Madness betting tools
Princeton vs Missouri Over/Under analysis
Both of these teams went well below the total in the opening round of this tourney but we should see a higher-scoring contest in the Round of 32.
Princeton is 49th in the country in 2-point percentage (53.6%) and was able to outscore a massive Arizona team in the paint. However, with the Wildcats' big men packing the post, the Tigers often had to settle for outside shots that they couldn't consistently convert.
That won't be the case against a smaller Missouri team that ranks outside the Top 250 in opponent 2-point percentage (52.3%) and allowed the Aggies to shoot 68.6% from inside the arc.
The Ivy Tigers will also likely see positive regression when it comes to their 3-point shooting and free-throw attempts, considering their numbers on Thursday (4-25 from deep and just a single free-throw attempt until the final 30 seconds of the game) were such absurd outliers.
That said, Princeton also won't have the same defensive success it had against Arizona since the SEC Tigers have much better guard play than the Wildcats and will likely shoot better from the perimeter.
Princeton vs Missouri betting trend to know
Missouri is 6-1 ATS in its last seven neutral site games. Find more college basketball betting trends for Princeton vs. Missouri.
Princeton vs Missouri game info
| | |
| --- | --- |
| Region: | South |
| Location: | Golden 1 Center, Sacramento, CA |
| Date: | Saturday, March 18, 2023 |
| Tip-off: | 6:10 p.m. ET |
| TV: | TNT |
Princeton vs Missouri key injuries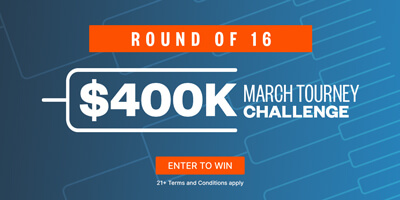 Pages related to this topic