March Madness odds chalk held firm in the bottom half of the bracket in the West Region, setting up a clash on Saturday between the No. 7 Northwestern Wildcats (22-11) and the No. 2 seed UCLA Bruins (30-5).
On a day where some of the top seeds struggled — RIP Arizona — UCLA thoroughly outclassed No. 15 seed UNC Asheville by a score of 86-53. Despite being shorthanded, the Bruins beat the Bulldogs into submission with little effort. Are the Bruins primed for a deep run?
They'll first have to get through the Wildcats, who made it past No. 10 seed Boise State by a score of 75-67.
Check out our college basketball picks for Northwestern vs UCLA below for Saturday, March 18.
Northwestern vs UCLA best odds
Northwestern vs UCLA picks and predictions
UCLA has been one of the best teams in the country all season and is a true contender to cut the nets down when all is said and done. Things definitely won't be easy as the Bruins were seeded in a stacked West Region that features five separate teams ranked within KenPom's Top 12. The path to glory will be fraught with obstacles, but Mick Cronin's squad possesses the requisite talent and chemistry to win it all — if everything goes right.
One can argue that things already aren't "going right" because of both the difficult region they were placed in and the fact that they are dealing with significant injuries at the worst time. Pac-12 Defensive Player of the Year Jaylen Clark is out with an Achilles injury and the Bruins will miss his tremendous defensive ability (2.6 steals per game, tops in the Pac-12) and transition offense (13.0 ppg). Star big man Adem Bona was injured in the Pac-12 Tournament semifinals and has not yet returned, although he was described by Thursday's broadcast as "available to play" if needed.
Bona wasn't needed on Thursday as the Bruins jumped out to an early 14-0 lead and never looked back, holding a double-digit lead for the rest of the game, which they would stretch to 20 with just under nine minutes left to play in the first half and hold for the majority of the game. It was a statement game that the Bruins have what it takes to win it all and didn't even need to play their starting center — especially on a day where top seeds like Arizona, Virginia, and Houston struggled with their respective competition to varying degrees.
Bona was seen warming up on the court prior to Thursday's game, taking jumpers and hook shots and overall looking just as his coach described him — available to play if needed. I'm thinking that Cronin determines Bona will be needed against a feisty Northwestern team that has surpassed expectations this season and managed to muddy up games, so I expect to see Bona suit up on Saturday. His defensive presence down low means everything to UCLA's chances the deeper this tournament goes.
Northwestern advanced with a 75-67 win over Boise State led by Boo Buie's 22 points and Chase Audige's 20 points. The Wildcats controlled the game throughout, albeit by not a wide margin. They outshot the Broncos 49% to 40% and committed just seven turnovers in what was a somewhat impressive win.
Northwestern surpassed preseason expectations mightily. Despite being picked 12th or 13th in the Big Ten by most media experts in the preseason, the Wildcats went 12-8 in conference play to finish tied with Indiana for second place. This is coach Chris Collins' second NCAA Tournament appearance after leading the Wildcats to the big dance in 2016-17 and bowing out in the second round to No. 1 seed Gonzaga.
Instead of targeting a side in this one for my best bet, I'll instead look at the total. The number is set currently set at 127.5 in a game that's projected to be a rock fight. This game should be played at a slog of a pace, as UCLA ranks 235th in adjusted tempo while Northwestern checks in at 309th.
Both of these teams derive their respective identities on the defensive end of the court, where UCLA ranks first in defensive efficiency while Northwestern checks in at 18th. Northwestern is a poor shooting team, ranking 323rd nationally from 2-point range (46.8%) and 288th from 3-point land (32.2%). Those are troublesome numbers against the nation's best defense from an analytical perspective. The Wildcats rank 321st in non-transition field goal percentage, while the Bruins rank 20th in non-transition field goal defense. In other words, Northwestern will struggle mightily to find half-court offense.
The Bruins live within the arc offensively, ranking 20th in mid-range attempt rate and 69th in near-proximity attempt rate per Haslametrics. Northwestern has strong numbers in both areas, ranking ninth in mid-range defense per Haslametrics while walling off the rim, allowing just the 302nd-highest percentage of shots at the rim.
My best bet: Under 127.5 (-110 at FanDuel)
Best March Madness bonuses
Looking to bet on March Madness action? Here are two of the best bonuses* available:
A) Get four 32% profit boosts to use on Round of 32 bets at DraftKings! Opt-in Now
B) Get a 25% profit boost on one college basketball underdog every day at Caesars! Opt-in Now
*Eligible USA locations only. Also, check out our full list of best March Madness promotions for 2023.
21+. Gambling Problem? Call 1-800-GAMBLER.
Northwestern vs UCLA spread analysis
These have been two profitable programs to back at the betting window this season — Northwestern is 20-13 ATS overall while UCLA is 21-12-2. Both teams have been great away from home this season, as Northwestern is 11-4 ATS while UCLA is 10-6-2 ATS.
This line opened at UCLA -8 before dropping down to -7.5 at some spots. I think the early movement toward the Wildcats is on the right side as this should be a low-scoring game between two defensive-minded teams and Northwestern has fought a lot of battles in the Big Ten while mostly coming out on the right side.
The numbers paint this one as not being a very close game, as UCLA ranks second overall in KenPom while Northwestern can be found at a distant 38th. Power rankings aren't everything that matters, however, as the game flow projects to be a low-scoring game where possessions are limited.
Even if Bona does play he's unlikely to be at 100%, and this team is still in suboptimal health without one of its main starters in Clark. Amari Bailey has emerged as a bonafide NBA prospect and David Singleton is a deadly shooter from downtown at 43.2%. This is a team that still has what it takes to win it all, but winning by a comfortable margin against a Wildcats team that has thrived all season off making other teams uncomfortable is an ask too much for me personally.
Covers March Madness betting tools
Northwestern vs UCLA Over/Under analysis
Playing the Under in Northwestern games has been a profitable venture for those wise enough to ride the train. The Wildcats are just 13-19-1 O/U to the total including a 6-15 O/U record in night games.
UCLA played to the Under in conference play, notching a 9-14 O/U record in the Pac-12. Having the nation's top-rated defense might have something to do with that, and Cronin's side rarely looks to push the tempo.
It's quite remarkable that Northwestern has managed to win as many games as it has while its offense resembles a temple built to honor the practice of inefficient scoring. The Wildcats rank just 290th in scoring offense (67.7 points per game) and 341st in field-goal percentage (40.9%). They can't knock down shots at a high level from anywhere on the court other than the free-throw line, where they rank 54th by canning 74.9% of their charity stripe shots.
They struggle to get to the rack with ease for layups, ranking 295th in percentage of shots taken at the rim, instead opting for 3-point looks that they knock down at just 32.2%. They'll need to hit a lot of difficult shots from behind the arc to score with consistency in this matchup.
UCLA is 5-11 O/U in its last 16 games following an ATS win and I believe that trend will continue on Saturday.
Northwestern vs UCLA betting trend to know
Northwestern is 15-6 to the Under in night games this season. Find more college basketball betting trends for Northwestern vs. UCLA.
Northwestern vs UCLA game info
| | |
| --- | --- |
| Region: | West |
| Location: | Memorial Gymnasium, Nashville, TN |
| Date: | Saturday, March 18, 2023 |
| Tip-off: | 8:40 p.m. ET |
| TV: | TNT |
Northwestern vs UCLA key injuries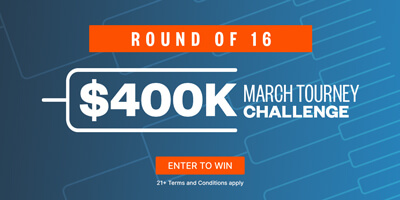 Pages related to this topic