The NBA Finals is now a best-of-three with the Golden State Warriors back home in the Bay Area hosting the Boston Celtics in Game 5 on Monday night.
Both teams have stolen wins on their opponent's floor with Golden State balancing the series count thanks to a legendary 43-point effort from superstar guard Stephen Curry.
The Dubs are now 3.5-point favorites for Game 5, but as we've seen: this is a counter-punching postseason, with these two teams a combined 12-1 against the spread off a loss in the playoffs. Can Boston bounce back yet again?
Here are our free NBA picks and predictions for Celtics at Warriors on June 13.
Celtics vs Warriors Game 5 odds
This odds widget represents the best odds available for each betting market from regulated sportsbooks.
Following the Game 4 win, the Warriors opened as 3.5-point favorites for Game 5 with the series swinging back to San Francisco. That spread has jumped to -4 at some sportsbooks as of Sunday afternoon. As for the Game 5 total, the Over/Under hit the board at 212 points and has slimmed to 211.5 with early play on the Under.
Use the live odds widget above to track any future line movements right until tip-off and be sure to check out the full NBA odds before betting to ensure you get the best number.
Celtics vs Warriors Game 5 predictions
Predictions made on 6/12/2022 at 6:15 p.m. ET.
Click on each prediction to jump to the full analysis.
Celtics vs Warriors Game 5 info
• Location: Chase Center, San Francisco, CA
• Date: Monday, June 13, 2022
• Tip-off: 9:00 p.m. ET
• TV: ABC
Celtics vs Warriors NBA Finals odds
Celtics: +115
Warriors: -135
Celtics vs Warriors Game 5 betting preview
Key injuries
Celtics: None.
Warriors: James Wiseman C (Out).
Find our latest NBA injury reports.
Betting trend to know
The Over is 11-5 in the Warriors' last 16 games as favorites. Find more NBA betting trends for Celtics vs. Warriors.
Celtics vs Warriors Game 5 picks and predictions
Our side and total predictions are based upon our analysis of the line and total in this game. Our best bet is our favorite pick across all markets.
Spread analysis
Before a no-show fourth quarter, the Celtics were clearly the better of the two Finals teams in that pair of contests in Boston.
The C's had imposed their defensive will on the majority of the Warriors' stars and took all the Dubs could dish out and still stuck around… until that fateful final frame of Game 4 — similar to Boston's sudden surge in the fourth quarter of Game 1 in San Francisco.
If not for Curry's heroic efforts and a 7-for-21 count from the Celtics in the final 12 minutes, Golden State would be back in the Bay fighting for its life down 1-3. But it's not. And now, Boston must overcome a massive missed opportunity against a Warriors squad that just had the crap scared out of it.
The Dubs are a different beast in the Bay Area. As mentioned, they should have won Game 1 if not for Boston's freak fourth-quarter firestorm, and Golden State owns an impressive +12.5 margin of victory inside the Chase Center during the playoffs (compared to a -5.6 mark on the road), which has led to a 10-1 SU record and 8-3 ATS count as a host.
Outside Curry, who was a collective 25-for-48 from the field (13-for-25 from 3-point range) for 74 total points in those two games in Beantown, the rest of the Warriors were wishy-washy. Taking Steph out of the equation, Golden State hit at a 41% clip from the field and the rest of the team was a combined 17-for-56 from beyond the arc (30.3%).
However, a two-day break brings the Warriors back to their home court where they own an offensive rating of 119.3 during the postseason, including a 112.6 advanced metric in those opening two games of the Finals. That could help guys like Jordan Poole, Andrew Wiggins, and Draymond Green get back on track after inconsistent efforts while also allowing Klay Thompson to roll over his fantastic fourth quarter from Game 4 into Monday's matchup.
Another cross-country trip for a fourth road game in the past six outings could also amplify any fatigue for the Celtics, who showed cracks in their foundation in two areas that need energy and focus. They were outworked on the glass by the Warriors in Game 4 (giving up 16 offensive rebounds and 19 second-chance points) and also fell back into their old turnover troubles. Boston coughed the ball up 15 times, which Golden State cashed in for 19 points off turnovers.
The Celtics are sensational off a loss (7-0 ATS in the postseason) but bouncing back may not be as straightforward as that betting trend suggests. Golden State didn't play great in Boston and still came away with a win to even the series. The Dubs are back in the Bay and can't afford to watch another home win disappear.
Prediction: Warriors -3.5 (-110 at bet365)
Over/Under analysis
It's truly been a tale of two halves for totals bettors in the NBA Finals, as there's been a drastic shift in offensive tempo and defense in the closing 24 minutes.
For the series, the Celtics and Warriors have pumped out a pace rating of 100.0 in the first half, manifesting itself in an average of 109.8 first-half points. That tempo sinks to 90.75 in the final two quarters, with the teams producing 100.6 average second-half points through the first four games.
Monday's Game 5 total reflects the closing pace and production, with the number opening at 212.5 points and dipping as low as 211.5. If it closes there, it would be the lowest Over/Under of the NBA Finals. The Game 1 total actually opened as low as 211 points and was run up to as high as 216 before closing at 214.5.
Golden State's offense has been pretty consistent throughout the finals in terms of production, posting outputs of 108, 107, 100, and 107 points. But the Warriors haven't always taken the same path to those points: some nights they thrive off turnovers, on others they grind for second-chance buckets, and, of course, they jump on Curry's shoulders when all else fails.
The Celtics have to make a dedicated effort to cool Curry, pick up pressure early, and make him get rid of the basketball. That means giving up room and points to the other Warriors, who haven't always answered the call — letting it go through to voicemail instead. Getting back to the Chase Center can help scorers like Poole, Green, and Thompson corral consistency.
Boston's wins have come on bigger scoring efforts, putting up 120 and 116 points in its two series victories. Jayson Tatum and Jaylen Brown were awesome in the two games in Boston and continue to get to the rim on demand, putting up plenty of points in the paint.
The referees have been pretty quiet for most of this series, especially considering how physical the defense has been. There's been an average of 35.6 personal fouls called per contest, leading to just 26.8 combined points per game scored from the foul line in the Finals — a decline for the combined average of 36.1 FTM for these teams in the first three rounds.
But with Boston needing to pester Curry and get its heels above the 3-point arc, the Warriors could find themselves with more space to operate in the interior. Backdoor cuts and dribble penetration will cook up more contact, and therefore more points being scored from the foul line with the clock stopped.
Prediction: Over 211.5 (-110 at BetMGM)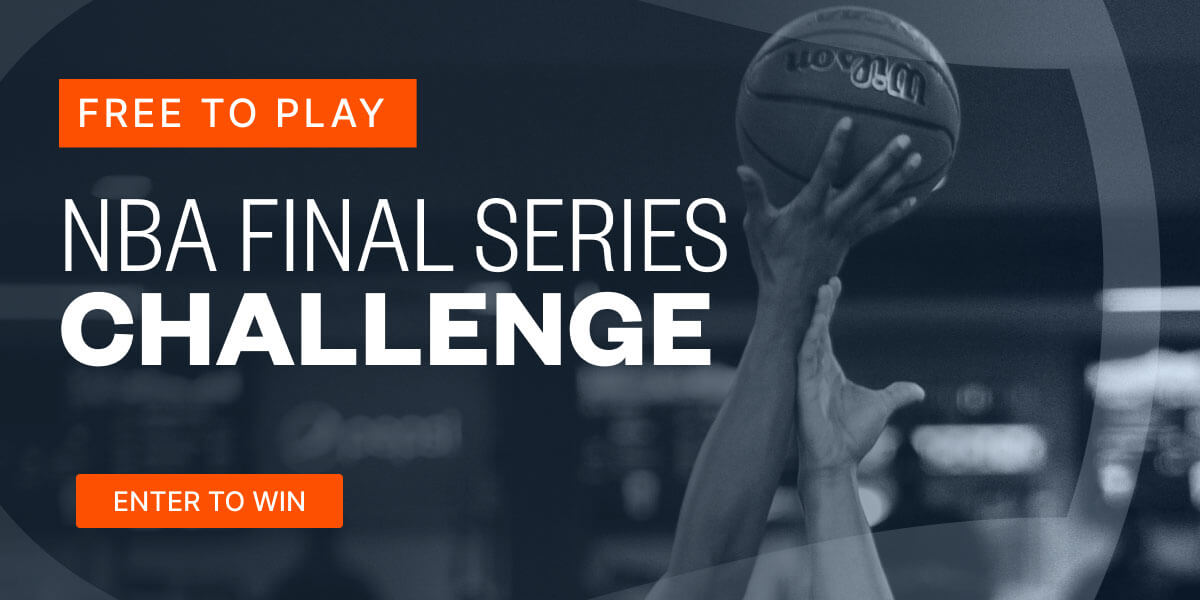 Best bet
If you run down the scoring from the first four games of the NBA Finals, Golden State owns a one-point 422-421 edge. And when you consider the capacity for teams to counter off a loss, betting the spread or even the moneyline is a toss-up.
The Celtics' scoring has primarily been through Tatum and Brown, with flashes of Al Horford, Marcus Smart, and Derrick White thrown in. Boston isn't generating many buckets beyond its standard possessions — not scoring much off turnovers or eating up the offensive putbacks.
The Warriors, on the other hand, have found multiple ways to put points on the board. They've transformed defense into offense, attacked the offensive glass, and have multiple players capable of 20-plus point efforts.
The Dubs' team total for Game 5 is set at 107.5 points — a mark Golden State has stayed below in only three home games this postseason. The Warriors scored 107 points at home in Game 2 but did so with the starters sitting down the stretch thanks to a 23-point lead entering the fourth quarter.
Even if Boston cracks down on Curry (which means he'll likely still score 20-plus), this swing home should snap the rest of the Warriors into shape.
Pick: Warriors team total Over 107.5 points (-115 at FanDuel)