When you've got several million dollars in bets on the line, along with double-digit millions in giveaways from the company you own, watching the games those wagers involve might seem imperative. Unless you're Jim McIngvale.
Perhaps better known now as "Mattress Mack", McIngvale is back at it this fall, trying to offset a promotion he's offering as the owner of Houston-based Gallery Furniture. Much as he did in 2017, McIngvale will give customers a refund on mattress purchases of $3,000 or more if the Astros win the World Series.
That tab is already in excess of $15 million. So far, he's got approximately $5.25 million in hedge bets on Astros futures to win the World Series, to collect $11.5 million. That includes a $1.5 million bet made Thursday at FanDuel Sportsbook in New Jersey, on the heels of a $3.5 million wager at DraftKings Sportsbook in Mississippi, both at +220.
So is he glued to the screen as Major League Baseball's playoffs begin?
"I'm not a regular gambler," McIngvale told Covers minutes after making the $1.5 million wager. "Most of the time during games, I'm at the store selling furniture. I haven't watched a game from home in 20 years. I'm working, hustling, trying to take care of customers, shake their hands and be part of the community."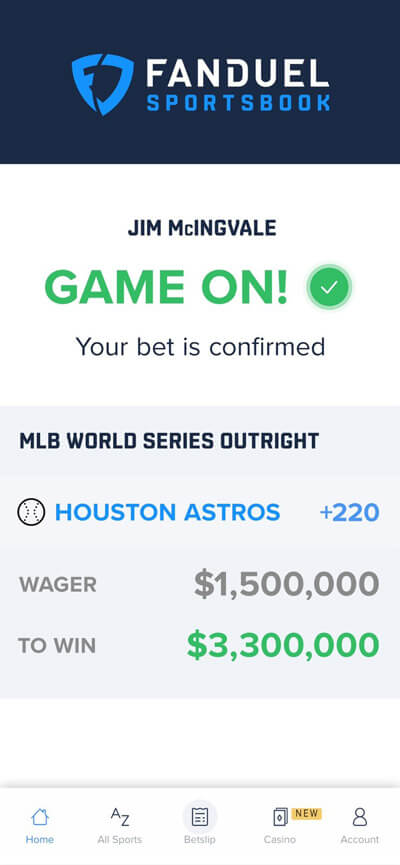 He certainly engendered plenty of communal goodwill in 2017, when he gave out refunds to the tune of $10 million after the Astros beat the Dodgers for the championship. McIngvale placed more than $1 million in hedge bets – some of them on games themselves as the postseason unfolded – and also purchased insurance for the promotion.
"I covered about 95 percent of it," McIngvale said, admitting that as a die-hard Astros fan, he got to a couple games during the title run and certainly recalled World Series Game 7 against the Dodgers. "I had a speech that morning in Houston, then I went to Vegas and made a lot of bets on the Astros to win. Then I watched from somewhere in the Venetian."
The Astros won 5-1 on the road, so McIngvale cashed a bunch of the tickets he'd stacked up over the previous month, and his customers got those millions in refunds. It was a win-win all around, just as he wanted it.
"I'm pulling for the Astros. If the Astros win, the customers win, which makes it even better," McIngvale said. "The best part was when we had the refund party a month later, on a Sunday night. There were Astros players, and thousands of customers taking pictures of their refunds, taking pictures with me and the Astros players."
There was also a thunderstorm that led to a laugh-out-load moment.
"The lights went out. Some people were saying, 'He couldn't pay his electric bill!'" McIngvale recalled.
Obviously, McIngvale was almost entirely covered in 2017, and he's close to it this year, although he comes out fairly unscathed regardless. If the Astros lose, his company keeps all the mattress money; should the Astros win, he wins all his wagers and thousands of customers again walk away with nice checks.
And he's obviously well aware of the tremendous promotional value of his efforts.
"I get 10 times the money in publicity," McIngvale acknowledged. "It's all part of the master plan of promoting the furniture store."
So unlike a typical sports bettor, there's not much for McIngvale to sweat. Not that he would anyway.
"There's no sweating or throwing shit at the TV. It ain't gonna make the players play better."
Not that Mattress Mack has time to watch, anyway.
Patrick Everson is a Las Vegas-based senior writer for Covers. Follow him on Twitter: @Covers_Vegas.