Is sports betting legal in the USA?
Until May 2018, betting on sports in the USA was basically restricted to placing a bet in person at a sportsbook in Nevada. That all changed when the Professional and Amateur Sports Protection Act (PASPA), also known as the Bradley Act, was struck down by the Supreme Court. Now that PASPA is dead, each state has the power to set its own legislation for online and in-person sports betting.
Laws and rules surrounding sports betting vary from state to state. New Jersey, for example, moved extremely fast and passed a law to allow legal sports betting online and in person in June 2018. West Virginia and Pennsylvania currently allow in-person betting but not online. Other states, like California and New York, have yet to legalize sports wagering.

How do you bet on sports legally in the USA?
Sports betting in the United States is governed on a state-by-state basis, meaning that you have to either live in or travel to a state that has legalized sports betting in order to bet on sports legally (see map below). Once you've entered a state where sports gambling is legal, it's time to find a legal sportsbook, either online or by visiting a brick-and-mortar location (and again, this will vary state-by-state).

Where can I bet on sports in the United States?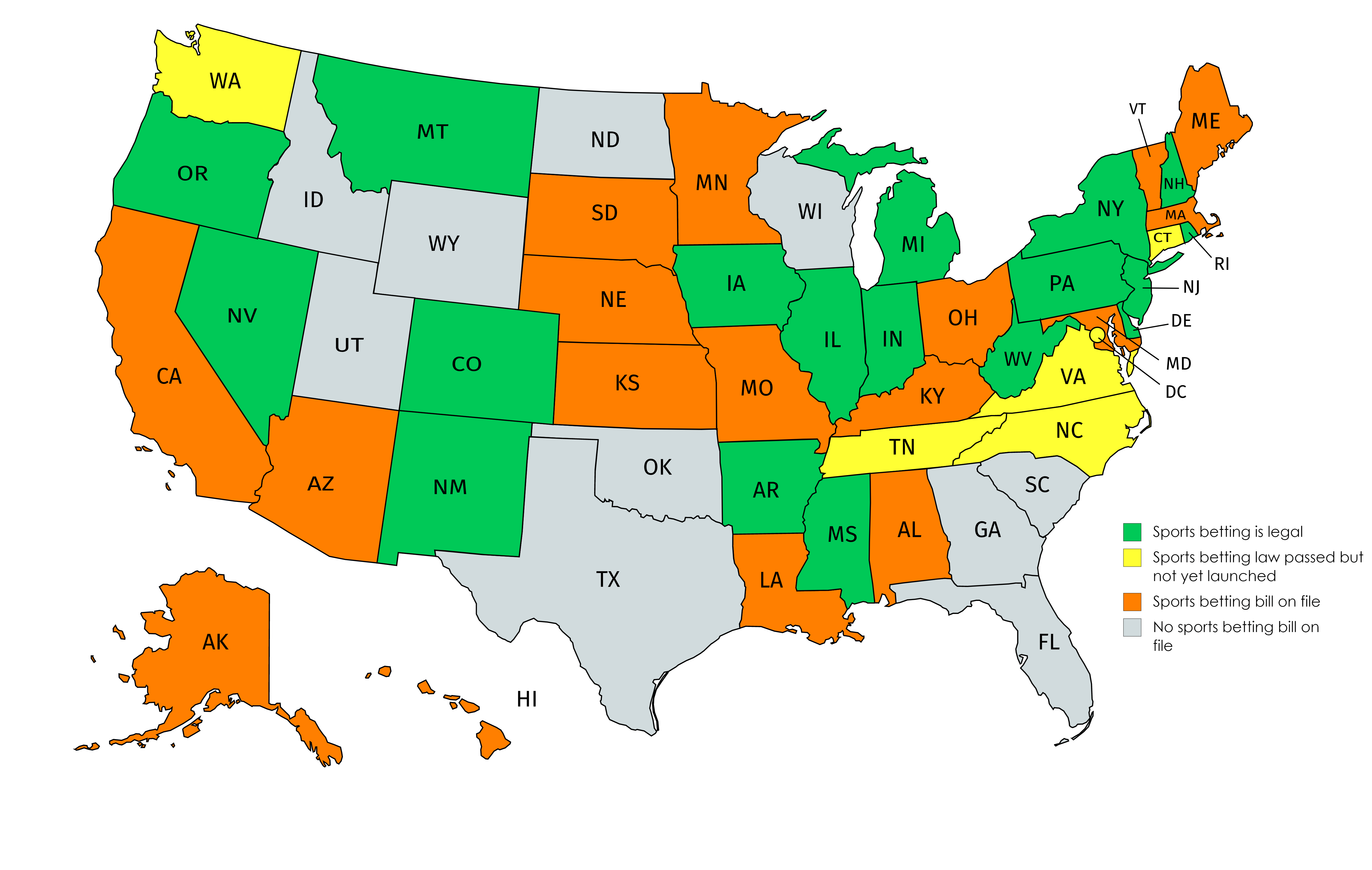 Where is sports betting legal in the USA?
Arkansas
Sports betting officially launched in Arkansas on July 1, 2019, when the first legal sports wager was accepted at Oaklawn Racing Casino Resort. Currently, Oaklawn is the only property to offer sports betting. Arkansas becomes the ninth state in the country to legalize sports betting.
Colorado
Colorado launched regulated sports betting on May 1, 2020, with four mobile operators going online. There will also be retail sportsbooks open in casinos once the COVID-19 pandemic passes.
Learn more about sports betting in Colorado.
Delaware
Delaware moved quickly post-PASPA and started accepting sports betting at its three casinos on June 5. The current law allows for online and mobile wagering, though it currently isn't offered.
Learn more about sports betting in Delaware.
Illinois
Sports betting launched on Monday, March 9th, 2020, when the first bets were placed at Rivers Casino in Des Plaines. For now, sports betting in the state is retail only. Illinois becomes the 15th state with legalized sports wagering.
Learn more about betting on sports in Illinois.
Indiana
Indiana joined the list of states to launch legal sports betting when three sportsbooks opened on September 1, 2019. Sports betting is currently available at retail locations and online.
Learn more about betting on sports in Indiana.
Iowa
Sports betting is underway in Iowa after it launched on August 15, 2019. The new law allows for both retail and mobile wagering, though mobile accounts will need in-person registration through the end of 2020.
Learn more about betting on sports in Iowa.
Michigan
Michigan will become the 16th state in the country with legalized sports betting when it launches on March 11th, 2020. For this year, wagering will be accepted in-person only, with mobile launching in 2021.
Learn more about betting on sports in Michigan.
Mississippi
Mississippi flipped the switch and started accepting single-game wagering on sports in August 2018. Sports betting, like all gambling in the state, is currently restricted to land- and water-based casinos. The law does permit mobile sports betting on casino property, though it isn't currently offered.
Learn more about sports betting in Mississippi.
Montana
Montana sports betting launched in March 2020 via the state lottery under the name Sports Bet Montana. Those looking to wager can place bets via betting terminals at licensed retailers across the state.
Nevada
Not much has changed in Nevada post-PASPA. Bettors can place wagers in person at one of the many sportsbooks around the state. Most sportsbooks do offer mobile wagering within state limits but online accounts must be registered, verified, and funded in person at the sportsbooks.
Learn more about betting on sports in Nevada
New Hampshire
New Hampshire became the 16th state to legalize sports betting when Gov. Chris Sununu signed a bill into law on July 12, 2019. Sports betting officially launched on Dec. 30th, 2019, as the DraftKings online sportsbook took the first legal bets in the state. DraftKings will operate as the state's only mobile sportsbook provider for the foreseeable future.
New Jersey
New Jersey became one of the first states to change its law post-PASPA in June 2018. Bettors can now place wagers on sports at a number of brick-and-mortar sportsbooks as well as through online apps as long as you're within state limits.
Learn more about betting on sports in New Jersey
New Mexico
New Mexico took its first sports bet in October 2018 at the Santa Ana Star Casino & Hotel. No new law has been passed, but after PASPA, sports betting is allowed because a gaming compact that the casino has with the state. Isleta Resort and Casino also takes sports bets in a temporary sportsbook that opened in August 2019.
New York
New York is another state that had a state law that legalized sports betting on the books before PASPA fell in May 2018. The Supreme Court's decision last May triggered legalized sports betting in New York and all that was needed was for the New York State Gaming Commission to pass a set of sports wagering rules. That happened on June 10, 2019, making sports betting officially legal. Rivers Casino & Resort Schenectady accepted the first legal sports bets in state history on July 16, 2019.
Learn more about betting on sports in New York.
Oregon
Legal sports betting in Oregon officially launched on August 27, 2019, when Chinook Winds Casino Resort opened its sportsbook. But things really kicked into gear on October 16th when online wagering went live via Scoreboard, the state lottery's online sportsbook.
Pennsylvania
The Keystone State launched sports betting in November 2018 and now has multiple sportsbooks across the state. Online betting began in June 2019 when SugarHouse Sportsbook went live and mobile is still being rolled out at other sportsbooks.
Learn more about betting on sports in Pennsylvania.
Rhode Island
Rhode Island began accepting sports bets in late November 2018 at the Twin River Casino and then in December 2018 at the Twin River Tiverton Casino. The legal age for betting on sports in Rhode Island is 18, whereas its 21 in most other states. Online sports betting launched on September 4, 2019.
Learn more about sports betting in Rhode Island.
West Virginia
West Virginia began offering legal sports betting in August 2018 and is now available at sportsbooks in a few casinos. In late December 2018, online wagering became available through the BetLucky app, and other major players are expected to be online soon.
Learn more about betting on sports in West Virginia.
What other states will legalize or launch sports betting soon?
Sports betting should be legal in a few more states in 2020 and plenty more are expected to roll out new legislation in the coming years.
California
A pair of lawmakers in the Golden State are hoping to legalize sports betting as Sen. Bill Dodd and Assemblyman Adam Gray introduced a ballot measure in late June 2019. This would give Californians the chance to vote on changing the state Constitution — and legalize sports betting — in the November 2020 election.
Connecticut
Connecticut, along with New York, had a state-level law in place in 2017 in advance of the legalization by the federal government. Sports betting did not become a reality in 2018 but there is hope for 2019 as a new bill appeared in March that would legalize sports betting.
Learn more about betting on sports in Connecticut.
Maine
Maine has taken a play out of Illinois' and Indiana's playbooks in passing a sports betting bill at the last minute. Bill LD 553 made it through the Senate on June 18, 2019, and then was approved unanimously by the House. The bill now faces additional votes and a signature from the Governor, but it is expected to be put into law in 2019.
Massachusetts
Massachusetts Gov. Charlie Baker announced plans to legalize sports betting in the state when he introduced a bill to the state's legislature in mid-January, 2019. Baker's bill, or one of the four others that were introduced in mid-January, is expected to pass, meaning legalized sports betting in Massachusetts should be coming soon.
Learn more about betting on sports in Massachusetts.
North Carolina
Sports betting looks to be coming to North Carolina in 2019 after the House passed a bill on July 15, 2019, that would allow sports betting at two Eastern Band of Cherokee Indian casinos. Gov. Roy Cooper signed the bill into law two weeks later, meaning sports betting is now legal and awaiting launch.
Tennessee
Tennessee became the fourth state to legalize sports betting in 2019 when Gov. Bill Lee returned the Tennessee Sports Gaming Act (HB001/SB0016) to the General Assembly on May 24 without his signature, allowing the bill to become law. Sports betting in Tennessee will be unique in that it will be online only and there won't be any brick-and-mortar locations.
Learn more about sports betting in Tennessee.
Virginia
Virginia is on the path to legalized sports betting after the House and the Senate passed a bill during overtime of the state's session on March 8, 2020. The bill still needs to be signed by the Governor, but that is expected to happen without issue. Expect to see sports betting launch in the state towards the end of 2020 or early 2021.
Washington D.C.
The nation's capital joined the sports betting scene in late 2018, passing a law that will allow its lottery to administer legalized sports betting. There are no plans for casinos and the big-name apps won't be available within the jurisdiction, but there will be an online app available, as well as brick-and-mortar locations run by the DC Lottery. Expectations were for it to be live by September 2019 but this has now been pushed to early 2020.
Learn more about betting on sports in Washington D.C.
Washington
Washington state became the first to legalize sports betting in 2020 when Gov. Jay Inslee signed a bill into law on March 25, 2020. The bill, once launched, will allow for retail sports betting at tribal casinos only. Mobile betting will only be permitted on the grounds of the tribal casinos.
Sports Betting FAQs

How do you bet on sports?
There are many different ways to bet on sports. The most common ways are usually betting on the moneyline (who will win the game), the spread (which team will win or not lose by a predetermined margin of points), and the total (whether or not the total amount of points will be Over or Under a predetermined total). Learn more about sports betting basics and strategies in our How to Bet section.
Is sports betting legal in Europe?
Sports betting is governed on a country-by-country basis in Europe. Online sports betting is legal in many European countries, such as the United Kingdom, France, Ireland, Spain, and Russia.
Is sports betting legal in Canada?
Generally speaking, yes. Canadians can place sports bets via their provincial lotteries and can also place wagers with offshore sportsbooks who operate in a legal gray area in Canada.
Are online betting sites and apps safe?
For the most part, online betting sites are safe. To ensure you are protected, be sure to place your wagers with a legal sportsbook in the USA as these are heavily regulated by governmental authorities.
What are offshore sports betting apps and sites?
Offshore sports betting apps and sites refer to online sportsbooks that operate outside of the USA. Betting at one of these sites while in the United States is illegal. Check out Covers' sportsbook review page for a list of legal sportsbooks in the USA.
CHECK OUT THE BEST PLACES TO BET ON SPORTS IN THE USA