For more than a decade now, the Golden Nugget sportsbook has made a tradition of putting up its college football Games of the Year, by the dozens and dozens. It's as much a summer certainty as 115-degree days here in Las Vegas.
This year's batch just came out of the Vegas oven at noon Thursday, 106 matchups in all, analyzed and scrutinized over the past two months by Golden Nugget sportsbook director Tony Miller and supervisor Aaron Kessler. And to hear bettors tell it, the numbers were almost all spot-on.
"I'm a college football fanatic. I want action, and college football is a passionate market where people don't mind betting three, four, five months ahead," said Brad Powers, who has traveled to Vegas from Cleveland the past few years for this unveiling and now lives here. "Normally, I'd find a lot of differences, maybe spreads that are a touchdown off. But I've got to be honest with you, these are the best numbers Tony's ever had, at least in the past five years."
So while last year, Powers found five games he felt had value and wagered on all five, this year, he wagered on just one out of the gate.
"Georgia +3 at Notre Dame, in Week 2," said Powers, who previously worked for Phil Steele, the renowned provider of must-have football analysis in his magazines. "I like the Bulldogs. I don't think Notre Dame matches up well with them. I think the game closes at pick 'em, and Georgia wins straight up."
The line dropped to 2.5 shortly after Miller put up the numbers.
Ralph Michaels, who like Powers worked for Steele in Ohio before moving to Vegas in the past year, also is a regular for the Games of the Year release at this downtown sportsbook. He agreed that Miller and Kessler had their numbers down in almost every case.
"There was no game that I found that was more than 4 points off what I'd make it for preseason action. I think this year was by far Tony's best," said Michaels, who ended up hanging onto his cash on this day, though he did have one strong opinion. "Wyoming is a team I think will be completely overrated."
The Cowboys, for what Miller said was the first time in the 11 years he's done this, not only had one game but two among the Games of the Year. That's largely due to having Heisman Trophy hopeful Josh Allen at quarterback, a player already drawing raves from NFL analysts.
"The very first bet we took was on Wyoming," Miller said, noting that wagering opened with a patron taking the Cowboys +10.5 at home against Oregon. In fact, that game was the biggest mover Thursday, dropping to Oregon -8 by mid-afternoon.
Professional handicapper Bryan Leonard also makes it a point to be at the Golden Nugget when these games post. He found two games worthy of his betting bankroll, both on Oct. 21: West Virginia +10 at Baylor, and Oregon +6.5 at UCLA.
"I thought Baylor was rated a little higher than I have them," Leonard said. "And I just think Oregon is undervalued. They've got a better coach, notably (Willie Taggart). They're gonna be back to where they were before, or at least close to it."
In both those games, other bettors agreed with Leonard, helping drop Baylor to -9 and UCLA to -5.5.
Among other games that saw significant early line movement: Texas Christian from -1 to -3 at Arkansas on Sept. 9; Florida from -9.5 to -8 at home against Tennessee on Sept. 16; and the world's largest outdoor cocktail party, Georgia vs. Florida, jumping the fence from Gators -1 to Bulldogs -1 in Jacksonville, Fla., on Oct. 28.
Patrick Everson is a Las Vegas-based senior writer for Covers. Follow him on Twitter: @Covers_Vegas.
Here is the full list of the Golden Nugget's College Football Games Of The Year: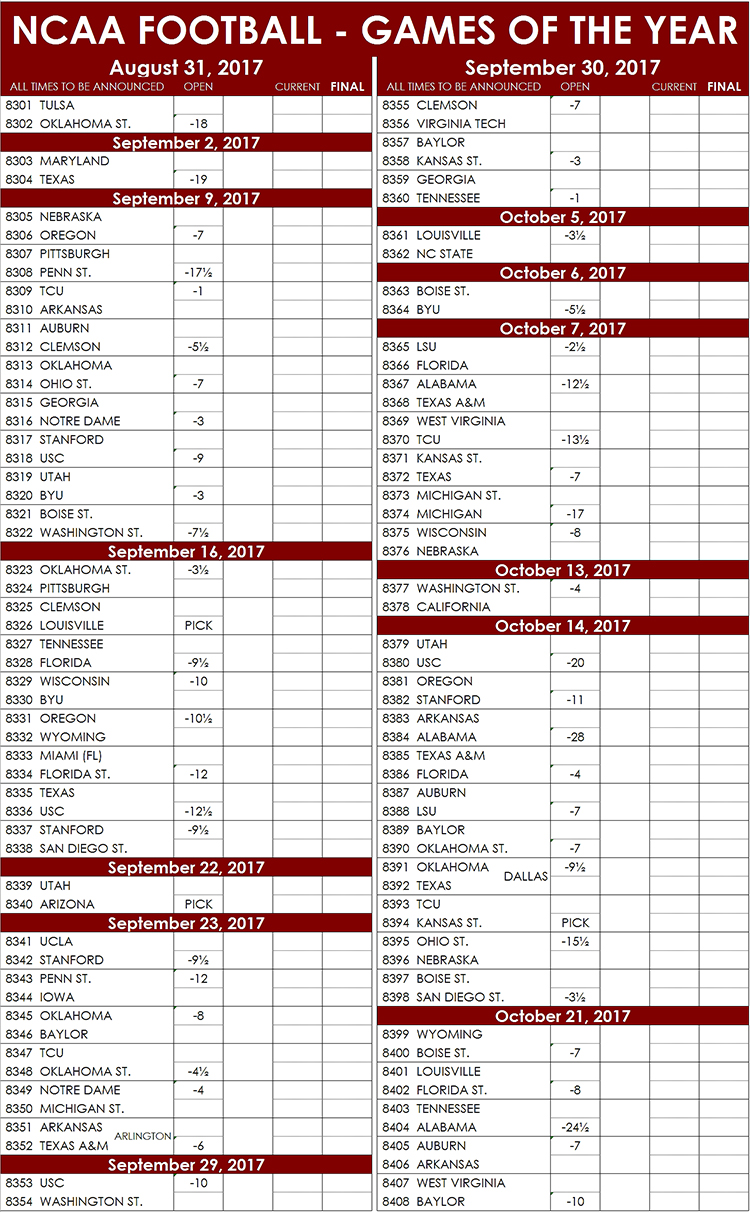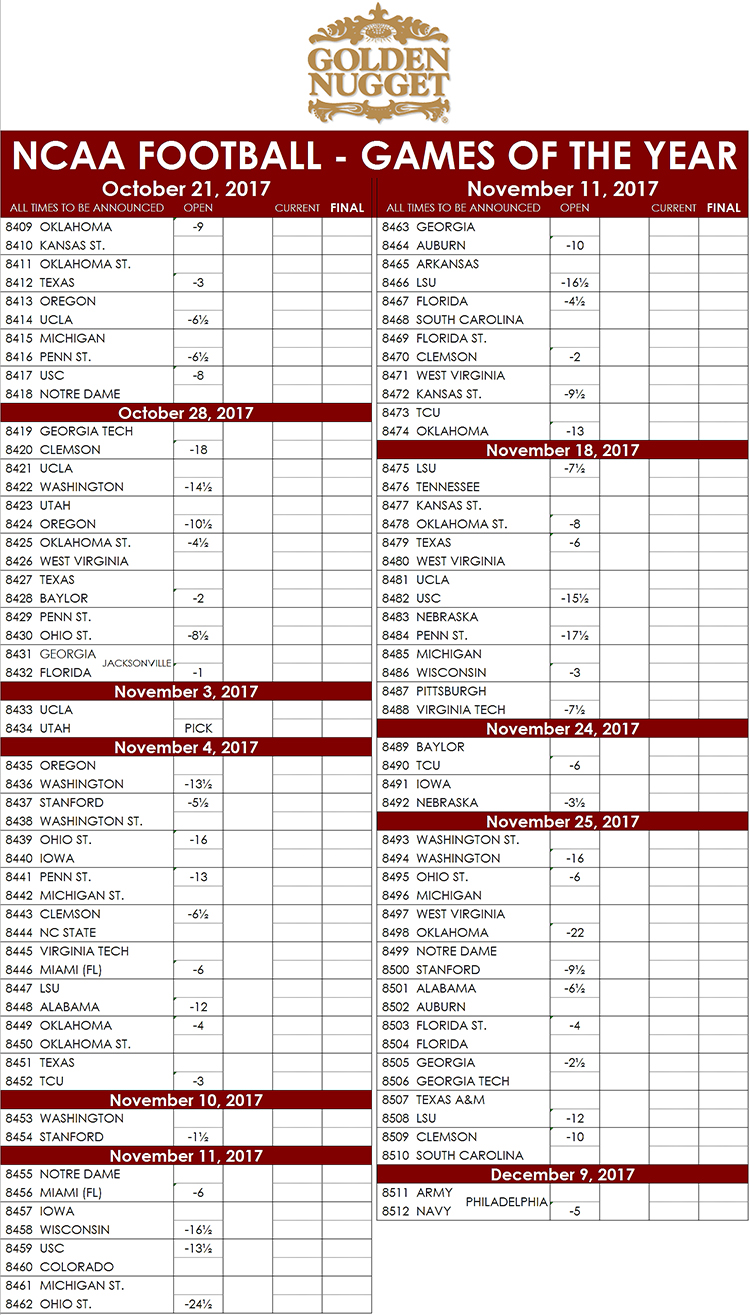 **video