Betting baseball isn't easy and it gets even more difficult as markets adjust throughout the season. But there are a few professional handicappers at Covers Experts who are making it look easy at the moment.
Covers Experts currently has a ridiculous five professional handicappers who are absolutely crushing the MLB and you should be profiting along with them.
Let's start with Power Sports, who have gone 27-3-1 over their last 31 picks, dating back to July 30. That's a win percentage of 90! If you had been following Covers Experts' betting system of $100 per unit, you would have an extra $20,482 in your pocket.
Not to be outdone, Spread Knowledge has gone 28-3-1 (with one bet being voided as no action) over their last 32 picks during the same timeframe. That's a win rate of 90.32 percent! Again, following the unit system would give you a profit of $19,470.
We're not done yet.
If you had simply been following the Experts Consensus product, you'd be up $17,565 dollars since July 30 as it has gone 35-11 with one no-action bet.
Dan Kaiser and Matt Fargo also deserve shoutouts even though they haven't been playing as many baseball games as the other three cappers above.
Kaiser is 19-2 (with two no-action bets) since July 30 for a hit rate of 90.5 percent and a profit of $14,400. But his hot streak didn't start on July 30 — he's actually 28-4 (with two no-action bets) for a profit of $20,000 since July 25.
Finally, Fargo is 17-3 over his past 20 MLB picks, good for an 85 percent success rate and a profit of $13,415.
The numbers simply speak for themselves. What these handicappers are doing to professional baseball bets is simply ridiculous. These are hot streaks that don't come around often but when they do, make sure you don't miss out.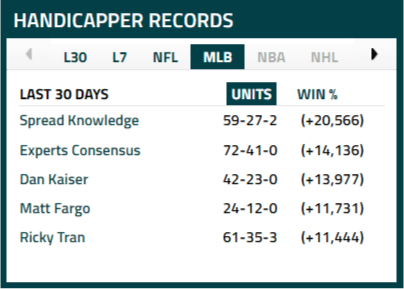 Remember to take advantage of Covers Experts offers on your next purchase:
New customers can take 50% off their purchase with bonus code BONUS50
Get 15% off any Power Sports product with bonus code COW48POWER
Get 15% off any Spread Knowledge product with bonus code SK15%
As always, check out your My Offers section for more great discounts.
Pages related to this topic