Every now and again a restaurant or bar pops up in a location off the beaten path that's more exciting than expected. Pub 365 at the Tuscany is the latest bar and restaurant to fit that bill. The Tuscany is a small casino and all-suites hotel located on Flamingo about 5 minutes east of Bally's and the Vegas Strip. Even though it's close to the Vegas Strip, it's usually considered as a locals casino. That might change for beer drinkers.
Las Vegas has seen its share of beer bars opening recently with Beer Park at Paris, Beerhaus at The Park and others. Unfortunately, many of the beer bars in the touristy areas of Las Vegas are "macro craft" or "macro import" beers. These are smaller beer manufacturers who are now owned and distributed by the large beer companies. Part of the appeal of craft beer is that it's different. The big guys don't mess with craft brewer recipes but a beer can lose its luster when it's available at every bar.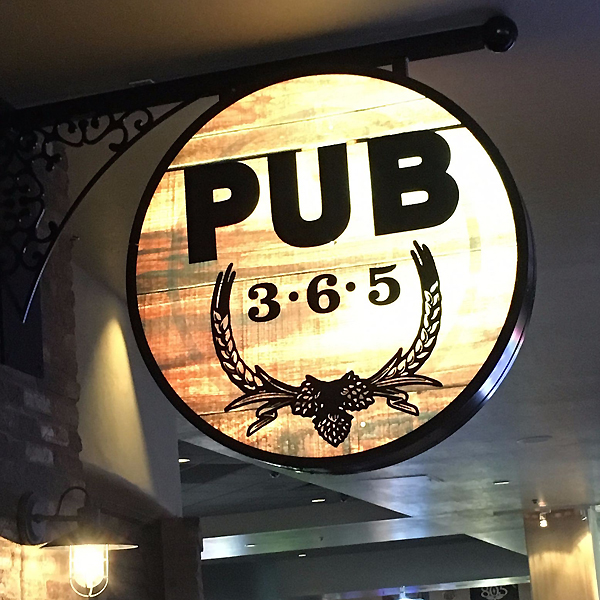 When I first heard about Pub 365 opening at the Tuscany with 365 beers, I was excited but skeptical. Would this be another beer bar filled with beer we can find at other bars in Las Vegas? After all, it's going to take something special to make people take the long 5-minute walk off the Vegas Strip to the Tuscany.
Okay, breathe out. I was pleasantly surprised when I finally saw the actual
beer menu
. The beer selection on the menu is among the best you'll find around the Vegas Strip. However, the actual beer selection is even better - what you don't see on the website is the "Unicorn" list of around 100 hard to find beers. Pub 365 has a great variety of beers from the big names to impossible to find beers.
Beer prices start at a very reasonable $4. For reference, my favorite beer, Delirium Tremens, is only $8 at Pub 365. That's about $5 less than you'll pay on the Vegas Strip. Best of all, most of the beers on the regular menu will be complimentary if you're playing video poker at maximum credits (5 credits at $0.25 = $1.25 per hand). If you're a low limits player (less than max credits) they'll still offer complimentary beer but not the good stuff.
Pub 365 is about 20 steps from the William Hill sportsbook. The bar and restaurant actually has more TV's than the small book. They have about 6 TV's right now and are considering adding more for football season. They're also talking about having specials for Monday Night Football and Thursday Night football.
As it's currently set up, Pub 365 would make a great location to watch the popular college football games or standalone NFL games. Since there are only a handful of TV's don't expect to see games from smaller divisions in college football unless its midweek "MACtion". Likewise, there aren't enough TV's to watch the entire slate of NFL games on a Sunday Morning.
The food is good (slightly above average if you want to be technical) and the churro waffles and ice cream dessert is delicious.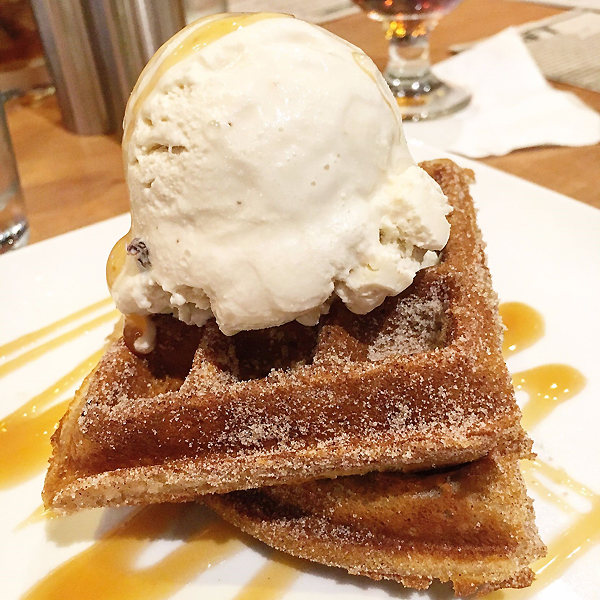 They also serve Stumptown Cold Brew which is fantastic until you drop the cup and the coffee goes everywhere.
There are great places to watch football and drink beer all over Las Vegas, but the combination is lacking on the Vegas Strip. If finding new beer is your ultimate goal when looking for a bar, Pub 365 is close enough to the Vegas Strip for any tourist to try.
On a personal note, Tag Bar at The Linq is one of my favorite places to drink beer on the Vegas Strip. It was never a goal, but after my recent vacation I've tried every beer they offer that fits the flavor profile I enjoy. During my first visit to Pub 365, I tried 5 new beers and I'll happily drink 3 of them again (I'm not into sours or milky stouts). I look forward to finding more new beers to drink in future visits.