If you're still on the fence about who to back in this primetime matchup we've enlisted the help of expert NFL bloggers Mickey Mentzer, a Bengals blogger for Cincy Jungle, and Marco, of Giants blog Bleed Big Blue. They strap on the pads and debate which team will not only win, but cover the spread on Monday Night Football.
WHY THE BENGALS WILL COVER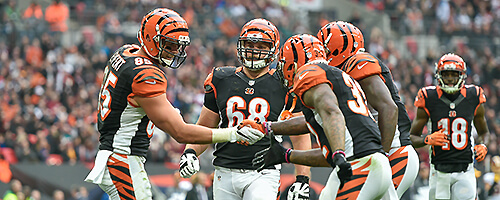 Mickey Mentzer (
@WhoDeyFans
) writes for
Cincy Jungle
. You can follow them on
Facebook
and on Twitter
@CincyJungle
.
Bengals ability to shut down Giants' top weapons
On defense the Bengals strengths match the Giants strengths. Cincinnati has covered opposing teams number one receivers well and has struggled against tight ends and running backs. The Giants strengths are their top receivers and not so hot at running back or tight end. This matchup lends it self well to the Bengals stopping the Giants offense.
Pressure on Eli
Eli Manning struggles with pressure and the Bengals front has the potential to bring a lot of it. Geno Atkins, Carlos Dunlap and Michael Johnson all have the ability to pester Manning and can disrupt the Giants passing game.
Dalton vs Giants "D"
Andy Dalton is playing really well. Dalton has played outstanding to this point in the season considering he has already been sacked 25 times. He has the ability to pick apart the Giants defense and now has another weapon in Tyler Eifert back from injury.
WHY THE GIANTS WILL COVER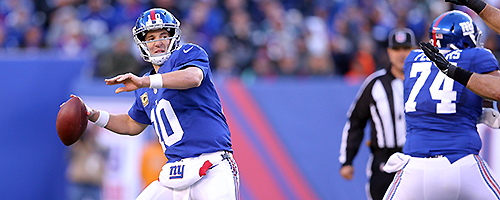 Marco is the founder of
BleedBigBlue.com
. You can follow the blog on on
Facebook
and twitter
@bleedsbigblue
.
Eli to Odell
The Giants need to get Odell going early, games where the GMen had a tougher time getting into rhythm proved costly. As the Giants offensive attack grows look for Odell to be used in multiple spots. If the Bengals key on Odell too much, Sterling Shepard and Roger Lewis could have a nice time in Met Life Stadium.
Holding AJ Green
Bengals WR AJ Green leads the NFL with 59 receptions, and ranks 2nd in the NFL with 896 receiving yards. This is not going to be an easy task but the Giants corners are playing well. The rotation of Janoris Jenkins, Dominique Rodgers-Cromartie and rookie corner Eli Apple are all kept fresh. Green might get his numbers but so far the bend but don't break D has fared well. Giants' Safety Landon Collins is playing at an all pro level this year and should make receivers hesitant to come across the middle.
Hold the run
Cincinnati is running the ball effectively this year gaining 962 yards and scoring 9 times. The Giants run defense ranks 6th in the NFL. Defensive Tackles Johnathan Hankins and Damon Harrison have plugged many running lanes forcing teams into difficult 3rd down situations. Add in several successful goal line stances and 4th down stops and Cincinnati RB's might have a long day.
Pages related to this topic