After a Game 1 performance that had many calling for a series sweep and let-down NBA Finals, the Miami Heat put together a complete performance in Game 2 to steal home-court advantage and tie things up with the Denver Nuggets.
Denver now faces slimmer NBA Finals odds, and the first bit of adversity in the entirety of its postseason run and will need better performances across the board to avoid falling into a perilous 2-1 hole on Wednesday, June 7.
Game 2 saw Nikola Jokic and Kevin Love become major fulcrums for both squads, and it's to them we turn for our three best NBA Finals prop picks for Game 3 of Heat vs. Nuggets.
Also, check out our Nikola Jokic player prop picks for a deep dive on the Finals MVP odds favorite, alongside our Game 3 picks and predictions!
Nuggets vs Heat Game 3 player prop picks
Click on each pick to jump to the full analysis.
Nuggets vs Heat Game 3 props
Joker's wild
The conversation about whether to "make Nikola Jokic a scorer" is chum in the water for online NBA discourse. When Ramona Shelbourne asked Erik Spoelstra about it in the post-game presser, he put his head in his hands in disgust and criticized such a binary as the interpretation of the "untrained eye".
There's some truth to that of course, but as NBA analyst Tim Legler noted on the Lowe Post Podcast there's also not nothing to it either. Legler noted that while Jokic is more than a capable scorer his comfort zone is to create for others. The Heat, as a rule, want to make opposing teams do anything other than what their first preference is on any possession.
Allowing Jokic to go one on one against Cody Zeller? Not great. Nor is there any serious discussion of just conceding scoring chances to Jokic. At no point did they simply let Jokic score, nor did their man coverage exist in absolute terms. Guys were stunting at him and trying to bother him as much as possible within a clear general principle of not allowing him an easy passing opportunity.
That meant sometimes guarding Jokic in man, other times flooding help at him from zone as one of the Heat's tough-as-nails guards fought to front him. Enough of those possessions are going to lead to easy shots for Jokic to make him score effectively even if they do it perfectly, but it's still better than the alternative where he racks up 15 assists and still has 25.
Many people, myself included, believed that Miami's zone was dead on arrival as long as Jokic was on the court. But their zone's brilliance is in part that they bring up one of the forwards behind the play to cut off easy passes to the strong side corner. With that pass shut down, the most reliable offense is going to come from Jokic backing down in the low post more often than not.
I'm not expecting 40 from Jokic again but I would be shocked to see him score less than 30 given the way the Heat are playing him.
Nikola Jokic Prop: Over 28.5 points (-118)
Best NBA bonuses
Looking to do some NBA betting? Here are two of the best bonuses* available:
A) Get a profit boost up to 100% on one NBA Finals SGP at DraftKings! Opt-in Now
B) Bam Adebayo Over 24.5 points and 9.5 rebounds BOOSTED to +600 at Caesars! Bet Now
C) Nikola Jokic Over 8.5 points and 3.5 rebounds in first quarter BOOSTED to +325 at bet365! Bet Now
D) Nikola Jokic and Jimmy Butler to combine for 50+ points BOOSTED to +100 (was -300) at bet365! Bet Now
*Eligible USA locations only. Also, check out our full list of best sportsbook promotions for 2023.
21+. Gambling problem? Call 1-800-GAMBLER
Love & Basketball
The key storyline of Game 1 was just how much bigger the Nuggets were than Miami. It led to constant untenable cross-matches, showcased by Aaron Gordon eating the diminutive Heat players alive around the basket. With Spo inserting Kevin Love into the starting lineup for Game 2, the Heat reset those matchups and boosted their spacing and rebounding significantly.
Love made it work well enough as a rim protector in his minutes to survive on defense and his added spacing forced the Nuggets into much tougher rotations. It also allowed Jimmy Butler to guard Jamal Murray — a critical matchup change the Heat will surely want to ensure for Game 3.
Single game +/- isn't predictive, but it does tell the top-line story of what happened while a player was in the game. Love's +18 in 22 minutes reflects the role he played in the Heat's early lead as well as their second-half turnaround.
For all that, Love only scored six points on 2-9 shooting. That's why his line is only 5.5 points despite his critical play, but it's also why this is a plus-value bet. Love is going to play 20+ minutes again, and on the same diet of shots, I expect the 2016 NBA champ to convert at a much higher rate.
Kevin Love Prop: Over 5.5 points (-115)
Header
Love's not the rebounding force he was in his heyday in Minnesota, nor in the early Cleveland days, but when given the minutes, he can still eat teams alive on the glass. His defensive rebounding percentage through his 41 games in Cleveland this season was 26%, which puts him in the 99th percentile among all bigs per Cleaning the Glass.
When the Nuggets made a point of it to attack in transition, Love was always the first big back in the paint because Bam Adebayo was usually tied up with Jokic near the basket while Love remained parked outside the arc. He was able to grab 10 rebounds in just 22 minutes.
A Love rebound is preferable to just about anyone else on the Heat when he's on the court because he can supercharge Miami's transition attack with his best-in-class outlet passing. So, if there's any doubt among the Heat players as to who should go for any given board, they'll default to letting Love nab it.
He's also matched up primarily with Gordon, and the Heat's philosophy, much as the Lakers' was, is to sag off Gordon and dare him to shoot. That means that Love has a foot in the paint and is 2.9-ing for long stretches of every defensive possession. Love also has an uncanny knack on the offensive glass, and while he's primarily working on the perimeter, he still added three offensive boards in Game 2.
For many of the same reasons I'm banking on Love to score, I'm expecting him to produce on the glass again in Game 2.
Kevin Love Prop: Over 5.5 rebounds (+104)
Not intended for use in MA.
Affiliate Disclosure: Covers may receive advertising commissions for visits to a sportsbook or betting site.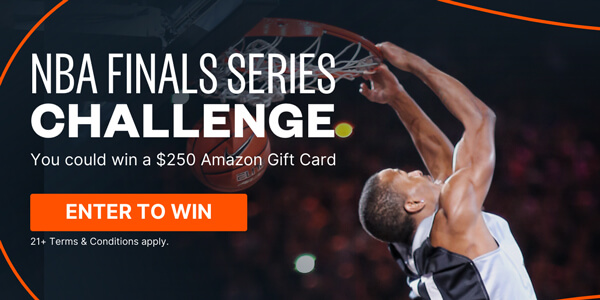 Pages related to this topic