The beauty and joy of the NBA Finals often come from the adjustments made between games. Not only are these the two best and deepest teams in the league this season, but their coaching staffs also have the creativity to toy with that depth and talent in unexpected ways.
Thus, Warriors head coach Steve Kerr leaned into a small-ball lineup in Game 4, leading to Andrew Wiggin's star turn, snagging 16 rebounds to nearly match his 17 points. In the closing minutes, multiple pivotal Golden State buckets began with Wiggins' rebounds. Frankly, seeing the official box score credit him with only three offensive rebounds feels like an undervaluation of his work on the glass Friday.
But now it is Boston's turn to counter. How will Ime Udoka respond to Kerr's smaller lineup? We dive into the matchup and give you the three best free NBA bets for Wiggins in Game 4.
NBA Finals 2022 Andrew Wiggins player props for June 13
Picks made on 6/12/2022 at 4:00 a.m. ET.
Click on each pick to jump to the full analysis.
Andrew Wiggins Game 5 player props
The odds widgets below represent the best odds currently available for each betting market at regulated sportsbooks.
Points from elsewhere
Wiggins has averaged 16.5 points per game these Finals, just trailing his points prop Over/Under of 17.5. The juice favoring the Under ever so slightly fits that average.
That is not reason enough to jump on this bet. Rather, looking around Golden State's roster forces this choice. The Warriors obviously leaned on Steph Curry's offensive explosion and 43 points to win Game 4. Aside from Curry, Wiggins (17 points) and Klay Thompson (18 points), only Jordan Poole reached double digits at 14 points.
Wiggins put up 17 because no one else on the floor for Golden State wanted to score. To be blunt, Draymond Green offered an excellent Ben Simmons impression late, doing everything he could to not shoot the ball. Kevon Looney played 28 minutes and took only four field goals to end with six points.
Kerr may be shortening his rotation, hence Wiggins, Curry, and Thompson each playing 41 or more minutes, but that was an absolute necessity on the road facing a possible 3-1 series deficit. He will be more judicious with those three in Game 5, which should lead to Poole, Gary Payton II, and/or Otto Porter Jr. finding more rhythm.
That will come at Wiggins' overall expense because it certainly will not be to Curry's or Thompson's.
If Wiggins is right on pace for this prop's Under in the first place, the eventual scoring from somewhere else in the Warriors' rotation should doom the Over's chances.
Pick: Under 17.5 points (-112)
Doubting Wiggins' effort
Wiggins played well in Game 4. He played hard in Game 4. He did everything that was asked of him and more in Game 4.
All of which is to say, Wiggins is ripe for a letdown in Game 5. His inconsistency has been the only constant in Wiggins' career, and even this revival of a season in Golden State has not been as different as some headlines would suggest.
He played in 73 games this season, and in 40 of them, he had four or fewer rebounds. Wiggins pulled in seven or more rebounds in just 12 games this season.
In 20 playoff games, he has snagged six or fewer rebounds in 10 of them.
Yet, his last two games have led to a spike in value if betting against Wiggins on the glass. By grabbing seven rebounds in Game 3 and 16 in Game 4, he forced this prop upward to an extent that there is now a distinct reason to fade it.
Wiggins is likely to play a little less aggressively. That has long been his nature. But even if giving him the benefit of the doubt, his numbers this season and postseason strongly suggest Wiggins will fall short of seven rebounds on Monday. If he does so, there is a positive return to be had.
Pick: Under 6.5 rebounds (+114)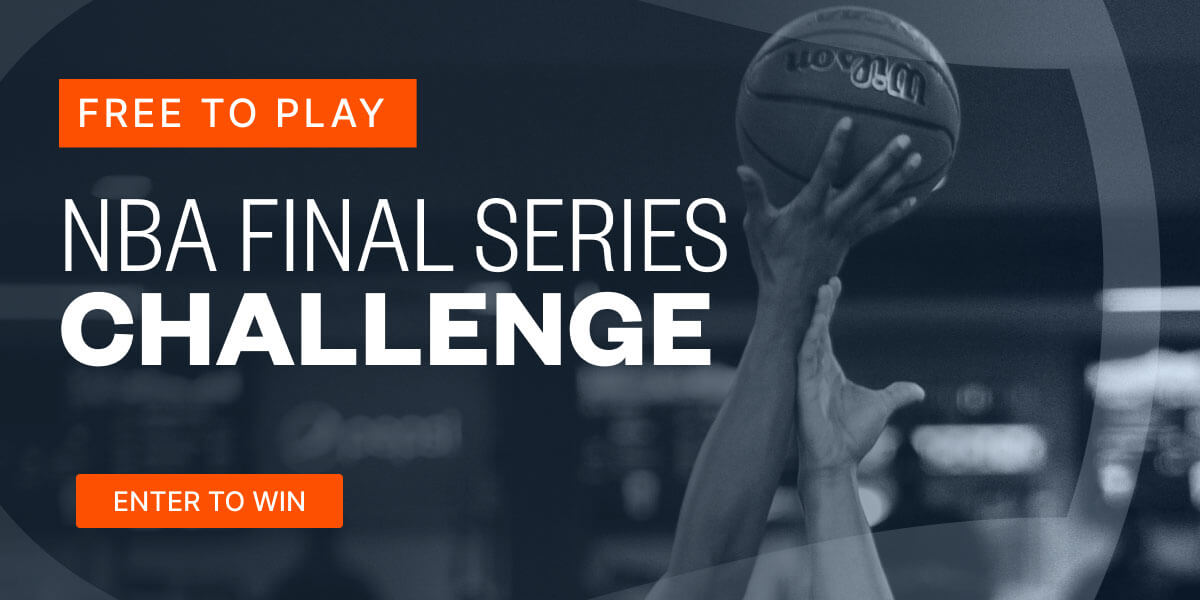 Wiggins keeps shooting
This is less about Wiggins' made threes this series — seven in four games, hitting the Over on this prop in every game except Game 3 — and more about his attempted threes this series. The small forward has chucked 22 shots from beyond the arc through four games.
To do the basic math, making 1.5 threes on 5.5 attempts equals 27.3% shooting. Even for Andrew Wiggins, that's always within reach, if not also always expected.
Of course, those are odd numbers, but they are the literal math.
The figurative math of the game flow is that Steph may have forced Boston's hand with his Game 4 explosion. The Celtics were content to let Curry beat them as long as no one else aided him. That did not work. If Udoka varies that approach, it will lead to open shots for others.
It may seem odd to hit both the Under on Wiggins' total points and the Over on his three-pointers made, but there is a significant gap between making a pair of threes and scoring 18 points. This is not exactly threading a needle.
Wiggins is not about to turn into an efficient scorer. He is simply going to shoot too many times from deep to not find the bottom of the net twice.
Pick: Over 1.5 made threes (-142)