As NASCAR's playoff push heats up, the circuit visits one of its most iconic tracks for an extremely pivotal race.
The YellaWood 500 was set to run this weekend at Talladega, although rain pushed it to Monday afternoon. And since Ricky Bobby isn't an actual person, the field is wide open, with plenty of uncertainty reflected in the odds.
Luckily, we're here to help you navigate NASCAR betting with Auto Racing Advisor's preview and picks for the 2021 YellaWood 500, which gets underway at its rain-rescheduled date of 1:00 p.m. ET on Monday, October 4.
YellaWood 500 favorites
Denny Hamlin (+900)
You have to take a look here. He won the fall race last year, was fourth in the spring race a year ago too, third in the fall race in 2019, and has won three of the last six Daytona 500s. His superspeedway finishes last year were – first, fourth, third and first respectively. He's led 42 percent of all playoff laps, has two victories and three Top 2s in four starts, including five stage wins.
Brad Keselowski (+1,200)
You always go with Brad on a superspeedway race. He's won six times at Talladega, including this past spring.
Joey Logano (+1,000)
He has four Top-5 finishes in his last eight Talladega starts and is a three-time Talladega winner in his last 13 tries, too.
Covers NASCAR Betting Content
YellaWood 500 long-shot picks
Aric Almirola (+2,000)
The Stewart-Haas Racing driver has eight Top-10 finishes in his last 10 starts at Talladega, including five in the Top 5. He won there in the fall of 2018, was fourth and spun across the finish line to a third-place result in June 2020.
Ricky Stenhouse Jr. (+3,500)
Always a superspeedway threat. Stenhouse Jr. was runner-up last spring and ninth in the fall race the year prior. He's had three Top-5 finishes in his last seven Talladega starts, including six Top 10s over his last 10 Talladega races overall. Five of those six were inside of the Top 5 too, including a win.
YellaWood 500 matchup pick
Chase Elliott (-150) vs. Kevin Harvick (+120)
Elliott is a past Talladega winner, but his last five fall race finishes there are 12th, 16th, 31st, 8th and 22nd, respectively. Harvick, meanwhile, has shown a path to his superspeedway success the last few years. He waits until the end. That should put him there with a shot at the victory on Sunday afternoon, as he was fourth in the spring race as well as having two straight Top-5 finishes in the Daytona 500.
With plus money against a heavy favorite, go with Harvick.
PREDICTION: Harvick (+120)
YellaWood 500 fades
Kyle Larson (+1,200)
He's never had a Top 10 at Talladega before. He's never won on a superspeedway before, at that. In fact, his last three finishes at Talladega are 39th, 40th and 40th respectively. Four of his last six results are 39th or worse.
Chase Elliott (+1,000)
He's not had a Top 5 in any of his five fall races at the track. His finishes are 12th, 16th, 31st, eighth and 22nd, respectively.
Alex Bowman (+1,800)
His fall race finishes here are 33rd, 37th and 14th. He was 38th back in the spring.
YellaWood 500 preview
The penultimate race of the Round of 12 is here. This is the scariest, most tense race of the entire postseason for the NASCAR Cup Series drivers. Really, any race on a superspeedway is more out of your control than in it.
For the 12 drivers still left in the postseason, this race can make or break their chances of advancing to the next round. Anyone can win this race, and I do mean anyone. But, what's weird is, since the win and advance format was introduced to the sport in 2014, this race has always been won by an existing playoff driver.
They're 7-for-7. Do we see that again on Sunday?
While this is the ultimate wildcard for many reasons, for whatever reason though, Talladega hasn't produced a lot of fluke winners. While the sister track of Talladega, Daytona, has produced some crazy winners recently with three straight years of a first-time winner in the annual Coke Zero Sugar 400 to go along with a second-time winner reaching victory lane in 2017, you also have some one-off Daytona 500 triumphs too.
At Talladega though, only six times since 1995 has a driver earned their first or second career wins there.
The recent fall race winners are Brad Keselowski (2014, 2017), Joey Logano (2015, 2016), Aric Almirola (2018), Ryan Blaney (2019) and Hamlin (2020). All are great superspeedway racers.
As you can see, those are all Ford drivers too, minus Hamlin. The blue ovals have won 10 of the last 12 races at Talladega, including six of seven in the Fall playoff race.
With so much uncertainty, this could be the race that really tightens up the playoff standings heading to another wildcard on the Charlotte ROVAL next week.
YellaWood 500 key stat
Ford has won 10 of the last 12 races at Talladega and took the win back in February at Daytona, and again in August, as well as Talladega in the spring. They've won four of the last five points-paying speedway races.
Where can I bet on NASCAR?
You can bet on NASCAR odds at most online and casino sportsbooks, including NASCAR race winner, Top 3, and Top-10 finish odds. Head over to our top sportsbooks to bet on NASCAR odds in your area.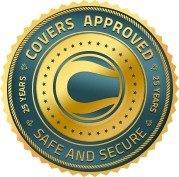 Pages related to this topic