Even though the words are often used interchangeably, barbecuing and grilling aren't the same thing.
Yes, you grill on a barbeque and anyone can grill. However, not everyone can barbecue. There are a lot of differences between the two that includes technique, cooking time and the type of food. This isn't a discussion of which is better or a platform to discuss the merits of either. Both types of cooking have their merits.
Summer has crept up on some of us and it's definitely grilling season. This is one of the many things I miss from the East Coast. Grilling and having an outdoor gathering in the 115-degree desert heat of Las Vegas isn't quite the same fun experience as it is during the summers out East. For some reason, the heat and humidity feel more tolerable on the East Coast when hanging around a BBQ or grill than the hot dry heat in Vegas.
In addition to missing the fun gatherings with friends, I miss the roadside grills up and down the East Coast. There aren't many places in Las Vegas where you can quickly just grab a grilled hot dog, burger, sausage or even a piece of chicken. With summer grilling on the mind, let's take a look at a variety of barbeques that should satisfy any grilling needs this summer.
Weber Genesis II Series
The entire series comes highly recommended but the second level Genesis II E-310 Gas Grill should suffice. There are three stainless steel burners and a massive 513 square inches of cooking space on the grill. There's also a 156-square-inch warming rack.
The grill has plenty of prep space with two side tables and room for storage. You can add the Weber iGrill and the mobile app that will tell you when your food reaches the perfect cooking temperature so you can hang with your friends instead of standing by the grill checking every few minutes.
This is a high-end line of barbeques and the list price for this model at $849. You can find it cheaper just about anywhere you shop online but it's still more expensive than others available. You're paying for size and sturdiness with this Weber grill and series.
Char-Broil Performance 475
This grill combines great features at a great price. The Char-Broil gas grill has four burners and includes a side burner that can be used as a side table if not being used to heat up some kraut for the hot dogs. The grill is easy to clean with porcelain grates, a stainless steel cover, and a removable grease pan. Just make sure you use a gentle brush on those grates.
A feature not found on all grills at this budget is the electronic push-button ignition system. This is a big deal for someone that grew up waiting for charcoals to heat up. There's no waiting when it's time to fire up the grill.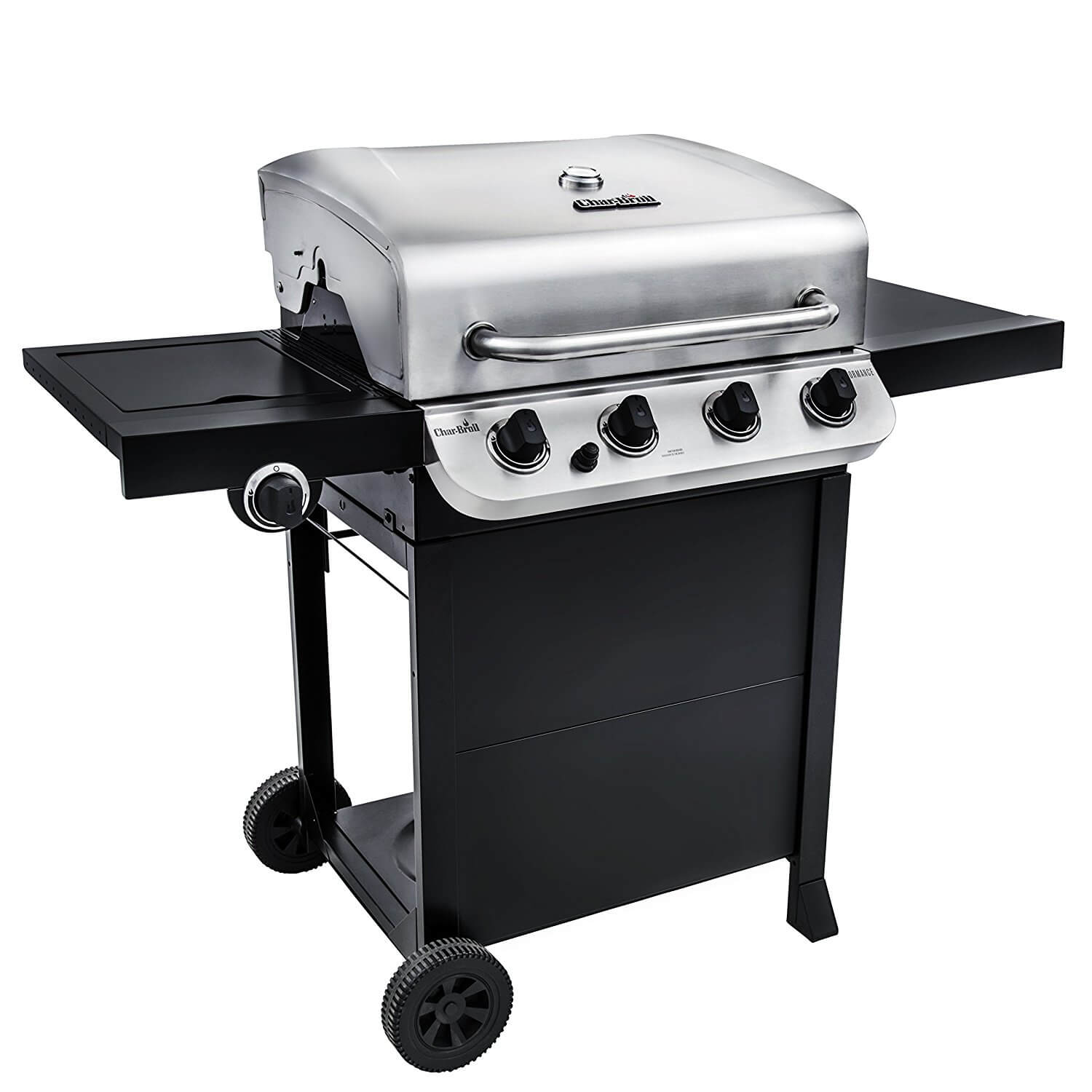 This is a fair priced barbeque that lists for $199-$249. There are other Char-Broil brand grills that might satisfy your needs but this should be the best of the bunch. You may find the Performance 475 cheaper than the list price online but either way, this is a high-performance grill for the price.
Cuisinart 14" Portable Charcoal Grill
Not all of us live in a house with a large backyard and plenty of room for grilling. I've spent a lot of time with the Cuisinart 14" portable grill when vacationing back East. This isn't fancy and doesn't make for an easy grilling experience. What this grill lacks in amenities it makes up for in price.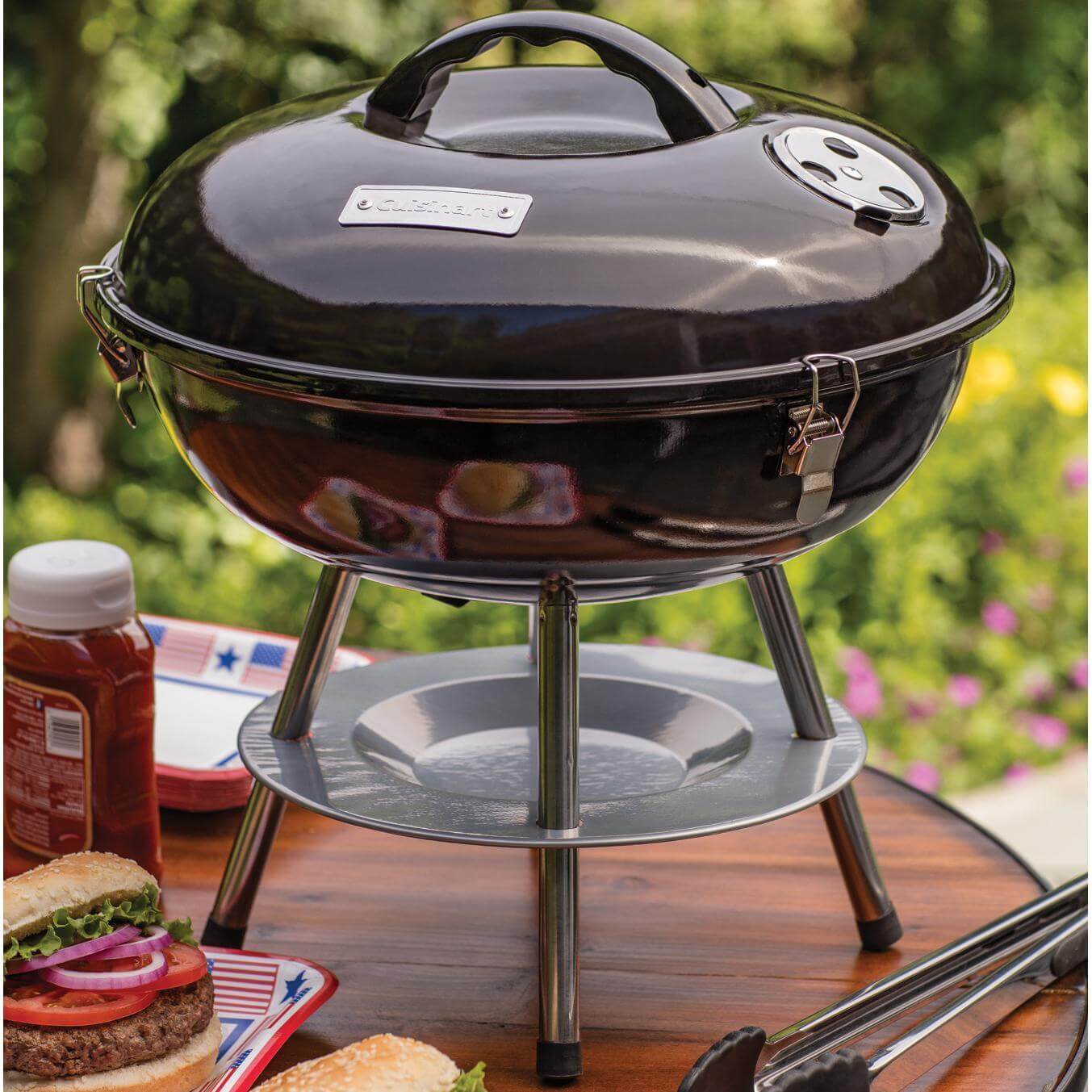 This portable grill is super cheap and does the trick for anyone making the basics like hot dogs and burgers. While the fancier grills might make the cooking experience easier, there's something to be said for earning your grilling stripes and learning how to make the perfect burger on one of these little guys. Salt, pepper, garlic powder, onion powder, and Montreal Steak Seasoning go a long way to making a flavorful burger.
The list price for the Cuisinart 14" Portable Charcoal Grill is $39.99 but you can find it for $25 or less just about anywhere you shop online. This is a great budget grilling option - especially if you have limited space.