You didn't have as much fun on your Super Bowl trip to Las Vegas as these guys did.
Jona Rechnitz, an executive in the New York real estate market, was in a suite at the Cosmo watching the Super Bowl on the big screen with eight buddies from his childhood home in Los Angeles.
Rechnitz had been the butt of all the jokes throughout Sunday. The father of three placed $1,000 on a 50-to-1 bet at the MGM Grand that a Giants' safety would be the first score of the Super Bowl. It was the biggest bet the MGM sportsbook took on that specific wager, according to director Jay Rood.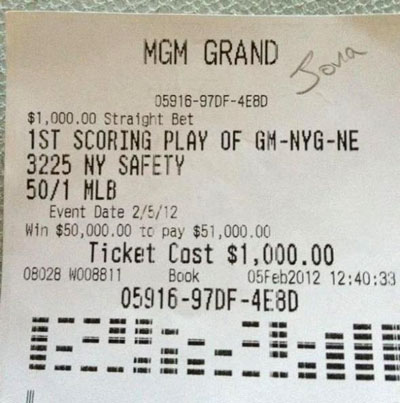 "Our initial reaction was to laugh at a crazy bet," Benjamin Lyons, a member of Rechnitz's crew, told Covers.com in an email. "We made fun of him endlessly."
Things got serious, though, when Giants punter Steve Weatherford pinned the Patriots at their own 6 yard line midway through the first quarter. The whole crew was paying attention as Brady dropped back into the end zone under pressure.
"He throws it, and we feel deflated," remembered Lyons. "The refs start talking, flag goes down, and the next 10 minutes are a blur. We went absolutely nuts."
Lyons tweeted a picture out of Rechnitz's big hit and has been acting as press secretary for his longtime buddy. Media requests have been pouring in. When reached by phone at 10:30 a.m. Vegas time, a groggy Rechnitz said "man, it's been crazy."
Rechnitz actually won $60,000 on the safety; he also bet $1,000 at 10-to-1 on any safety. As a group, the nine friends netted over $100,000, according to Lyons.
Rechnitz told
TMZ.com
that he would be donating his winnings to charity, including $5,000 to a charity of Tom Brady's choice.
The crew celebrated with dinner and by picking out matching "team" shoes. They're moving the party to Los Angeles tonight.
"Everyone is thrilled about the win and about the charities that will benefit from Jona's benevolence," Lyons added.

Bookmaking strategy pays off
The MGM sportsbook nearly pitched a perfect Super Bowl, despite being down $250,000 six minutes into the game.
That's the amount Rood said the Giants' safety cost his book, including Rechnitz's big hit. But, overall, Sunday worked out well for Rood.
The MGM was the first sportsbook to trim the Super Bowl line New England -2.5. Rood made the decision Tuesday, Jan. 24. It was a strategy that paid off in a big way.
"We deemed it too important to have the possibility of a push, so 2.5 with a premium seemed to be the right spot for us," Rood told Covers.com Monday afternoon. "We were taking a lot of early Giants money. Then, game day was predominantly Patriots money so we came out OK."
The rush of game-day Patriots money left Rood with a book full of New England fans, who went silent when Ahmad Bradshaw stumbled into the end zone for what turned out to be an unintentional winning touchdown.
"It got pretty quiet here at Mirage, because the majority of tickets for us were on the Patriots," said Rood, who estimated taking three bets on the Patriots for every two on the Giants.
Rood did report taking some "significant sharp action" early Sunday on under 54.5. The MGM had a closing line of New England -2.5 (-120) and 53.5.
"Overall, I'm pleased," said Rood. "We made a decision to go down to -2.5 and it worked in our situation."
The safety was costly to a lot of sportsbooks, including BetOnline.com. Manager Dave Mason said 96 percent of the action on whether their would be a safety was on "Yes" at 8/1.
BetOnline.com made up for it with a big win on "Will the game be tied after 0-0?" Ninety-eight percent of the money was on "Yes," Mason told Covers.com.
Prop Bet Notes
--Kelly Clarkson clearly knew the line or the pop star is just very consistent in her singing of the national anthem. Covers.com clocked Clarkson's rendition at 1:33.81, milliseconds short of the most common over/under time of 1:34.
A few books did post the over/under at 1:40, so the under was really never in doubt at those shops. But there was some debate at other shops. Both 5Dimes.com and BetOnline.com timed the performance at 1:34.5 and graded over wagers as winners.
--The Giants' choice of purple Gatorade caused a headache for at least one offshore sportsbook.
With the game ending on a Hail Mary, NBC's broadcast did not immediately show the Giants dousing Tom Coughlin with purple Gatorade. But a later replay showed it was indeed purple, a color not offered at the offshore book SportsInteraction.com.
"They just have to be different, don't they?" joked Sportsinteraction.com oddsmaker Greg Sindall in an email. "We did not offer purple so that event was deemed no action and all wagers were refunded."
--CNBC sports business reporter Darren Rovell sent out 144 tweets Super Bowl Sunday, according to BetOnline.com brand manager Dave Mason, who had the over/under on Rovell's Twitter activity set at 149.5.
"Congratulations to the 52% of BetOnline.com bettors that played the Under," Mason tweeted.