While the in-person experience is unrivaled, the rapid growth of online sports betting translates to a seamless experience with Kentucky Derby betting sites. There's no need to visit a casino or sportsbook, instead, you can lay down action right from your mobile device. The popularity of online gambling necessitates the need for transparency and trustworthiness. We've done the heavy lifting so you can start browsing the most recommended betting sites for betting on the Kentucky Derby.
Where to bet on the Kentucky Derby
USA
While horse racing is legal in just about every jurisdiction, there are some sportsbooks that do not post Derby odds. In those areas where online sports betting is not legal, you can lean on a handful of legal horse racing betting sites to wager on the "Run for the Roses."
Canada
The Derby garners significant media attention in Canada, attracting a wide range of bettors and those looking for more than a good mint julep recipe. Unlike the U.S., most betting sites offer horse racing markets to Canadian customers. Yes, even people who don't normally bet on sports — or wear seersucker — like to wager on the Derby. We've researched, reviewed, and vetted the top-rated betting sites for Canadians looking to place Kentucky Derby bets:
How to start betting on Kentucky Derby
Now that you know where to bet on the Derby, it's time to focus on your Kentucky Derby betting strategy. Here are a few of the reasons why the Kentucky Derby serves as a great opportunity for you to make money with your bets:
Sizing up the field
Unlike most thoroughbred races which are contested between six and 14 horses, the Kentucky Derby allows up to 20 horses in the field. The increased competition is good news for bettors because you can secure far better odds on your selection — even the favorites. The sheer depth of the field spurs unpredictable outcomes, which also often pay significantly more.
Unpredictable: Young horses
Relative unknowns or inexperienced horses often play starring roles in the Derby. Secretariat, widely regarded as the greatest racehorse of all time, won the Derby as a three-year-old and still owns the fastest time at the Churchill Downs track. The early season race for three-year-olds is seen as a showcase. It is hard to gauge the competitors at this stage of the season, triggering terrific value opportunities at Kentucky Derby betting sites.
Distance
Most horses participating in the Kentucky Derby have yet to run a race this long in their early careers. The track at Churchill Downs spans 1 ¼ mile in length, making the Derby the second longest race in the sport's Triple Crown. Bettors must forecast which horse is best suited to run that distance. That's part of the fun and guesswork that goes into wagering on the Kentucky Derby.
Kentucky Derby bet types
For the uninitiated, we have outlined the basic betting types for the Kentucky Derby. These are the most popular bet types not only made for Derby day, but other horse races too. Dive into our how to bet on the Kentucky Derby guide for a thorough review on bets to make for thoroughbred horse racing.
Win
Select the horse that you think will win and if they do, you win the bet. Easy, right?
Place
Here, your horse must finish first or second to win the bet.
Show
Place a bet on a horse to finish within the top three positions and if the horse finishes first, second or third, you will win the bet.
Exacta
In this instance, you must predict the winning horse and second-place finisher to win your bet.
Trifecta
As the name implies, you are betting on which horses you think will finish in the top three positions in the Derby in that specific order.
Reading the odds
Each of the reputable Kentucky Derby betting sites tipped earlier offer American odds. For example, Essential Quality is listed at +225 and Known Agenda at +1,000. Here, a $100 wager on Essential Quality would profit $225 if he wins, and a $100 bet on Known Agenda would profit $1,000 if he wins.
Use our very own betting odds converter to change American odds to decimal or fractional odds.
Choose a betting site
As mentioned earlier, U.S. bettors must visit a specialist horse racing betting site to wager on the Kentucky Derby. Canadians can access any of the online sportsbooks highlighted earlier for their Derby betting needs.
1
Register
Regardless of where you live, online betting for the "Run for the Roses" starts with creating an account. Once you have supplied basic personal information for verification, like your name and date of birth, you can create a username and password.
2
Deposit
Newly registered players must add real money funds to their account before placing Kentucky Derby wagers. These online betting sites offer a variety of banking methods, but what is available to you depends on the site and your location.
3
Bet
We've shared the list of preferred Kentucky Derby betting sites, now it's up to you to make a pick. The top horse racing betting websites should make it easy to find your preferred bet types.
4
Withdraw
Each of the Kentucky Derby betting sites tipped here has policies about how and when to claim your winnings. Collecting those winnings on Derby day is a sensation not to be missed, assuming you make the right pick.
How we rate Kentucky Derby betting sites
At Covers, we take a step-by-step approach to researching and reviewing sports betting sites. Our guides provide you with the most comprehensive reviews, each backed by the Covers BetSmart System™.
Bonuses and promotions
The Kentucky Derby betting sites we endorsed typically offer perks ahead of the race. Be sure to read the terms because something for nothing is not always a good thing.
Banking and payout speed
Choose a racebook that offers multiple banking and funding options right out of the starting gate. We endorse Derby betting sites that payout your winnings promptly.
Key features
The legal horse racing betting sites touted earlier are mobile-friendly. That's a significant benefit to those lucky enough to attend the Derby or partake in during viewing parties. These sites also boast a wide variety of betting options and comprehensive Kentucky Derby odds.
Security and trust
While the Derby field is comprised of young upstarts, we lean towards betting sites that are more established and dependable. These tenured sites have encountered nearly every kind of situation, making them well-equipped to solve any potential problems.
Customer support
The Derby is world-class, and we only recommend betting sites that offer supreme customer service. Prioritize betting sites that clearly display contact information and offer multiple channels, including live chat and email.
Kentucky Derby betting tips and trends
Choosing Kentucky Derby Horses
Winning your Derby bets is tricky. While it is a terrific race for value, it is a difficult event to handicap. Our experts have chimed in with their 2021 Kentucky Derby picks.
Racing programs
Kentucky Derby programs or racing forms are available online for free. These hold key information for bettors like horses' statistics and historical performances.
Tune-in
Statistics are helpful, but does your horse pass the eye test when you are sizing up the field? Watching recent and previous races will guide your decision and inform you as to whether the horse is running without effort and which ones are laboring.
Playing the odds
The latest Kentucky Derby odds change frequently in the run-up to the Derby. Most novice bettors looking to profit on the race place a wager on the favorite to show. If you're looking to take the betting field by storm, keep an eye on those odds.
Free bet
If you've recently registered an account with one of the Kentucky Derby betting sites, you're likely in line to receive a deposit bonus. This often comes in the form of a free bet.
Pro tip: In most cases you are required to wager some of your own money before any winnings from the free bet can be collected.
Typically, only the winnings from the bonus bets are returned to your account and you won't recoup the free bet stake. Opt for sports betting sites that treat any bonus bets and site credit like cash. It is imperative that you read the fine print.
Post position
Kentucky Derby post positions come down to luck of the draw. They are assigned randomly on the Tuesday prior to Saturday's race, but their influence is far from arbitrary. Luck can make or break the horses' Derby run right from the start. Looking for the ideal post position? Somewhere in the middle of the pack — positions five through 15 — is deemed the best.
More than a horse
Don't discount the human element. Thrilling thoroughbreds usually have excellent trainers and jockeys overseeing every aspect of their progress. Even passive horse racing fans have likely heard of trainer extraordinaire Bob Baffert, whose horses have won six Kentucky Derbies.
Weather: Does your horse love the slop?
Wet days at Churchill Downs are revealing. Keep an eye on the racetrack's rail, which is the shortest distance around the track and always drier than the rest of the course. Gamblers should look for mudders, the term for horses who excel in the rain.
Benefits of Betting the Kentucky Derby online
No lines or crowds
Potential bonuses
Research at your fingertips
See the late movement of the odds
Beware of blacklisted betting sites
Several sites made their way onto our blacklist due to payment issues, bad customer support, unfair bet grading, and other questionable practices. We strongly encourage you to avoid these betting sites at all costs.
Why trust Covers?
Covers is the proven authority on betting information and statistical analysis, with more than 25 years of industry experience and counting. Our team of seasoned writers and analysts takes a step-by-step approach to the online betting process, providing our valuable community with comprehensive reviews, breaking news, and detailed information. Learn all about how we rate sports betting sites with our unique and trusted Covers BetSmart System™.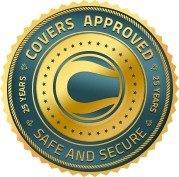 Instant Replay: Kentucky Derby betting sites
Keep these tips in mind when betting on the Kentucky Derby to make informed decisions and have fun, too:
Kentucky Derby betting sites are ultra-convenient: no lines, quick access to line movements, and potential bonuses.
Settle on a betting strategy early. Identify what you need or want in a Kentucky Derby bet.
Legal U.S. horse racing betting sites offer Derby odds, but not every sportsbook operator.
Canadian bettors can place Derby wagers with bet365, betway, and Sports Interaction.
Make mint juleps, wear fancy hats, and put together your own Kentucky Derby betting pool.
Kentucky Derby betting sites FAQs
Can I bet on the Kentucky Derby online?
Yes. Betting on the Kentucky Derby online is easy once you've registered an account.
Where can I bet Kentucky Derby futures
Visit TwinSpires.com which is the official betting site of the Kentucky Derby and the Kentucky Derby Future Wager.
What is the best online horse racing betting site?
We prefer TwinSpires for US betting. In Canada, we like bet365.