Jay Christensen covered college football, among other sports, for the Los Angeles Times and produces the popular college football blog TheWizofOdds.com.
Are some college football games fixed?
The first word from a bettor who's on the wrong side of a bad beat is usually "fixed." Friends often chuckle until they suffer the same fate, then they are quick to repeat the mantra. Before you know it, half the people in a Las Vegas sportsbook on a fall Saturday afternoon can be seen walking around in some trance and mumbling the vexing word.
Truth be known, it's harder than hell to fix a college football game. College basketball? Not as difficult.
From the standpoint of simple math, football is difficult to manipulate. There are 11 players to a side, and although not every player is needed to control the outcome, it requires the specific cooperation of individuals who handle the ball a majority of the time. Some lumbering lineman looking to cash in likely won't help the cause.
Basketball, with only five players to a side and a rotation that often goes only eight or nine deep, is easier to impact. Get a point guard to agree to a turnover or two and it's easy to shave points.
But one would be foolish to think there isn't incentive to fix college football games. Gambling is prevalent on college campuses and students often spend as much time analyzing weekly spreads as they do studying for an exam. It's a way of life and has been that way since before "Animal House."
In the 1997 point-shaving scandal surrounding Arizona State basketball, 15 of 22 fraternities on campus were found to have records associated with a gambling ring.
But while everyone is quick to point toward students or student-athletes as evildoers in the fixing of games, there are other ways to compromise an outcome or — at the least — embarrass a conference.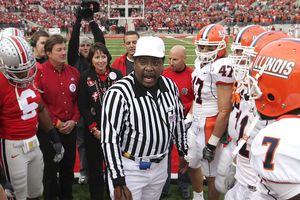 Officials are easy targets, even in this age of replay. In 2007, Big Ten referee Stephen Pamon was at the center of one such case. Pamon was in charge of the crew working two late-season games that were marred by controversial calls. Here's a look at one of those fishy decisions
here
.
Yahoo! Sports
reported after the season that Pamon and his wife filed for bankruptcy in 2002 after amassing over $400,000 in debt, an amount that Pamon's sister-in-law said was in part because of gambling losses.
Pamon wasn't charged with any wrongdoing, but he hasn't been heard from since. A friend of mine calls the Pamon incident "one of the great barely reported scandals of college football." The embarrassed Big Ten quickly moved to close a loophole and now requires a background check of officials.
Coaches quickly dismiss any knowledge of point spreads, but their actions often suggest otherwise. Florida entered its 2008 game against Miami as a 22.5-point favorite. With the Gators leading, 23-3, late in the fourth quarter, coach Urban Meyer sent in two