It has been four years since PASPA was repealed and today, legal sports betting in the USA is offered in 30 different states. Canada passed Bill C-218 last summer, and Ontario sports betting currently features 15 regulated operators.
All of these regulatory changes were supposed to bring positive change for sports bettors — but that has not always been the case. In fact, there have been a few recent situations where, quite frankly, the bettor would have been treated more fairly in the offshore market.
And it all has me thinking: Where is the line?
Let me rewind to April 4, 2022. The Ontario iGaming regulations had become official earlier that day and I was at an industry launch party in Toronto. I remember scanning the room and seeing politicians, retired athletes, and top media analysts from TSN and Sportsnet. It was quite the scene.
The speeches started and everyone was saying the same thing: By legalizing sports betting, we can bring the grey-market money back to Ontario, where we can earn tax dollars and maximize shareholder value.
The one thing that no one mentioned during the speeches, however, was the player. At one point, I even asked a stranger seated to my right, "what about the player?"
He just shrugged and turned away.
The sportsbook launch party was a microcosm of the betting industry in North America. Name brands, paid endorsements, offers of temptation, and promises. But it is all for the better of the operators. Seldom, if ever, do the players that make the industry go round ever get mentioned.
The bettor has become an afterthought. Nothing more than a decimal on a balance sheet.
Most big sports betting brands are set up to spend investor money on advertisements, in hope of generating enough customer acquisition to appease majority shareholders. Gaming regulators are supposed to be there to ensure fair play on both sides, but as the spending increases, regulators' main purpose seemingly has shifted to making sure they count every dollar and take the government cut.
The player is neglected and expected to comply, through the good or the bad. The days of putting the player first are dead, and the evidence is mounting.
Winners not welcome
At a gaming summit in December 2021, DraftKings CEO Jason Robbins said, "this is an entertainment activity, people who are doing this for profit are not the players we want."
This caused a firestorm online. If the operator with the second-biggest market share is publicly saying winners are not welcome, what kind of precedent does that set for the rest of the industry?
Anti-player sentiment from operators is now the norm, but a troubling shift to anti-player behavior is becoming commonplace.
The most widespread issue is "spooling."
Regulators across North America do not have any regulations around posting clear limits or bet acceptance. This allows sportsbooks to bait bettors with lines that are offered without upfront betting limits. A bettor will make a bet, tap submit on their app, and be met with a spooling (or spinning) loading circle. After a short period of time, the bettor will be offered a new bet from the sportsbook — for less money than they hoped to bet the first time and at worse odds.
Spooling has been an online and mobile-only issue until recently.
VSIN aired a story last month with host James Salinas, who tried to bet $3,000 on the 2022 NFL Draft at Barstool Sportsbook in Colorado. Barstool took his cash and printed the ticket... but then asked for his ID. Before Salinas was given his ticket, the sportsbook reduced his bet from $3,000 to $800 and told him should he want to bet more, he must now do so at worse odds, which they moved after his bet.
Salinas took his $3,000 back and walked out of the sportsbook without placing any bet.
In response to an inquiry into the situation, Barstool Sports founder Dave Portnoy replied, "Fuck that guy."
Funny Dave was the loudest to complain when @RobinhoodApp blocked his wagers. @capjack2000 @spanky @VSiNLive @beatingthebook @JeffreyBenson12 https://t.co/EinY2y6Chj pic.twitter.com/mGSrp9z0Lr

— Nick Jefferys (@NickJefferys) May 11, 2022
What regulators must realize is that any act of spooling is giving a distinct advantage to the sportsbook. The basic principle of bookmaking is to hang a number, take a bet, and move the line. It is the job of people working for the sportsbook to determine which bets are good, which bets are bad, and where the line should move. Every bet that a player makes expresses information for the sportsbook (and market) to use. Sportsbooks pay for information by exchanging the ability to make a bet.
But when a sportsbook can acquire the information from bettors risk-free by spooling, the bettor loses because they can no longer bet at the odds previously available.
Is this the line? Should we, as bettors, need sportsbooks to say that every bet we make is OK — and if it is not, be fine taking our money and going the other way while they benefit?
From bad to worse
I thought this was as bad as it was going to get, but BetRegal proved this weekend that what sportsbooks can do to players goes well beyond spooling.
For those unaware, BetRegal is the "official sport gaming partner" of the Canadian Football League. As a leading Canadian sportsbook, it has brand ambassador deals with some of the most recognizable Hall of Fame players in league history and broadcasts commercials across Canadian television.
On Friday, May 27, the Ottawa Redblacks and Toronto Argonauts were scheduled to play a CFL exhibition game, and the following series of events took place:
BetRegal opened Ottawa as a 14.5-point underdog.
At 10:30 a.m. ET, a player bet on Ottawa +14.5 ($840 wager to win $750) and the Ottawa moneyline ($500 wager to win $2,415).
BetRegal accepted the bets and moved the line to Ottawa +11.5 — the line stayed active for the rest of the day, with BetRegal taking bets right up until game time at 7:30 p.m. ET.
The game was played and Ottawa won 23-17. The bets were paid out and the player credited with their winnings of $3,165.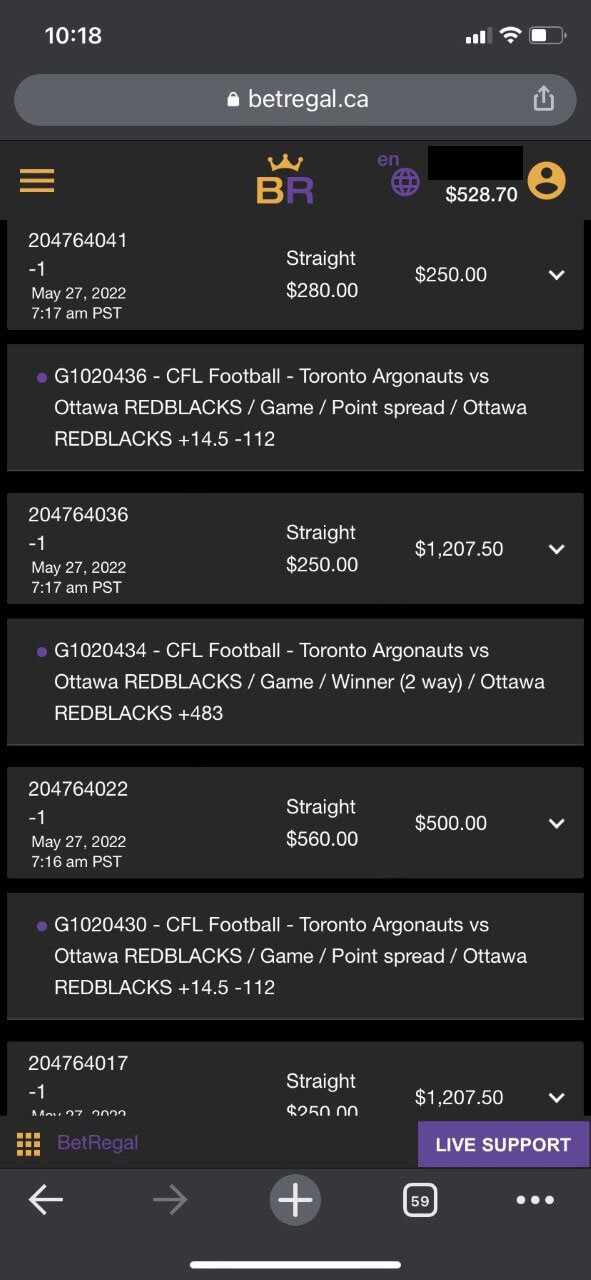 Now, here's where it became unfair to the bettor. Nearly two hours after the game had concluded and bets had been paid, the money was removed from the player's account and the bets were changed from "win" to "void." BetRegal client care sent the following email, confirming that the bets were voided after the game had finished because of a mistake BetRegal made — and only discovered the issue at 11:50 p.m. ET.
BetRegal called it a mistake. But how could this have been a mistake? The bets were placed on the game, the line was available all day, and the sportsbook was moving the line. Even if it was a bad line, BetRegal had eight hours to void the bets. Instead, the sportsbook did nothing and continued to book bets throughout the day.
The game was played out and everyone was paid... but now that BetRegal had lost money, it had decided to void the bets?
Fortunately, the betting community in Canada is small, and the CFL portion is even smaller. Others bettors who bet on Ottawa suffered the same fate and started to talk online. Word got around quickly. As it turned out, any winning bet on Ottawa, the Over on Ottawa's team total, or the Under on Toronto's team total were marked as void, and money was taken out of other player accounts too. BetRegal canceled all winning bets and took the money back.
Unlike similar stories, this has a happy ending... which, somehow, makes this situation worse than it already is.
On Saturday afternoon, BetRegal changed its decision and gave back the money it took out of player accounts, but here is the kicker: The decision to give the money back only came after a well-known CFL podcaster and a top personality of a major sports network in Canada emailed BetRegal support disputing its actions.
BetRegal replied saying it would refund the money on this occasion because it "takes its sponsorship with the CFL seriously."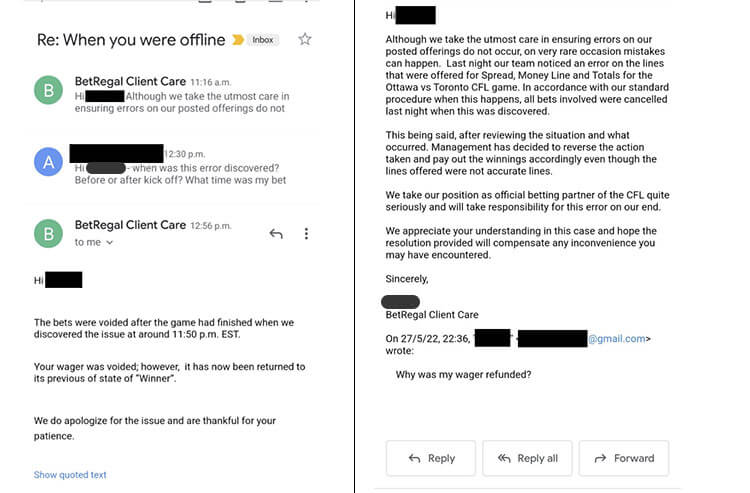 So it's open season for the sportsbook to do as they wish… until its sponsorship dollars get questioned by people close to the league?
I tweeted out that this is the worst thing I have seen a sportsbook do to a customer.
I'm writing my first article in a long time tomorrow.

This weekend I witnessed the dirtiest thing I've ever seen a sportsbook do to its players. Enough is enough.

Gaming regulators need to wake up and start doing something to look out for the players that make the industry.

— Adam Chernoff (@adamchernoff) May 30, 2022
It's a strong statement, but I think it is justified for a few reasons:
BetRegal moved the line after the bets were made, responding to the action and selecting odds it believed to be correct at the time.
The bets were made eight hours before kickoff, the market was up all day, and if it was a mistake, there was an entire Friday to notice and make the correction.
The voids occurred nearly two hours after the result was determined and bets were paid.
It was not until people close to BetRegal's biggest sponsorship deal threatened customer support that it decided to overturn its decision of voiding the bets.
It is important to point out that BetRegal is not yet regulated in Ontario. But even if it were, the AGCO does not have any specific standard to protect players from this type of behavior, which is the problem I am trying to highlight.
The word "void" is referenced just four times in the entire Standards for Internet Gaming document. The most applicable standard for this is in Section 4.06-10. It reads,
"Players shall be provided with information that indicates circumstances in which a game can be declared void."
In other words: See the sportsbook house rules for an explanation.
Looking through BetRegal's house rules, the site "claims authority" to rule any bets it deems as errors no action, and can correct any bet to "reasonable market value."
*Please see editor's note below for a response from BetRegal.
Not an isolated incident
In almost every situation, the intentional ambiguity of gaming regulations puts the power back in the hands of the operator — and does little to protect the player. This lack of clarity in standards continues to be exploited by regulated sportsbooks in Ontario. Over the past few weeks I, or others close to me, have had other poor experiences and I have received messages from many others on social media seeking help or advice.
Last week, bet365 posted series results for the St. Louis Blues and Colorado Avalanche. Any bettor who bet that the series would end in Game 6 (+350) or Game 7 (+575) woke up the next day to see their bets canceled, and then re-bet without player confirmation at different odds — and left without the option to cash out (bet365 did void the bets after players spent upwards of an hour with their live chat support.)
Towards the end of April, Sports Interaction (SIA) offered odds on whether the first-overall pick in the CFL Draft would be traded. The morning of the draft, there was a rumor that Montreal would indeed trade the pick, and bettors acted by wagering on the 'Yes.' A few hours later, the trade was made official and at this point, SIA decided to void those bets because the market was "disadvantageous."
In the reply from customer support, it encouraged users to "see the other side," despite having their winning bets voided. In other words, the bettors acted on a rumor, and only after the result was made official a few hours later did SIA decide to void the winning bets.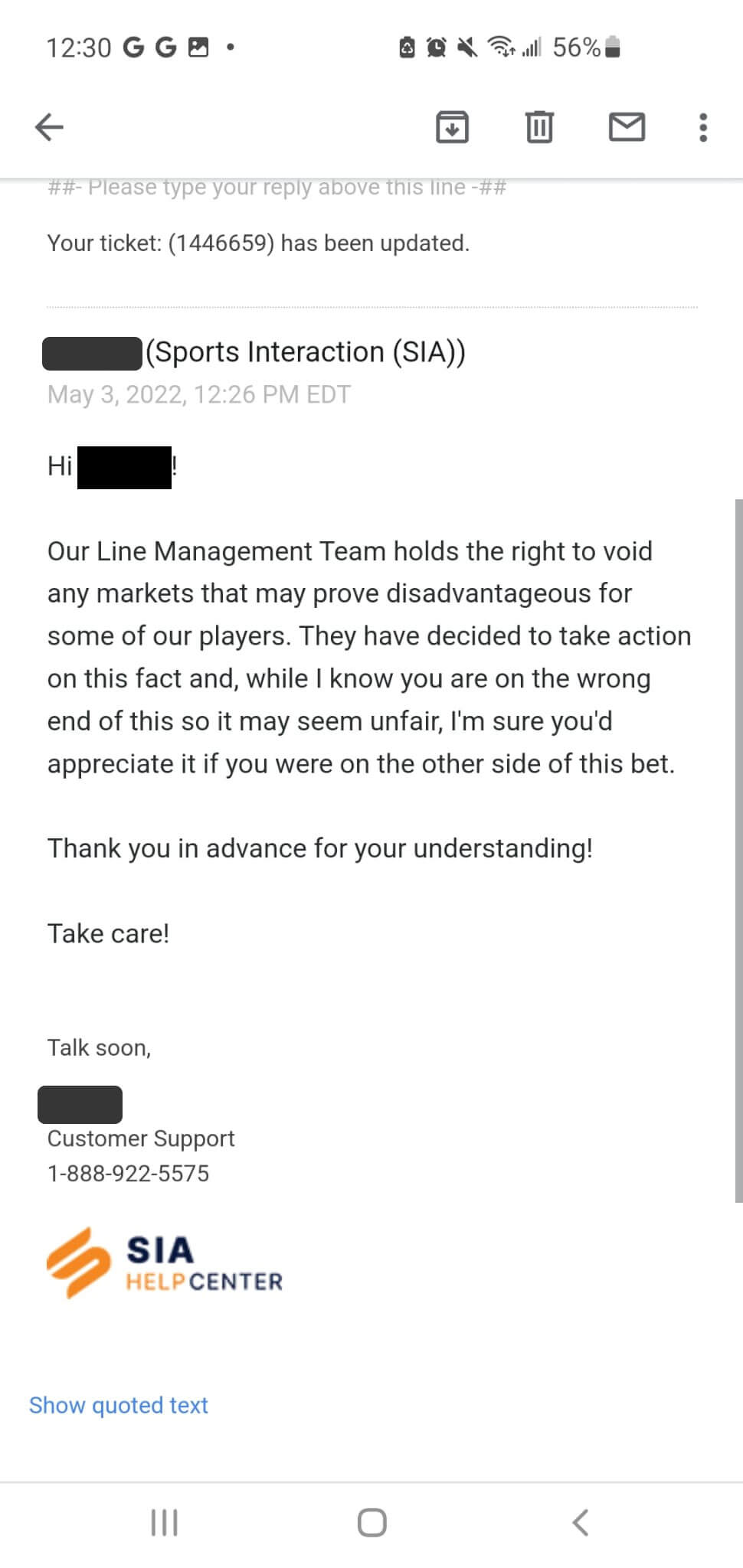 And then there is bwin, who recently allowed a customer to deposit $500... but then limited him to a max sports bet of $1.34. The bettor immediately asked to withdraw his money so he could go play elsewhere but was told he had to wager the entire $500 once over before he could withdraw. This would have meant that his money was locked in his bwin account until he placed 373 bets at $1.34 each until finally, after two weeks of back-and-forth with customer service and the bettor threatening to file complaints with Ontario regulators, bwin decided to allow the bettor to withdraw his money.
I ask again: Where is the line?
We live in a world where regulated sportsbook operators can:
Say anything they want about the player and encourage winners to be banned to appease shareholders.
Put up a number and bait players into tipping their hand and use spooling to move their odds without taking on any risk.
Change the odds of a bet after it is placed, without the customer's permission.
Limit players to a max bet of $1.34.
Void bets at will before — or after — the outcome has been determined.
How far does this go?
I would like to think it has gone far enough but it will only continue to get worse — unless regulators step in and start making changes that protect the player.
We need standards and clarity around limits, posted openly for every market, as well as protection against voided bets. If a sportsbook is going to call itself a sportsbook, the bare minimum it should be expected to do is post odds on an event, tell players how much it is willing to take, and honor any bets made.
In almost every situation, the intentional ambiguity of gaming regulations puts the power back in the hands of the operator — and does little to protect the player.
That is where the line must be drawn.
The legal sports betting industry is no different than any other industry — it needs customers in order to thrive and these customers deserve to be treated fairly. But that's not how the regulated sports betting industry works in 2022. Operators have been given the freedom to act as they please, without any form of repercussion for treating the customer poorly.
And that needs to end. I'm asking that regulators step in and make some changes to protect the sports bettor.
*Editor's Note: BetRegal was the only operator to reach out following publication of this article. Here is the response from BetRegal's CEO:
"On Friday, May 27th we made available a line on a CFL preseason game. We posted a line that we should have captured as an obvious error prior to making it available to the betting public.
The error was compounded when wagers were canceled after the conclusion of the game. Once Senior Management was made aware of the situation, the bets were immediately reinstated and all customers were credited accordingly.
Our values of Honour, Trust, and Integrity guide us daily and we hope we exemplified this in addressing this particular issue."
Pages related to this topic