Golden State Warriors at Houston Rockets (-1.5, 224.5)
Warriors lead series 1-0.
The Golden State Warriors flashed supreme form in the opener of the Western Conference finals and look to take a 2-0 lead when they visit the Houston Rockets on Wednesday. The Warriors outscored the Rockets by 13 points in the second half while recording a 119-106 win in Game 1.
Forward Kevin Durant scored 37 points and shooting guard Klay Thompson added 28 as second-seeded Golden State was in top form while outclassing James Harden and the top-seeded Rockets. "I don't know if we're at our peak," Durant told reporters. "I think we could be better. I mean, the stakes are high. We're playing the Western Conference finals against the best team in the league, the No. 1 seed, an MVP on their team. So I think everybody just wants to enjoy this time." Harden recorded 41 points and seven assists in the opener but didn't receive enough help from the supporting cast. "We're all in this together," Harden told reporters. "It doesn't matter who has a bad game or who is missing shots. ... Keep shooting your shot and being aggressive. We got this far doing that and having that mindset, so we're just going to continue it."
TV: 9 p.m. ET, TNT
SERIES PRICE (PER PINNACLE):

LINE HISTORY: The Rockets opened as 2.5-point home favorites for Game 2 after being thoroughly dominated in the opener. The early action was steady on the Warriors and books were forced to move that number down to 1.5 by Tuesday afternoon. The total hit betting boards at 225.5 and has been dropped slightly to 224.5. Check out the complete line history here.
WHAT SHARPS SAY: "The world figures to line up on the top-seeded Rockets in a bounce back tonight but it should be noted that Golden State is 21-5 SU the last twenty-six games in this series, including 6-0 both SU and ATS as an underdog. It's hard to argue with numbers like those." - Covers Experts' Marc Lawrence.
INJURY REPORT:
Warriors - SG P. McCaw (Early June, Back), SF C. Boucher (Out Indefinitely, Ankle).
Rockets - No injuries to report.
MATCHUP CHART:

ABOUT THE WARRIORS (67-26 SU, 40-52-1 ATS, 43-49-1 O/U): Durant was 14-of-27 shooting in Game 1 as Golden State repeatedly isolated him to take advantage of mismatches with Houston defenders. "We want to keep the ball moving, but obviously Kevin is the ultimate luxury because a play can break down and you just throw him the ball," Warriors coach Steve Kerr told reporters. "He can get you a bucket as well as anybody on Earth. This is why anybody would want him on their team. You think about a couple years ago, and we're in the Finals and we couldn't quite get over the hump. Kevin is the guy that puts you over the hump." Point guard Stephen Curry was solid all-around with 18 points, eight assists and six rebounds as his team's third-leading scorer for the contest.
ABOUT THE ROCKETS (73-20 SU, 47-45-1 ATS, 38-54-1 O/U): Harden reached 40 points for the third time this season and coach Mike D'Antoni joked after Game 1 that he might need to ask Harden to score 55 in Game 2. He broke out a 3-point shooting funk by making 5-of-9 attempts after being just 6-of-32 over the final four contests of the second-round series against the Utah Jazz. Point guard Chris Paul had 23 points and 11 rebounds in the opener but only had three assists as the Rockets were unable to crisply moving the ball in the halfcourt offense.
CHEERLEADER BATTLE: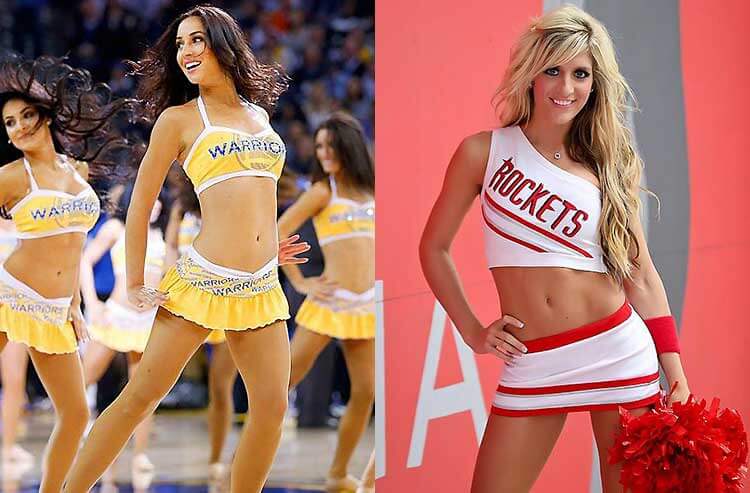 TRENDS:
* Warriors are 4-0 ATS in their last 4 Conference Finals games.
* Rockets are 6-18 ATS in their last 24 vs. NBA Pacific.
* Under is 4-0 in Warriors' last 4 road games.
* Under is 11-0 in Rockets' last 11 vs. NBA Pacific.
* Under is 6-1 in the last 7 meetings in Houston.
Click here for complete list of hot and cold trends.
COVERS CONSENSUS:
There are 51 percent of pointspread bets on the favored Rockets while 66 percent of totals wagers are on the Over. Find up-to-date Covers Consensus numbers here.