The NFC West steps onto the Monday Night Football stage when the St. Louis Rams host the Seattle Seahawks in the Week 8 finale. Oddsmakers have installed the Rams as 11.5-point home underdogs after losing starting QB Sam Bradford for the season.
In order to tackle this tricky Monday spread, we've enlisted the help of those who know these teams the best. Expert NFL bloggers Robert Davies, of Seattle blog "
Field Gulls
", and Will Horton, of St. Louis blog "
Rams Herd
", strap on the pads and debate which team will not only win but cover the spread Monday night.
WHY SEATTLE WILL COVER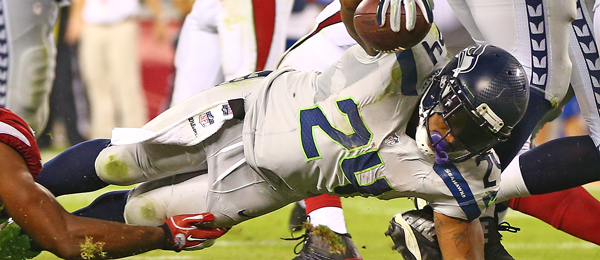 Rob Davies writes for Field Gulls. You can follow them on Facebook and Twitter @FieldGulls.
Seattle's "Beast" of a running game
One of the NFL's worst kept secrets is that the Seahawks look to establish the run and Marshawn Lynch will be licking his chops at the prospect of facing a Rams run defense ranking 30th in the league, giving up an average of 126.4 rushing yards per game.
Complementing Lynch is the incomparable Russell Wilson, who's averaging 5.6 yards per carry. Wilson appears to be best contained when in the pocket but Seattle's porous offensive line, which unwittingly unleashes Wilson, is a beautiful case of addition by subtraction.
Road chalk stock
In the Russell Wilson era, it's not uncommon for Seattle to be favored on the road and this week's pointspread represents the heaviest road chalk Seattle has faced with Wilson running the offense. However, when the Seahawks are favored by more than a field goal away from the Pacific North West that they not only win straight up, but they also cover the spread.
As a road favorite by less than a field goal since the beginning of the 2012 season, Seattle's 1-4 ATS. On the three occasions they've been favored by more than a field goal over the same period, the Seahawks boast a 3-0 ATS record - the vanquished being the Bills in Toronto last season, and the Panthers and Cardinals this year.
Clemens won't know what hit him
The Seahawks definitely caught a break when Sam Bradford was lost for the season and what we would have given for Brett Favre to once again change his mind. This thrust Kellen Clemens into the starting role on Monday night.
It's almost inconceivable to think the Rams will generate much of a ground attack (70.6 rushing YPG), forcing Clemens to air it out. The Seahawks' secondary isn't touted as the NFL's best and Clemens faces the toughest game of his career. A Seattle defense, that sacked Carson Palmer seven times last week, smells blood and Clemens may represent timid prey. Should he navigate the first line of defense, it's over to the "Legion of Boom".
WHY ST. LOUIS WILL COVER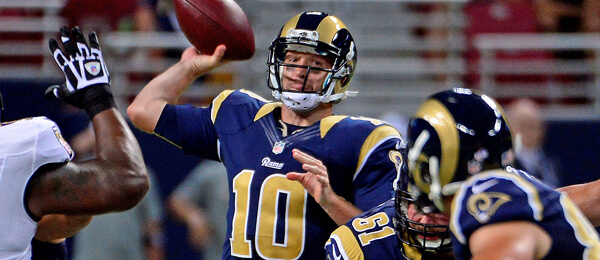 Will Horton writes for "Rams Herd". Follow them on Facebook and Twitter @RamsHerd.

Rams' fearsome threesome
The term "Fearsome foursome" is football legend. Today's Rams are hoping for the same from Chris Long, Robert Quinn and Michael Brockers. The Rams' defensive line is the team's most formidable asset. Meanwhile, Russell Wilson has been the most-pressured quarterback in football.
It speaks to just how good Wilson is that the team has succeeded with a piecemeal offensive line, but he has turned the ball over nine times against just 11 passing TDs. The Rams defense has terrible coaching on the back end, but it does have talent, power, and speed up front. That should be a difference maker.
11.5 points on the road is a lot
Even a team as good as the Seahawks doesn't find double-digit road wins coming easy. A savvy bettor normally sees a double-digit home dog and immediately moves his marker there.
I mean, when was the last time Seattle covered a line like that? Oh, last week. Well, when was the last time the Rams lost at home that badly? Oh, earlier this year to the 49ers.
Yes, but being on primetime makes a difference, right? That 49ers loss was on Thursday night. Yes, but our quarterback is… who now? Oh god.
The "Bad QB forgets he's bad" game
Forgive me, but I'm going to descend into some magical thinking here. Backup QBs are not starting QBs because - by and large - they aren't very good. In fact, most of them outright stink. Kellen Clemens is the poster child here. But we've seen, time and time again, awful backup QBs come in and have one amazing game before their own awfulness catches up with them. See Nick Foles, Brian Hoyer, Matt Flynn, Todd Skelton, etc. Hell, Matt Cassel did it for an entire season.
For the Rams, A.J. Feeley came off the bench and beat the Saints in 2011. You can't get much more miraculous than that. Typically, if this magical game is going to happen, it happens early in the season before that backup QB gets hammered by the iron fist of reality.

Join the debate. Which team covers on Monday Night Football: Seattle or St. Louis?