Men's and women's tennis will be one of the main events in the Tokyo Olympics as it will bring some of the biggest names in professional sports.
World No. 1 Novak Djokovic will highlight the men's side with Daniil Medvedev rising young star Stefanos Tsitsipas.
The women's side is simply utter chaos, as basically every favorite, including hometown-hero Naomi Osaka (the No.-2 ranked female tennis player globally) and World No. 1 Ashleigh Barty, have seen early exits through the first three rounds.
Among the missing were big names like 20-time Grand Slam champions Rafael Nadal and Roger Federer, two-time defending Olympic champion Andy Murray, and 23-time Grand Slam champion Serena Williams.
Here are the latest odds to win gold at Tokyo.
Men's Olympic tennis
Novak Djokovic (-200) is the hands-down favorite to capture the gold. He is the No. 1-ranked player globally and has four wins this year with three majors, including a recent victory at Wimbledon. He's followed by Russian Daniil Medvedev (+375), whom the Joker beat in the Australian Open finals in straight sets.
Men's tennis odds to win gold
| | | |
| --- | --- | --- |
| Player | Country | Odds |
| Novak Djokovic | Serbia | -200 |
| Daniil Medvedev | Russia | +375 |
| Stefanos Tsitipas | Greece | +450 |
| Alexander Zverev | Germany | +800 |
| Pablo Carreno-Busta | Spain | +3,300 |
| Kei Nishikori | Japan | +3,300 |
| Karen Khachanov | Russia | +4,000 |
| Diego Schwartzman | Argentina | +6,600 |
| Ugo Humbert | France | +8,000 |
Odds via bet365 as of July 27, 2021
World No. 1 Djokovic favorite for gold
Djokovic recently passed Federer for the longest time spent as the No. 1 player globally. The Serb has already won three major tournaments this season and is 34-3 in 2021. Joker has not dominated at the Olympics, as his best finish was third in 2008 in Beijing. In Rio in 2016, the World No. 1 was eliminated in the first round by Juan Martin del Potro and he lost to Andy Murray in the semifinals in 2012 in London.
After a third-round match in Wimbledon, the Serbian stated that he is very motivated to play the Olympic games and fight for a medal, as an Olympic gold is one of the few things missing on Djokovic's incredible tennis resume.
After winning each of his first two matches in straight sets, the Joker now has Olympic tennis odds of -200 to capture gold — the books believe the hype.
Federer out for Switzerland, Nadal skipping Tokyo
Roger Federer said he would represent Switzerland in Olympic tennis this summer, but withdrew from the Olympics after a poor showing at Wimbledon and a knee injury setback. Federer is a two-time Olympic medal winner.
There aren't many questions regarding Rafael Nadal's attendance in Tokyo as the clay king has said he will not compete in this year's competition. Nadal withdrew from Wimbledon and cited a need to recover physically after a demanding clay-court season.
US had slim chances for men's tennis medal
Tommy Paul was the highest-ranked U.S. men's tennis player heading to Japan. Ranked 53rd in the ATP rankings and sporting a 12-13 SU record in 2021, the 24-year-old has zero wins on the ATP tour and he (unsurprisingly) was eliminated in the first round by Aslan Karatsev. Paul represented America after a handful of other American-born tennis players declined to play.
Aliassime upset ended Canada's only hope for tennis medal
Canada was without their top-ranked player in Denis Shapovalov (14th in the world), as well as 22nd-ranked Milos Raonic. Even then, the Canucks still had a strong shot with 20-year-old Felix Auger-Aliassime, who is ranked 19th in the world and had +2,500 odds to win entering the tournament.
Auger-Aliassime was supposed to face Andy Murray in the opening round, but after Murray withdrew just days before the tournament started, he was replaced by Australian Max Purcell. Unfortunately for Canada, Auger-Aliassime had a disastrous match and was ousted in straight sets by the 190th-ranked Purcell.
Our best bet: Felix Auger-Aliassime (+2,500)
Auger-Aliassime at +2,500 is the best medal hope for Canada by far. It offers excellent value to bettors who like young underdogs. FAA is a 20-year-old phenom who has seemingly smashed every record on his come-up. In 2021, the French Canadian beat Roger Federer at the Noventa Open and made it to the quarterfinals in Wimbledon. The fast-paced format is perfect for the younger player who is better on hard courts.
Another solid +2,000 shot is Italy's Matteo Berrettini, who knocked out Auger-Aliassime in Wimbledon and made it to the finals before losing to Djokovic 3-1.
(Pick made July 12, 2021)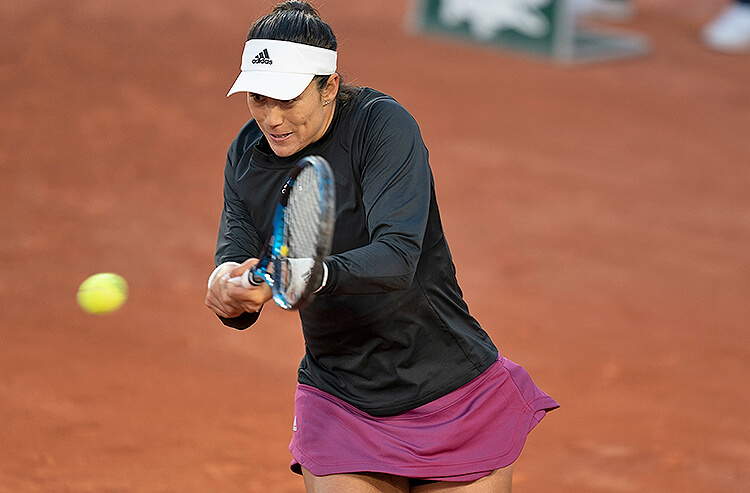 Photo By - USA TODAY Sports
Women's Olympic tennis odds
The women's singles tennis tournament might be the most interesting Olympic event in terms of betting value. World No. 9 Garbine Muguruza now has the best gold medal odds after World No. 1 Ashleigh Barty lost in the first round and Naomi Osaka was ousted in the third round.
Women's odds to win gold
| | | |
| --- | --- | --- |
| Player | Country | Odds |
| Gabrine Muguruza | Spain | +210 |
| Paula Badosa | Spain | +450 |
| Anastasia Pavlyuchenkova | Russia | +500 |
| Elena Rybakina | Kazakhstan | +550 |
| Elina Svitolina | Ukraine | +700 |
| Marketa Vondrousova | Czech Republic | +800 |
| Belinda Bencic | Switzerland | +1,100 |
| Camila Giorgi | Italy | +1,200 |
Odds via bet365 as of July 27, 2021
Barty, Osaka highlight early upsets for Olympic gold
Muguruza entered the tournament fourth in betting odds (and tightly packed in the second-tier players) but has now moved to the clear favorite after a wave of upsets in the early rounds.
That included hometown hero (and +275 pre-tournament favorite) Naomi Osaka, who lost in the third round to Marketa Vondrousova, as well as World No. 7 Karolina Pliskov (+1,600) and Top-20 ranked Maria Sakkari (+1,800) and Barbora Krejcikova (+1,400).
That trio did even better than World No. 1 Ashleigh Barty (+350 pre-tournament), who was disposed of in the opening round by Sara Tormo-Sorribes in straight sets, while third favorite Aryna Sabalenka (+700) was bounced in the second round by Donna Vekic, along with 20-year-old Polish star Iga Swiatek (+1,200), who fell to Paula Badosa.
That means seven of the Top 8 pre-tournament favorites are now gone — meaning this tournament is now officially wide open.
Serena Williams won't compete
Serena Williams owns four Olympic gold medals but won't be vying for her fifth this summer as the superstar has declined to play in Tokyo. Williams not heading to Japan is a bit of a blow to the women's draw but will make the stage bigger for Osaka and Barty.
US chances for women's tennis medal
With Serena out, the U.S.'s best chance at women's single's tennis gold was Jennifer Brady. The 15th-ranked player in the world had +2,800 pre-tournament odds but also found herself departing early after losing in the first round to Camila Giorgi.
Canada's Andreescu bows out of Olympic tennis
Bianca Andreescu, the 2019 US Open winner and No. 5 player globally, was a late withdrawal from the 2020 Olympics, citing pandemic-related challenges. She had the seventh-best odds to win gold (+1,400) before declining the event.
Without Andreescu, the highest-ranked female Canadian heading to Tokyo was Leylah Annie Fernandez, who sits 73rd in WTP rankings. The 18-year-old has won one singles WTP event in her short career and is 14-12 SU in 2021. As one of the lowest-ranked players in the competition, Fernandez managed to upset Dayana Yastremska in the opening round before being eliminated by Krejcikova in Round 2.
Our best bet: Ashleigh Barty (+500)
The women's Olympic Tennis draw has excellent odds, and we have no problem getting square and taking the No. 1 player in the world at +500. Barty won't have nearly as much pressure as Okaska and comes into Tokyo in better form, having won in Wimbledon. She lost just two sets on her way to capturing her third title in 2021.
(Pick made July 12, 2021)
Olympic tennis tournament format
The Olympic tennis format resembles March Madness more so than any other major tennis tournament. Both the men's and women's sides will have 64 total players who will enter a single-elimination tournament with six total rounds. All singles matches will be best-of-three sets with a standard tiebreaker (first to seven points) for every set, including the final one. This format gives even the biggest underdogs a chance to get deep. It will be played on a hard-court surface.
How To Bet on Olympic tennis
With so many events to choose from, the Tokyo Olympics are sure to bring in many new bettors looking to wager on their favorite event. Let us guide you through how to bet on the Olympics with some basics on reading odds and tips for making smarter Olympic bets. If you want to learn more specifics about wagering on tennis matches, read our beginner's guide to betting on tennis.
Where to bet on Olympics tennis
Olympic betting is still relatively new, but the once-every-four-years event will surely attract many bettors. Where you bet on the Olympics is just as important as what you bet, and we review the best Olympic betting sites available to you.
Olympic tennis FAQs
Is tennis an Olympic sport?
Tennis is an Olympic sport in 2020 and has been represented in the competition since 1988.
Can you bet on Olympic tennis?
Yes. Tennis will be one of the most bet on sports in the Tokyo Olympics.
Who will win Olympic gold in women's tennis?
Australian Ashley Barton and Japanese Naomi Osaka have identical +500 odds to capture gold at the Summer Olympics. They are currently the No. 1 and No. 2 female players in the world.
Who will win Olympic gold in men's tennis?
World No. 1 Novak Djokovic is the heavy favorite (-112) to capture the gold in the Tokyo Olympics this summer.