It will come as no surprise to anyone that teams that are 5-0 after Week 5 are better the rest of the season than 0-5 teams, though the difference is smaller than you might expect.
Since 2010, teams that start 0-5 win 36.4 percent of the time in Week 5 and 35.0 percent ROS, versus 58.3 percent and 55.9 percent for their 5-0 counterparts. That's a fun fact, but not very useful. What we'd like to know is: do early season results against the spread (ATS) and Over/Under affect future performance, and if so in which direction?
Playing ATS
Before we get into the data, let's talk in broad strokes about what we expect to see. Take a team that starts 5-0 ATS: it's clearly outperformed expectations in games thus far, so we'd expect to see a line move in that team's direction. Grouping teams into three buckets (better than 66.7% ATS, worse than 33.3% and in the middle) we see just that.
Teams in the high group see an average line of -2.8 in Week 6 after getting roughly a point Weeks 1-5 while teams in a low group see an even bigger move: from +0.23 in Weeks 1-5 to +2.25 in Week 6. We also see significant regression to the mean for average results: 5-0 teams win by an average of 8.4 points to get to 5-0, then by 2.6 ppg the rest of the way. Looking at ROS results, we see that oddsmakers do an excellent job handicapping, as all three groups cover very close to 50 percent of the time. However, the Week 6 results indicate a tendency to overcorrect in the short term.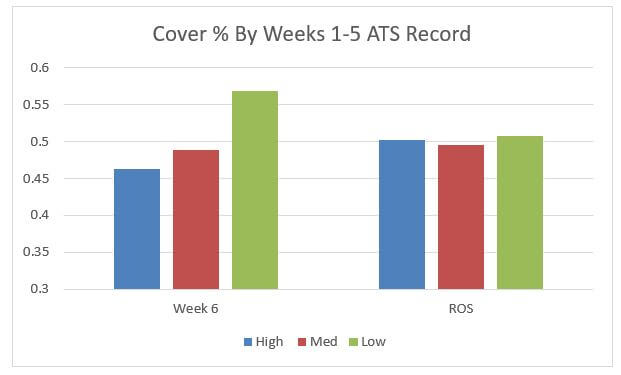 The spreads seem to support this theory as well as the low group lines drop from +2.25 Week 6 to an average of +1.6 the rest of the year (-2.8 to -2.5 for the high group).
Over/Under
Let's apply the same idea now to totals. Based on what we see above, we expect a couple things: first, teams that have gone Over more should see higher O/U lines. Second, while ROS lines are likely to be quite good, there may be an overcorrection in the short term.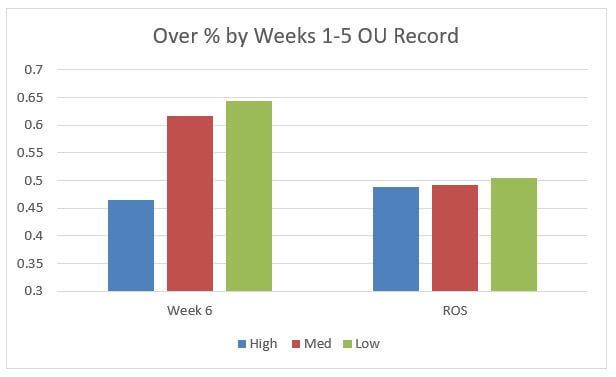 And that's exactly what we see, though we also see an overperformance by the medium Over/Under group. That overperformance mostly disappears if we extend back to 2002, while the trends for the high/low groups remain.
DO YOU KNOW HOW TO BET KEY NUMBERS IN THE NFL BETTING ODDS? FIND OUT MORE
Games to look at…
The Bucs have hit the Over in all four of their games while the Falcons have gone Over in four of five so far. Neither team has done anything to suggest they can play defense, but both offenses have come back to earth after hot starts. Totals this high are extremely rare (or were pre-2018), and this one feels like an overreaction.
Denver comes into Week 6 with the worst ATS record in the NFL at 0-4-1. The Rams sit at 3-2 ATS after failing to cover in their last two outings. Add some wide receiver injuries for the Rams, a strong Broncos running game, and a Rams defense that couldn't stop the Chris Carson/Mike Davis combo, and we have an intriguing bet on the underperforming Broncos.
Pittsburgh at Cincinnati O/U 53
Two teams who have gone Over four of their five outings face in a big divisional matchup. Pittsburgh's defense finally showed up last week after an abysmal start to the season while Cincinnati shut out Miami in the second half after getting down 17-0. Another game where the market may have moved too high based on a small sample of games.