Monday night belongs to the NFC East when the New York Giants visit the nation's capital to take on the Washington Redskins. Oddsmakers have set Washington as a slight 3-point home underdog hosting the defending Super Bowl champs.
To get a better handle on this classic rivalry, we've enlisted the help of each teams' expert bloggers. Simon Garron-Caine of New York blog "
Giants 101
" and Kevin Ewoldt of Washington blog "
Hogs Haven
" put on the pads and debate which side will cover the spread on Monday Night Football.

THREE REASONS WHY NEW YORK WILL COVER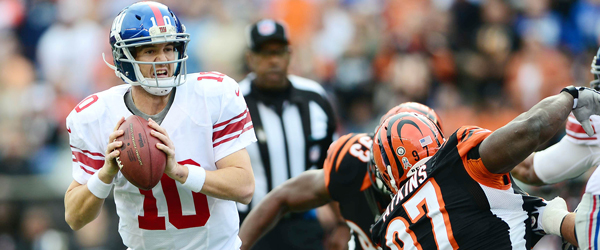 Simon Garron-Caine writes for Giants 101. You can follow them on Facebook and Twitter @Giants_101.
Have you seen the Redskins defense?
The Redskins beat the Cowboys 38-31 last week, but it wasn't all pretty. Tony Romo threw for 441 yards and three touchdowns. Sure, he had to drop back 62 times to do it and the Redskins did pick him off twice, but that was Tony Romo. This week Eli Manning's coming to town and if the Redskins give him as clean a pocket as they gave Romo, he should be able to find Hakeem Nicks and Victor Cruz against a defense that gives up on average over 300 yards per game – second-worst in the NFL.

Giants win the turnover battle
The first matchup between these two teams devolved into a fourth-quarter shootout. If this game follows suit, there will be plenty of opportunities for the defenses to make big plays. In that battle, we like the Giants. Both teams are tops in the league in takeaways and turnover differential but it's quarterback pressure that forces turnovers. The Redskins are 26th in the league with 20 sacks and a Giants defensive front - which has been criticized for disappearing - still has 30 sack, including five sacks on Aaron Rodgers last week.
History is on Big Blue's side
Once all the numbers are out of the way, you're left with two things: The trends and your gut. According to the guys at Covers.com, the Giants are 4-1 ATS in their last five on Monday Night Football, while the Redskins are 1-4 ATS on MNF. And RGIII might be exciting to watch but, in the fourth quarter of a big game that can all but seal the division crown, are you really betting on the rookie over Eli Manning?
THREE REASONS WHY WASHINGTON COVERS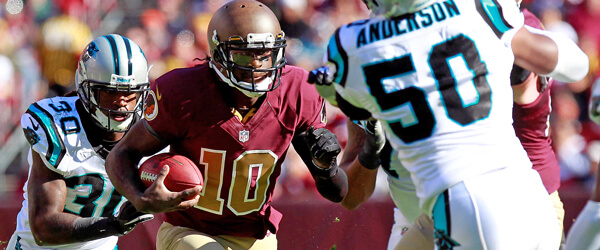 Kevin Ewoldt is the managing editor for Hogs Haven. You can follow them on Facebook and on Twitter @HogsHaven.
Redskins matchup with Giants
It's still hard to believe, but the Redskins beat the Giants twice last season - with Rex Grossman. In the Skins matchup versus the Giants earlier this year, Robert Griffin III essentially won the game. He threw a late TD to Moss to give the Skins a three-point lead with 1:32 left. Well, the defense completely dropped the ball and Victor Cruz happened. The Redskins had four turnovers that game, which is extremely uncharacteristic given all their other games and plus-12 turnover ratio – fourth best in the league.
Stats
The Skins are 4-0 against the spread in their last five versus the Giants. That leads back to point No. 1: The Skins have covered all three NFC East games this year and the defense has been playing better. Another key stat is the Giants are minus one running back with Andre Brown on IR.
RGIII
He won Rookie of the Month for the second time this year. There's no stopping this kid. Do these quotes from the Giants' defense sound like a team you want to put your hard earned money on?
"Until I exit stage right, it seems like (Griffin is) going to be a fixture in my dreams and nightmares... I was hoping to learn that he would slow down a little bit, but that's not the case," said Giants DE Justin Tuck. "He is one of the best dual threats in our game today, and we're gonna have our hands full trying to stop that guy."
"It is unfortunate that he is a rookie because he is going to be around here forever doing stuff like that. And that is just crazy," said New York DE Osi Umenyiora.

Join in the debate. Which team – New York or Washington – covers the spread on Monday Night Football.