College football fans have been counting the days to Alabama at Texas A&M since the Aggies spoiled the Crimson Tide's undefeated season last November.

That day has finally arrived and oddsmakers have made Texas A&M and reigning Heisman winner Johnny Manziel 9.5-point home underdogs versus the defending national champs Saturday.
In order to get a better grasp on this SEC showdown, we've enlisted the help of those who know the Aggies and Crimson Tide best. D.K. Miranda of Alabama blog "
IBleedCrimsonRed.com
" and rcb05 of Texas A&M blog "
Good Bull Hunting
" debate which team will not only win Saturday but cover the spread.
WHY ALABAMA WILL COVER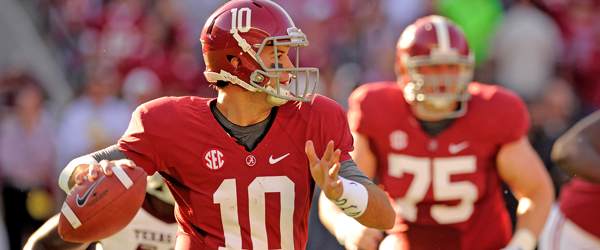 D.K. Miranda writes for IBleedCrimsonRed.com. You can follow them on Facebook and Twitter @LivingCrimson.
Vengeful Nick Saban
The "Process" can best be defined as consistency. The assistant coaches and players change each year, yet Saban consistently wins, especially revenge games. Avenging versus regular season top-tier SEC talent (Georgia, LSU), he is 2-1 SU and ATS with an 8.5-point average margin of victory. Since 2007, he's 7-1 SU and ATS in avenging the Crimson Tide, with a three-touchdown (20.9) average margin of victory.
Dominant defense
Last year's 24-29 matchup was actually a defensive chess match, not an offensive blitzkrieg. The Texas A&M defense was more consistent and made bigger plays than Alabama's. This week, Crimson Tide defenders spoke in one voice about sound coverage versus the entire Aggie offense - not just focusing on Johnny Manziel. In the offseason Saban brought in NFL consultants to gameplan for A&M's yard ball, focusing on extended coverage plays.
He also recruited faster defenders, with two in key roles on the defensive line in the upcoming game. Saban will play six defensive backs to counteract tipping his hand, and three of those (Ha Ha Clinton-Dix, Geno Smith, Landon Collins) are among the best in the nation. In the last meeting, Alabama's defense effectively stifled Texas A&M over three quarters, holding them to only nine points. The Tide defense expects to perform as well over four quarters this year.

Explosive scoring plays
Alabama's offensive line is a huge work in progress. The new center has trouble reading defenses, chemistry is not yet in place, and tight end play is not as good as previous years. Discounting uninformed media skepticism, Texas A&M's defense looks to be on par with Virginia Tech. Despite the Tide's less-than-spectacular season opener with an uninspired offensive gameplan, skill players managed to score five touchdowns. Alabama's skill players are talented enough (four and five-star recruits) to break open explosive plays when presented with even a slight opportunity. Also, expect a much improved Bama gameplan, giving its players every opportunity to overcome deficiencies in line play and outscore the Aggies.
WHY TEXAS A&M WILL COVER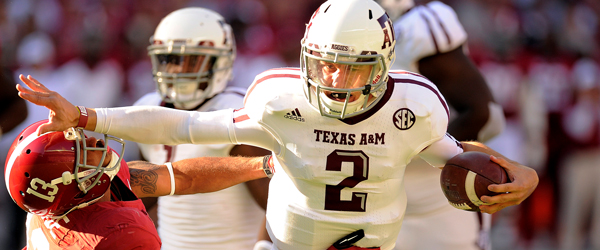 rcb05 is a contributor on Good Bull Hunting. You can follow them on Facebook and Twitter @GBHunting.
Embarrassment of riches on offense
Everyone talks about Johnny Manziel, but Texas A&M is stacked with NFL prospects at virtually every offensive position. Tackles Jake Matthews and Cedric Ogbuehi will look to open up holes for the Aggies' stable of running backs, including Ben Malena, Trey Williams, Brandon Williams (OU transfer) and Tra Carson (Oregon transfer). When Manziel does throw the ball, he has big targets like 6-foot-5 wide receivers Mike Evans and Ricky Seals-Jones, and 6-foot-6 tight end Cameron Clear.
Returning starters on defense

Much has been made about Texas A&M's suspect defense in their first two games, but much of that has been due to the suspension of several starters. Against Alabama, DE Gavin Stansbury, CB DeVante Harris and MLB Steven Jenkins - all upperclassmen starters - will return to action. Defensive starters Deshazor Everett, Kirby Ennis and Julien Obioha have also missed time in the first two games. Their presence has the potential to totally change the look of this Aggies defense Saturday.
Ultimate home-field advantage
It's not hyperbole to say that this could be the most anticipated game in the history of Texas A&M. They're expecting as many as 50,000 fans just for Midnight Yell Practice, and 90,000-plus for the game itself. The ESPN College Gameday crew is on campus and it's a 2:30 CT kickoff on CBS. The 12th Man and the team will be ready. And as good as the Crimson Tide appear to be, this alone has the potential to swing things in the Aggies' favor, especially if they do well early.
Join the debate. Who covers Saturday: Alabama or Texas A&M?