When you look around the room where Peter Jennings, daily fantasy sports millionaire, is speaking at the Sloan Sports Analytics Conference in Boston, it's not hard to see that daily fantasy has caught fire.
The room holding a few hundred is packed shoulder-to-shoulder with onlookers listening intently, including media like ESPN fantasy guru Matthew Berry.
Everyone is looking for an edge these days and they've come to hear the secrets from a guy who does it for a living.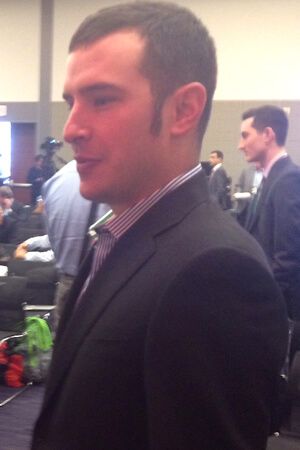 Jennings, who won the $1 million top prize at DraftKings' fantasy baseball championships last year, grinds out daily fantasy as his J-O-B and obviously he's pretty good at it. He was pretty candid in his talk about the strategies he employs to beat the competition – well until the topic turned to one subject.
We got talking about pitching in MLB and one tip he has is that "not enough people look at the type of pitchers out there", meaning ground-ball versus flyball pitchers.
"Do you ever look at umpiring?" I asked.
His face turned red, blushing.
"Oh yeah," he said. "I don't like to talk about it too much."
Anyone who follows me on Twitter knows I think you aren't betting baseball properly if you're not looking at umpires. They can dictate the performance of the pitcher and there's no more important element in handicapping any sport than the pitcher in baseball.
It's so much of an edge, Jennings doesn't even like talking about it. (By the way, we have
awesome umpiring numbers on Covers
and we feature them on our matchup pages come MLB season.)
But Jennings didn't mind sharing a few other items that help him in his daily fantasy plays and here they are:
Look at injuries. Not so much at who's injured, but who else might have increased value based on that injured player. There are inefficiencies in the player dollar values and DraftKings CEO Jason Robins admitted as much. He said when there are injuries, the DraftKings statistical team has to adjust manually outside their models to account for the injuries. More of a human element is going into those numbers and as a result there are vulnerabilities.
There is value in going contrarian to separate yourself from what the pack is doing. Jennings said he generally prefers going contrarian in MLB and NHL and also sees some value in football. Not as much for basketball.
He also said going contrarian is not a great strategy for 50/50 games or head-to-head.
Jennings' favorite sport is college football. "I think that's a more inefficient market. So I take advantage of that when I can."
He likes to "stack" players in NFL. So when you pick your QB, take a receiver or tight end from the same team also.
He says he stays away from stacking in the NBA for the most part but the one area where that could help you is if a game goes to overtime
Jennings believes "line of scrimmage" stats are one of the most important and overlooked group of stats for daily fantasy players
Jon Campbell is managing editor for Covers and is at the Sloan Sports Analytics Conference in Boston this weekend. Follow him @CoversJon