The first Monday Night Football game of the season is a divisional war between the Philadelphia Eagles and Washington Redskins. Oddsmakers have tabbed Washington as a 3.5-point home favorite in Week 1.
In order to get the best grasp on this NFC East battle we've enlisted the help of those who know these teams the best. Brandon Gowton of Philadelphia blog "
Bleeding Green Nation
" and Kevin Ewoldt of Washington blog "
Hogs Haven
" strap on the helmets and butt heads over which team will not only win but cover the spread Monday night.

WHY PHILADELPHIA WILL COVER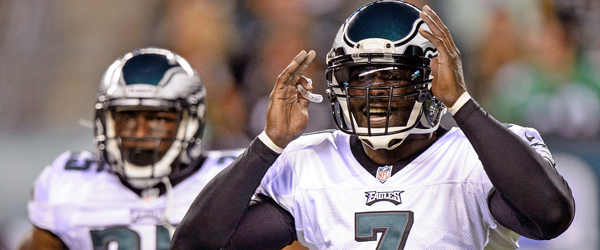 Brandon Gowton writes for Bleeding Green Nation. You can follow them on Facebook and Twitter @BleedingGreen.
Chip Kelly Factor
Chip Kelly makes his NFL debut on Monday Night Football. No one knows exactly what Kelly's NFL offense looks like yet. There may be incorporated elements of his Oregon Ducks' college offense, but it could catch the NFL by surprise. Kelly was very successful at Oregon (46-7) and he came to the NFL to continue his winning ways at the next level.
Run, run, run the ball
Eagles star running back LeSean McCoy called Chip Kelly's offense a "track meet". McCoy noted multiple running backs will be utilized because Kelly loves to run the ball. Along with McCoy, Bryce Brown and Chris Polk have flashed serious NFL talent. With a steady rotation of carries keeping these RBs fresh, the Eagles ground game could figure to be a problem for the Redskins defense.
Vick reinvigorated

Michael Vick looked flawless at times in Kelly's offense during the preseason. Vick earned the Eagles' starting QB competition by beating out Nick Foles and hopes to play the best football of his career in order to hold on to his starting job. Kelly aims to harness the talents of Vick in full form while cutting back on Vick's mistakes. The Eagles offense will have no problem scoring points if Vick looks as sharp as he has under his new coach.
WHY WASHINGTON WILL COVER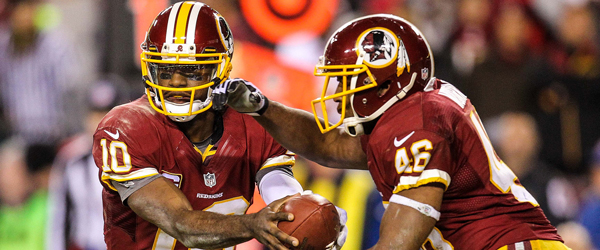 Kevin Ewoldt is the managing editor for Hogs Haven. You can follow them on Facebook and on Twitter @HogsHaven.
Rookie coaches stink
In 2012, seven teams had new coaches. They went 1-6 straight up in their week one games and the loss margin in those games was an average of 9.2 points (three teams lost by 15 or more). The sole winner was the Bucs' squeaker win at home versus the dysfunctional Panthers. The Eagles and rookie coach, Chip Kelly, are on the road. I smell a parlay.
Shanahan dominates Week 1
Mike Shanahan is 15-4 SU in Week 1 and is 3-0 with the Redskins both SU and ATS (two of those wins were with McNabb and Grossman). Last year, he went into New Orleans as a 7.5-point dog and won by eight in Week 1. He's been studying Oregon film since the spring and realistically, the Redskins defense practices against one of the fastest offenses in the NFL every day.
Recent history
Last year, the Eagles were 1-5 ATS in September and now they're entering Week 1 with new systems on both sides of the ball. The Redskins have covered 10 of their last 12 games versus NFC East opponents. With the new CBA rules preventing heavy contact and two-a-days, in addition to Chip Kelly not wanting to show his hand in preseason, the Eagles enter Week 1 without really testing out either sides of the ball.
Join the debate. Who covers Monday night: Eagles or Redskins?