Alico Arena in Fort Myers holds 4,500 fans for the Florida Gulf Coast Eagles' home games.
Cowboys Stadium in Arlington, Texas holds almost 109,000. So it's safe to say FGCU will be walking into a completely different world when it takes on the Florida Gators as 13-point underdogs in the Sweet 16 Friday night.
The Eagles shocked their way to the South Regional semifinal by knocking off the Georgetown Hoyas and San Diego State Aztecs at the Wells Fargo Center in Philadelphia. That venue's 20,328-seat capacity, while a far cry from Alico Arena, is a drop in the bucket compared to the volume of "Jerry's World".
And it's that drastic change in venue – and depth perception – that has sharp bettors fading Florida Gulf Coast for Friday's game. The Eagles have been bet up from +11.5 to +13 as of Thursday.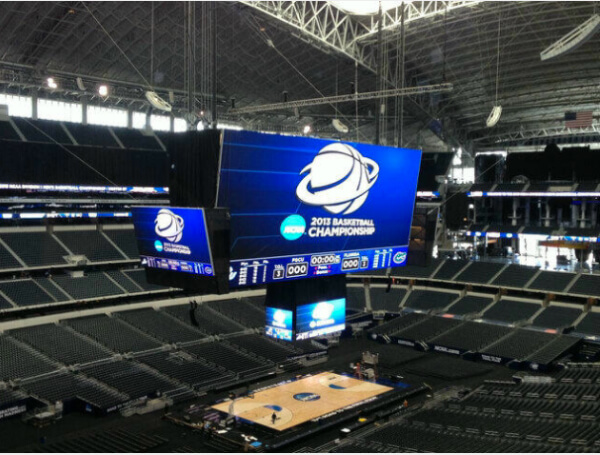 "(Playing in Cowboys Stadium) definitely matters more for a team like FGCU, that doesn't play in these types of environments very often," professional handicapper Teddy Covers says. "That's at least a part of the reason why Florida took the early wiseguy money this week."
Shooting inside a football stadium is much tougher due to the depth of the backdrop. Players have a hard time gauging their distance from the goal and can struggle if they're not used to their focus point against a wide-open background – even more so in a 3 million square-foot stadium that measures 900 feet from end zone wall to end zone wall.
"The venue is very important," Peter Korner, founder of the Nevada-based odds service The Sports Club, told
Covers
. "When you have some teams that are used to playing in small gyms where the hoops are right up against the wall, the focus point is much closer. Now, their focus point gets lost against a big background. Sure, they have a couple days to practice and get used to the bigger venue, but it does affect their shooting and it does go into (the odds)."
Korner recalls an old Catholic school rivalry between Notre Dame and San Francisco and how the Fighting Irish would never play the Dons in their home arena due to the close confines and the advantage San Francisco would have shooting the basketball. Instead, Notre Dame lobbied to have the games in the Bay Area held in larger arenas.
As for the venue's impact on the total, Korner says it has a bigger presence in games involving high-scoring teams because oddsmakers can hide their adjustments easier with all those points on the board. Friday's total between FGCU and Florida has been bet up from 132.5 to 135 points since post. The two teams are a combined 3-1 over/under in their four tournament games so far.
Football stadiums have been hosting college hoops for some time now and only nine venues – all football stadiums – are approved to host the NCAA Final Four: Cowboys Stadium, Georgia Dome, Louisiana Superdome, Metrodome, Reliant Stadium, University of Phoenix Stadium, Edward Jones Dome, Lucas Oil Stadium (hosting the Midwest Regional), and Ford Field. Over the past five seasons, games held in those nine stadiums have gone 28-32-1 over/under.
The Georgia Dome, the host of this year's Final Four, has been a regular spot for NCAA basketball with the conference tournaments and regional action calling it home. Since 2008-09, games inside the Georgia Dome are 15-12 over/under.
The best football stadiums for NCAA unders over the past five seasons are Lucas Oil Stadium (2-6 over/under), Reliant Stadium (2-5 over/under) and last year's Final Four host, the Louisiana Superdome (0-3 over/under).
Cowboys Stadium has only hosted one NCAA basketball game in its three-year existence – a non-conference clash between Texas and North Carolina on Dec. 19, 2009. The teams – both accustomed to playing in larger venues – shot a combined 44 percent from the field in a 103-90 win for the Longhorns that eclipsed the 152-point total.
Of those 61 games played in football stadiums over the past five seasons, eight have involved teams from small mid-major conferences (Gonzaga, St. Mary's VCU, Butler, BYU, Northern Iowa) and have combined to go 3-5 over/under. The mid-major team has gone 2-5 SU and 3-4 ATS with one of those games featuring both VCU and Butler (Butler 70, VCU 62 – Bulldogs covered as 3.5-point favorites).
Florida Gulf Coast enters Friday's Sweet 16 contest a perfect 6-0 ATS in lined games this season. Florida owns an 18-14 ATS mark on the year and has covered as a favorite in its two NCAA tournament games.