The Cleveland Indians have been an awesome bet against Cy Young Award winning pitchers.
The Indians are now 7-1 (4-4 over/under) against former Cy Young winners after defeating Felix Hernandez and the Seattle Mariners 6-0 Sunday.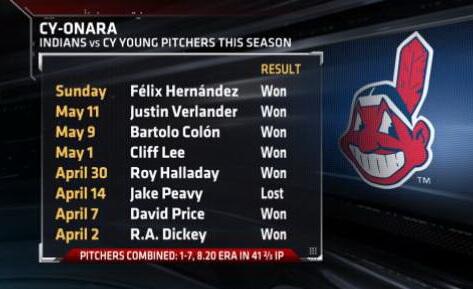 *Image courtesy of ESPN Stats & Info.*
Any
$100 bettor would be up $888
if they had wagered on Cleveland in each of these games.
Opposing Cy Young pitchers are a combined 1-7 with a lofty 8.20 ERA against the Tribe.
Cleveland suffered its only loss to a former Cy Young quality pitcher back on April 14 to Jake Peavy and the Chicago White Sox.
The Indians will get their next crack at a top pitcher when the Detroit Tigers' Justin Verlander is projected to take the hill at Progressive Field
Wednesday
.