There are 13 games on Monday's MLB schedule, including a pair of teams with vastly different aspirations for the next month of the season meeting in Kansas City. Get analysis on all of today's games as well as tips on weather, umpires, and other betting trends with our daily MLB Line Drive.

Double-Play Picks

Philadelphia Phillies at Miami Marlins (-150, 9)

The Phillies and Marlins meet Monday night for the opening tilt of a three-game series in Miami and both teams are sending out starting pitchers that are severely struggling.

Jerad Eickhoff will be getting the ball tonight for Philly and he is having a horrible season. His team win/loss record on the year is 3-12 and on the road things have been even worse at 0-7 (0-9 if you go back to late last season). His road ERA in 2017 is 5.05 and the Phillies have allowed an average of 6.14 runs per game in his seven road starts this season.

Eickhoff will be facing a Miami offense that ranks fourth in baseball with a .268 batting average.

On the other side, the Marlins will send out a starter who has been even worse than Eickhoff. Right-hander Tom Koehler is one of the more hittable starting pitchers in all of baseball. He owns an ERA of 8.00 and a WHIP of 1.73 overall in 2017 (10 starts) and at home he has been even worse at 8.84 and 1.75.
If you think perhaps he's been pitching well recently and that's why Marlins' manager Don Mattingly keeps running him out there, think again. Over Koehler's last three starts his ERA is 16.76, his WHIP is 2.69, and he owns an opponent's on base percentage of .474.

With two terrible starting pitchers hitting the hill tonight it's tough to back either side - sounds like a good time for an Over play.

Pick: Over 9

Detroit Tigers at Kansas City Royals (-120, 10)

Two teams with different goals moving forward in the season meet in Kansas City tonight for the first of a four-game series. The Royals still have their eyes on a playoff spot with a .500 record, while the Tigers are six games out in the AL Central and are doing more scouting of other team's minor league prospects than upcoming opponents in preparation for their trade deadline sell-off.

The Tigers will be hoping to unload tonight's starter Jordan Zimmermann, but who is going to want him and the three years remaining on his five-year, $110 million contract. Zimmermann owns a team win/loss of 1-8 on the road this season with a road ERA of 6.99 and a WHIP of 1.70. Over his last three starts his ERA is 9.95 with a WHIP of 1.89 and an opponent's on base percentage of .403.

Royals' starting pitcher Jason Vargas is coming off one of his worst starts of the season when he allowed six earned runs over five innings in a 9-6 Royals win in Seattle against the Mariners. Normally this would be a spot to be cautious in his first full season back from major arm surgery, but that start was 12 days ago. Vargas should be well rested and ready to go tonight at home and you can't ignore the fact that the Royals have won 13 of his 17 starts this season, including his last eight outings in a row. At home he has been tremendous with a 7-1 record and an ERA of 1.84.

Have oddsmakers really soured on Vargas after just one below average start (which was actually a Royals' win)?

Pick: Royals -120

Yesterday's Picks: 1-1
Season To Date: 90-78-8

For more FREE picks and analysis head over to our Free Picks page on Covers Experts.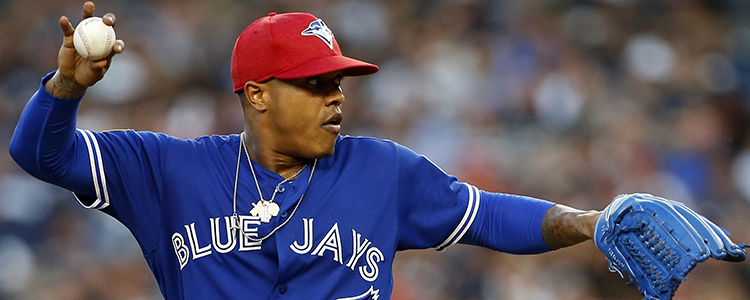 Streaking and Slumping Starting Pitchers

Streaking: Marcus Stroman, Toronto Blue Jays (9-5, 3.28 ERA, $18)

The Blue Jays are on that buy/sell/hold bubble where they could, potentially, get back in the playoff chase if they can put together a two-week-long run. But is this something that can realistically happen with their current roster? The Jays will likely be mild sellers at the deadline, but one chip they won't be selling is Marcus Stroman.

Stroman isn't the staff ace they though he might be (he is a very good No. 2 or No. 3 guy in the rotation) but he is certainly pitching like one over his last three outings. Over his last three starts he owns an ERA of 1.37 with a WHIP of 1.12. He's also keeping the ball in the ballpark with zero home runs allowed over those last three starts, which seems to be the key to his success - keep the ball down in the zone.

Stroman starts on the road in Boston tonight against the first place Red Sox and is a slight favorite at -115.

Slumping: Chris Tillman, Baltimore Orioles (1-5, 7.90 ERA, $-243)

The Baltimore Orioles just continue to run garbage starting pitchers out to the mound night after night (except Dylan Bundy...he's decent). Chris Tillman gets the ball Monday and we shouldn't even have to go through this routine with him every time.

He is 1-5 with a 7.90 ERA and an opponent's on base percentage of .429 in 2017. Over his last five starts, Tillman's ERA is 11.25 with a WHIP of 2.60. Just horrible numbers.

Tillman and the Orioles are actually slight favorites at home against Andrew Cashner and the Texas Rangers tonight at -115.

Monday's Top Trends

* The Atlanta Braves are 6-0 in Julio Teheran's last six starts vs. the Chicago Cubs. Braves +145 tonight at home.
* The Philadelphia Phillies are 0-9 in Jerad Eickhoff's last nine road starts. +135 tonight @ Marlins.
* The Kansas City Royals are 11-1 in Jason Vargas' last 12 starts vs. a team with a losing record. -120 tonight vs Tigers.
* Under is 9-1 in the San Diego Padres' last 10 road games. Padres/Rockies Total: 11.

Weather To Keep An Eye On

There is a chance of a thunderstorm and a 30 percent chance of rain early in tonight's game between the Brewers and Pirates in Pittsburgh. There is also a very slight chance of a quick thunderstorm developing in the Atlanta area where the Braves will be hosting the Cubs.

There will be hitter's winds in four ballparks tonight:

* Blue Jays at Red Sox (Total: 9) - 9-12 mile per hour wind blowing toward the Green Monster in left field.
* Cardinals at Mets (Total: 9) - 10-13 mile per hour wind blowing out to left-center field.
* Rays at Athletics (Total: 9) - 12-15 mile per hour wind blowing out to right center field.
* Indians at Giants (Total: 8.5) - 15-17 mile per hour wind blowing straight out to center.

Monday's Top Consensus

Here are the top side and total play according to our Covers Consensus.