One sports bettor's holiday season just got $154,659.79 better this past Monday.
A Covers member, who we'll call Mark from Virginia, wagered $4,000 on a five-game parlay, including the Clippers moneyline (+130) versus the Spurs, the Celtics to cover +1.5 versus the Timberwolves, the Senators moneyline (+125) against the Blues, the Jets moneyline (+105) versus the Blue Jackets, and the Ravens to cover +5.5 versus the Lions on Monday Night Football.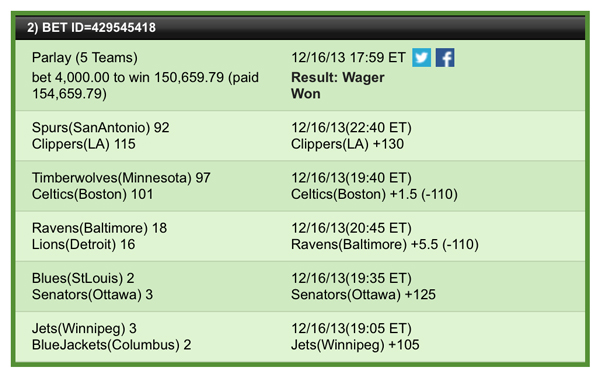 The planets aligned and made for one massive payday, which we confirmed with Mark's book of choice
Sportsbook.ag
. But before you call Mark "lucky", consider the fact he cashed in a
seven-tier parlay for $52,407.22 back in June
.
"Obviously, I have lost a bunch of parlays before this hit but that is no fun to talk about and this is just fun to look at," Mark tells Covers via email.
Mark, who doesn't consider himself a professional gambler by any means, says there is no rhyme or reason to his parlays. He does admit he is more likely to take risks with underdogs on his parlay bets because the payoff is far greater than a card full of favorites.
"I am always looking for something, but no one specific piece of data in particular, it just depends on the sport and situation," he says. "I listen to everyone, read everything, and follow no one."
As for what Mark plans on doing with his earnings, well, sportsbooks in Las Vegas have now been warned.
"I plan on hitting up Vegas in March with the loot. If I still have it," he says.